Have you ever started mixing up ingredients to a recipe you've created a gazillion times only to find that you are missing eggs or some other key ingredient? Or maybe added the ingredients in the wrong order? Ok, maybe it's just me…I've done it enough times that I've asked a few of my fellow bloggers for some ideas on how to turn a potential baking disaster into a baking success by replacing a missing ingredient with something else you might find in the house.
I decided to make Pumpkin Chocolate Chip Cookies using this recipe. I was 98% sure that I had all the ingredients I needed. So without even thinking about it, I just started throwing ingredients in a bowl. Baking disaster number one, I should have read the instructions right through as I would've seen that I was actually meant to mix the dry ingredients in one bowl and the wet in another. Anyways, I plowed ahead until I realized I din't have any eggs. Bugger! I remember reading before that bananas are a healthy alternative to eggs, or just for people who start baking cookies only to realize they don't have eggs :).
I'm happy to say that even though I mixed all the ingredients in one bowl and used a banana instead of an egg and brown sugar instead of cinnamon, these were some of the most delish cookies I've had in awhile, as well as the current champs in the cookie dough department. Use one medium size banana per egg and yum, yum, you're done!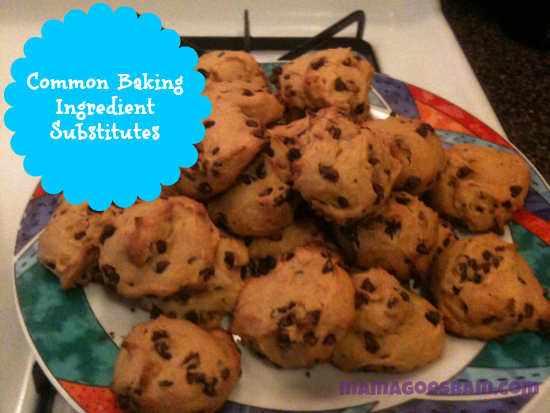 Read on for some more tips for replacing a missing ingredient in the kitchen.
When making cream puffs, if you do not have real butter on hand, you can use crisco same exact amount too.
– Maria,  Adventures of the Mommy Homemaker
We use applesauce instead of oil or butter and it works!
– Gena,  Life with Captain Fussybuckets
Yogurt or milk with vinegar for buttermilk.
Headant, Let's Go On  a Picnic
I used pumpkin pie filling for oil in cupcakes. I would suggest using a little less than the amount of oil called for because of the density. The cupcakes were definitely heavier.
 – Tiffany,  Homegrown Families
One 1-ounce square unsweetened chocolate = 3 tablespoons cocoa + 1 tablespoon shortening. I never have the baking chocolate, it is so expensive! This saves a little money if you have cocoa and shortening on hand.
– Heidi,  Mama Nibbles
Replace baking powder with 1/4 teaspoon baking soda plus 1/2 teaspoon cream of tartar. OR 1/4 teaspoon baking soda plus 1 teaspoon vinegar.
– Emily, Nap Time is My Time
Add lemon juice to regular milk in place of butter milk.
– Kathleen, Callista's Ramblings
Substitute applesauce for sugar, and flaxseed meal for eggs (1 T flaxseed and 3 T water = 1 egg).
-Isra, The Frugalette
Ever had a baking near disaster? Share your tips in the comments.