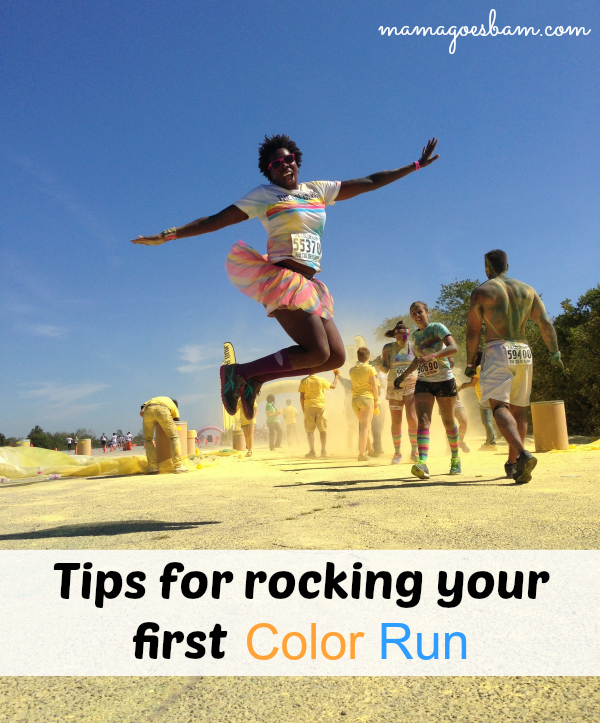 I finally ran my first color run this weekend, THE original color run. The one that I pinned years ago on Pinterest and knew that I wanted to do one day. The Color Run came to Brooklyn this weekend and originally I was meant to run it with a girlfriend. In the end she wasn't able to make it, but in the meantime Mr BAM decided he wanted to run it and I discovered while reading their FAQs that kids 5 and under run The Color Run for free and strollers are allowed (the tips are starting already ya'll, take note!).
So we geared up at the respectable hour of 7:30AM, caught a bus to the shuttle stop and headed to our very first family run. Mr P is a natural runner and I've been on the lookout for a family race to take part in. He can easily do 5K, we often walk to Prospect Park and do the loop as a family with short walk breaks, but unfortunately most Brooklyn 5K and under races I've found in Brooklyn do not allow strollers – this is a deal breaker as Little Miss would not last on foot for that distance even if we walked the entire 5K.
Before I dig into the tips, I'll just say that each and every one of us had a blast! We all enjoyed it in our different ways and I highly recommend The Color Run for any family, I've got tips to help children of various ages and temperaments have a great time. Though their are many tips for families, their are still a few goodies for anyone taking on their first color run.
Have fun, enjoy the signs along the way and take it all in as this colorful run truly is the #Happiest5K
1. Though it is called The Color Run, have heart in knowing that it is more a social walk than anything else. Most enjoyable in at least a team of 2, grab a stroller and get your kids involved. If your kids are as energetic as mine, then they will set the pace and may run more than most adults on the course. Anyone can do this run, you got this.
2. Before you do anything else, make sure you take your before shot at the starting line where there is lots of signage to make a great backdrop. You'll want proof of all the colorific fun you had. After a long wait for the shuttle Mr BAM just wanted to get going and I had to hold him back to grab our before picture.
3. I think it goes without mentioning and relates to the tip above, but wear as much white as you have and any other color you wear should be light for the biggest effect at the end. I'm partial to the rainbow tutu – great price and great look. The included color run t-shirt is a good choice as you are unlikely to get all the color out – DON'T go out and buy new clothes specifically for this event unless you do not want to wear them again. It's a color run, leave the black at home for work on Monday

4. The color released as you walk through a color station at each K is released manually. For some reason I expected a large machine to blow it out willy nilly. Since it is manual, the volunteers were gentle with Little Miss who is only 22 months old. In fact, she had no color in the first color station while she was in the stroller, and as I walked her through the yellow station they only squirted a little on her shirt and arms – she loved it!
5. Following on from above, don't be afraid to talk to the volunteers. These people have volunteered to spread happiness, clearly they want to be fun and helpful. They listened when I said not to spray Little Miss, and they took it easy with her through the other stations.
6. Bring swim goggles or sunglasses to keep the powder out of your eyes. Though no volunteers never intentionally sprayed at our eyes, there is still a cloud of powder around as well as others using their free after-party packet of powder along the race route.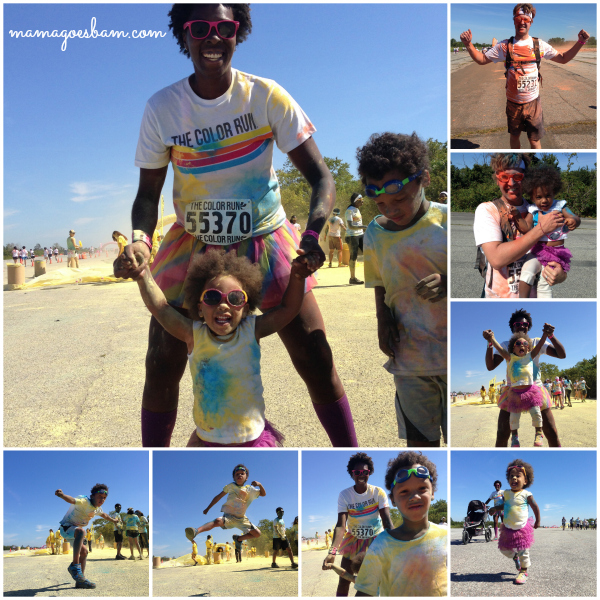 7. The Brooklyn race was in a big open field as I assume most of the races would be. On a hot sunny day you'll need water even if you walk the whole run – bring your own or lookout for the water stations along the route. The combined heat and colored cornstarch makes for a dry mouth. And while you are filling your water bottle, don't forget the sunscreen.
8. Have I mentioned, that you should not be afraid to bring your kids? It's important, so I don't want you to forget that! Such a great way to introduce your kids to an active morning. With music playing along the route Mr P ran, walked, skipped and danced his way to the finish. You know your child best, so decide whether they need to hold your hand through the first color station, be held, or put in the stroller. With Little Miss, she was in the stroller for the first, I held her through the second, held her hand through the third and she ran after her brother through the rest. With Mr P who is 5, we turned every station into a mission – he put on his goggles and danced and spinned his way through. By about the 3K mark though it turned into a race for him and we pretty much jogged to the end.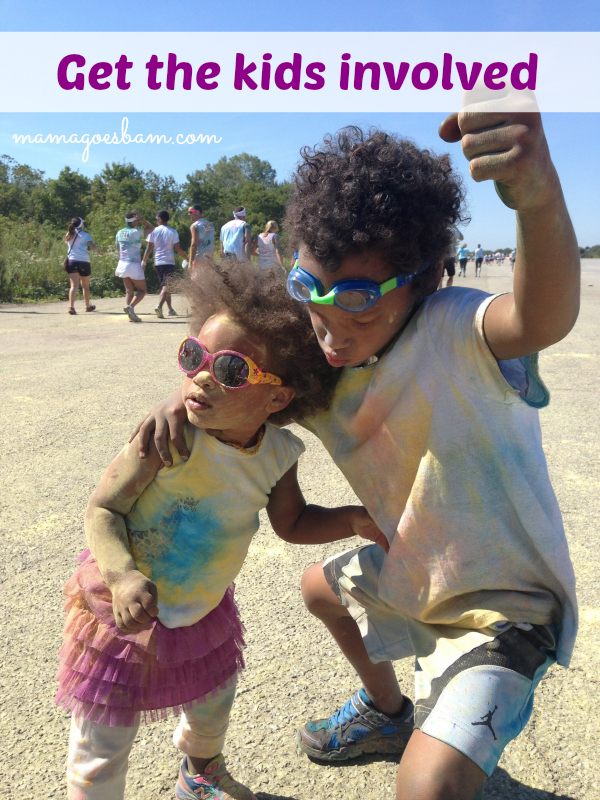 9. Though we were told their would be no bag check at our race, their was! Yet we were still prepared with only the tiniest backpack with snacks for the kids. Mr BAM and I each had a ziploc bag with our phones, bus passes and debit card inside to protect from the powder. I pulled my phone out to take pics once we crossed the color zones, it still made for great pics. Be warned if you are going to take pics within a cloud, you'll find lots of dust all through your phone.
10. Baby wipes post run were good for quick face and finger cleanups. They might also come in handy for blowing your nose post run. The powder get EVEYWHERE. Just sayin'
11. You'll really want to find the guys with the leaf blower though, as they did a good job of blowing off the loose powder in our hair and on our clothes. You might have to look hard though as we only saw 2 dudes over by a toilet block near the start area.
12. You can dictate just how colorful you will be by the end of the race. I found those that jogged right through the middle of the color stations with hands in the air got the most color. Bend down and point your head at a volunteer and they'll spray your hair. Still not colored up enough? Go plonk yourself right in the middle of the big color blitz at the end where everyone throws up their packets of color, that should take care of you.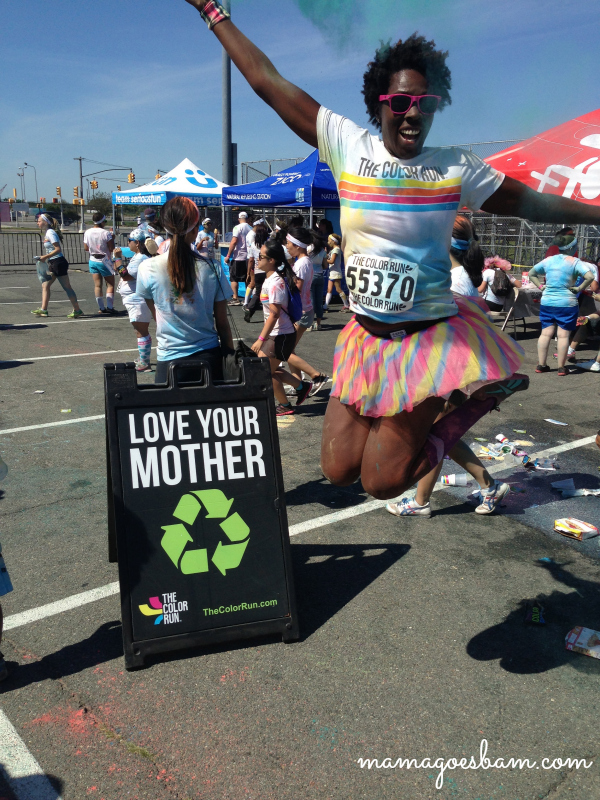 13. Save the bag of powder for the end of the race. It's jut fun to be part of the after party.
14. They do communal unleashing of powder every few minutes, so if you don't catch the one they announce as you cross the finish line, don't worry their will be another. It's a good thing to take advantage of the free snacks before you enter the big mosh pit of color anyway. I saw a few people grossing themselves out trying to eat an ice cream pop covered in green powder. I didn't care that I has small speckles of green on my refreshing treat – it is just cornstarch after all.
15. Don't forget your aftershot. My after is pretty tame as I generally either had the stroller or was holding Little Miss through each color station.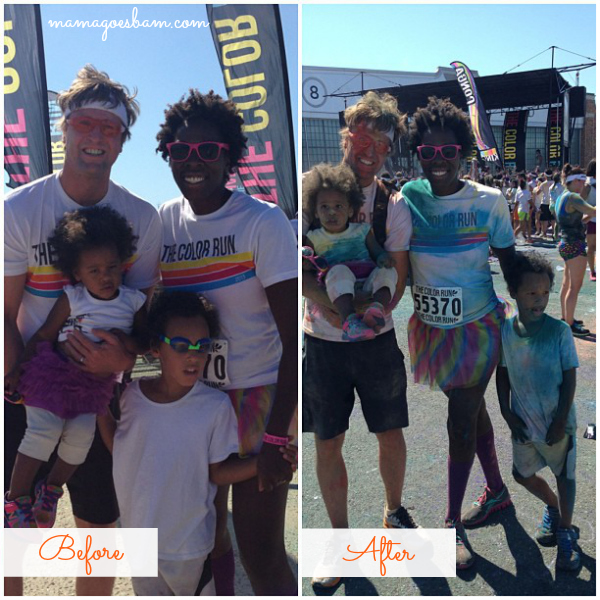 15. Wash your clothes as soon as possible for any chance of salvaging them.Everything we wore still has color in it.
16. Expect to take 2-3 showers or baths before all the color leaves your body's surface. Color collects in crevices, think under bra straps, and waist of your pants. I stepped out of my first shower only to notice I had a v shape of green on my chest and across my waist. The color was pretty stubborn under my long fingernails.
17. Oh and don't forget HAVE FUN! When I found myself trying to keep track of where Mr P was while pushing an abandoned stroller alongside a determined toddler, I just started skipping. Enjoy the moment, read the fun signs along the way, and I suggest walk it, skip or jog it, but don't even think about racing through it. This is all about the atmosphere and talking to randoms along the way.
What started a little rough with some glitches in the shuttle bus service ended up as the Happiest 5K for sure! I loved taking part in my first Color Run with the fam and hope to do many more.
Next up on my race schedule is Mudderella in the Poconos on September 21, let me know if you are running it and look out for my race report on Momtrends later this month.
Have you taken part in a family run or The Color Run?