I was invited to a Home Office makeover event with HP and home design expert Christiane Lemieux, who is also the Founder and Creative Director of  Dwell Studio in SoHo, Manhattan. As a mother herself, she has an interesting perspective on home design. She mentioned the same challenges that all the other moms in the room faced with carving out a working space at home, while juggling space for your kids to be kids! Most of us in the room were New York based, so space constraints proved to be our biggest difficulties. As a thanks for taking part in the exclusive blogger event, I was provided with a HP Photosmart 6520 e-All-in-One printer, thank you so much HP! As a side note, I also love meeting fellow Canadians  (Christiane is from Ottawa!) who have branched out and as a bonus doing so well!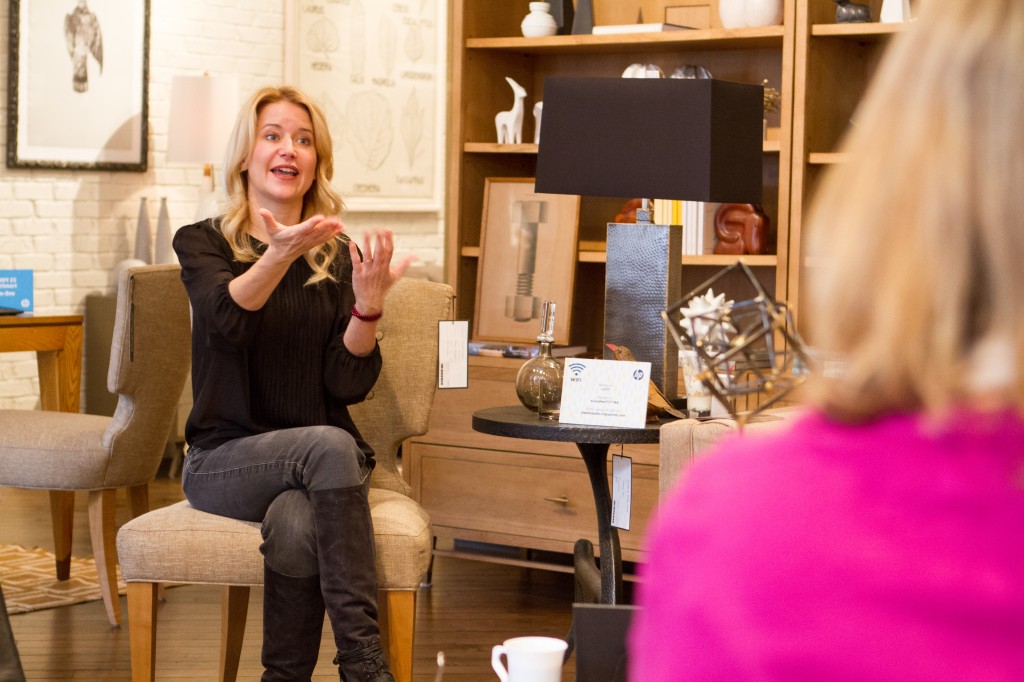 – photo from Zach Jopling
I'm working with HP to offer all kinds of great home-office makeover ideas. DwellStudio.com was founded on the premise of inspiring beauty within the home, and HP makes it easier and more affordable to create a home office environment that is fun, productive and stylish.
– Christiane Lemieux, Founder and Creative Director of Dwell Studio
She went around the room and asked us all to share photos from our home office situation that we'd printed on the HP PhotoSmart 6520. The challenges I described were many! We've been in our house for nearly a year and a half and my work space is constantly changing. Most of the changes are based on workload as well as the needs of my kids as they grow.
– photo from Zach Jopling
We were then given the opportunity to soak up the totally inspiring Dwell Studio and hit the internet for more ideas as to how we'd like to fix up our office.  Dwell Studio is a high-ceilinged space with lots of fabrics, colors and of course furniture and fittings for office, living and bedroom for both adults and littlies. I took to Pinterest for ideas to spruce up my small space.
– photo from Zach Jopling
In the end, we all produced real-life Pinterest boards with our ideas and received feedback from each other as well as from Christiane. I was totally inspired to try some new ideas with my office. It's still not quite there, but at the very least it got m mind in motion and I have given m space a biiiig cleanup, chucking out the things I don't need.
I really enjoyed the ease of the HP SpectreONE interface. Even though I had never driven one before, it had the same intuitive interface that I am used to from a Mac. It is sleek and I could see it sitting in my home office

And the printer, well I know how fantastic HP printing quality is but was surprised at how easy the wireless setup was. We all were able to jump on the wireless network from our phones and print simultaneously from either our phones or the computers. The printers also have the HP Airprint function that allows you to print from ANYWHERE wirelessly, even outside your home from your iPad, iPhone or iPod.
Innovative HP Photosmart 6520 e-All-in-One Printer Features
Enjoy printing from virtually anywhere with HP ePrint.  To print, simply send an e-mail containing your document from a mobile device, tablet, computer or laptop to your printer's ePrint e-mail address. All HP printers starting at $79 include ePrint technology – and you can customize your ePrint e-mail. he HP Photosmart 6520 e-All-in-One has a starting price of $149.99. Our family enjoys the touchscreen functionality with free apps to print coloring pages, recipes, games and more from HP partners.
The HP SpectreONE All-in-One Desktop PC
With a starting price of just $1,299, the HP SpectreONE has a wireless trackpad, a sleek 23-inch flush glass display and 3rd Generation Intel processors. The desktop PC also features Beats Audio™, and HP True Vision webcam, and the new HP Connected Remote, Photo, and
Music.
Could your home office use a makeover?
disclosure: I was invited to an Exclusive Blogger event from Christiane Lemieux who is an HP Ambassador. I received a printer and other accessories for attending. As always, all opinions are 100% my own and I only share information that I believe are of value to my readers.