On a sunny weekend day when I am looking to relax,  you will easily find me and the family heading either 15 minutes south to the Beach or 15 minutes North to DUMBO. DUMBO stands for Down Under the Manhattan Bridge Overpass. This artistically charming neighborhood in Brooklyn is home to some of the city's most famed artists and fashion designers as well as pizza at Grimaldi's, the amazing Jane's Carousel housed within the Brooklyn Bridge Park, the weekly outdoor food fest known as Smorgasburg and the decadent home of Jacques Torres Chocolate.
DUMBO is also clearly a great vantage point to catch some of the best views back into Manhattan from between the larger than life Manhattan and Brooklyn Bridges.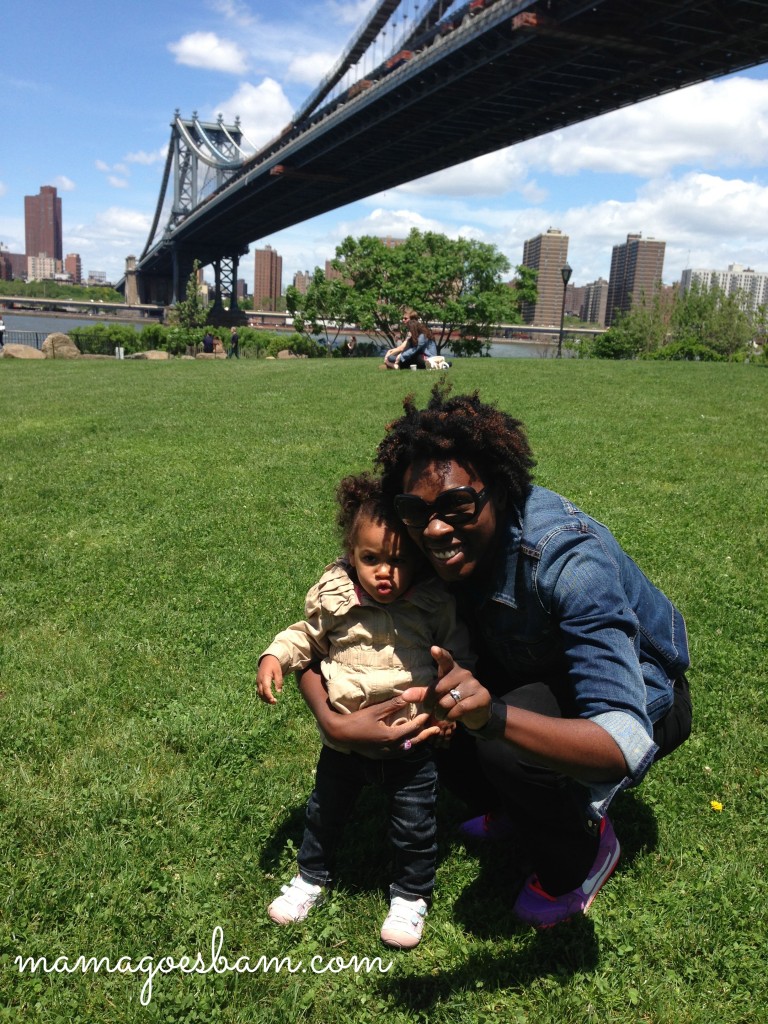 Hope off the F train at York and have a look at the map once you exit to help guide you on your way. We usually head straight down Jay Street to the Brooklyn Bridge Park. But sometimes we stop in at the Brooklyn Roasting Company for steamed maple milk for the kiddos and a coffee, so totally worth it. Pro tip: look out for Brooklyn Roasting Company decals on cafe windows all over the city, that's your key to finding great (and affordable) coffee beyond the place that starts with "Star" and ends with "Bucks".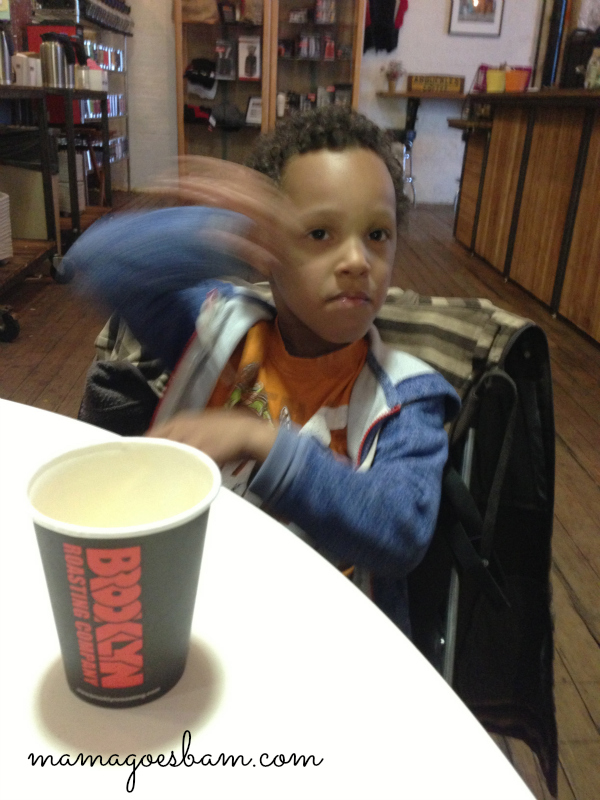 Brooklyn Bridge Park
Moms love the fact that their is a gated playground that is fun for both toddlers and older kids. Their is also a big sprawling area of green grass, yes green grass in the city! The best part is that dogs are not allowed. Sorry pooches! I love one dog as much as the other, but when you've got a 19 month old who wants to pet every dog as well as crawl around on hands and knees, its nice to know that a) she is safe from irresponsible dog owners and b) she won't put her hand in dog poop! Dogs are not forgotten thoough, there is a pretty lively looking dog run just as you enter the park.
Jane's Carousel

As you look straight ahead to Manhattan, you can't miss Jane's Carousel, the glass encased home to a beautiful refurbished carousel on the edge of the water. Dig out  $2 and join the kids for a ride. The horses on the outside seem to be stationary which is perfect for the littlies. I was able to stand alongside Little Miss and not have to worry about the up and down motion. While on the inside track, the horses seemed to go up and down, Perfect for 5 year old Mr P. Attendants make the rounds beforehand making sure that all kids are seat belted in. All in all a very enjoyable $6 (we didn't pay for our 19 month old daughter).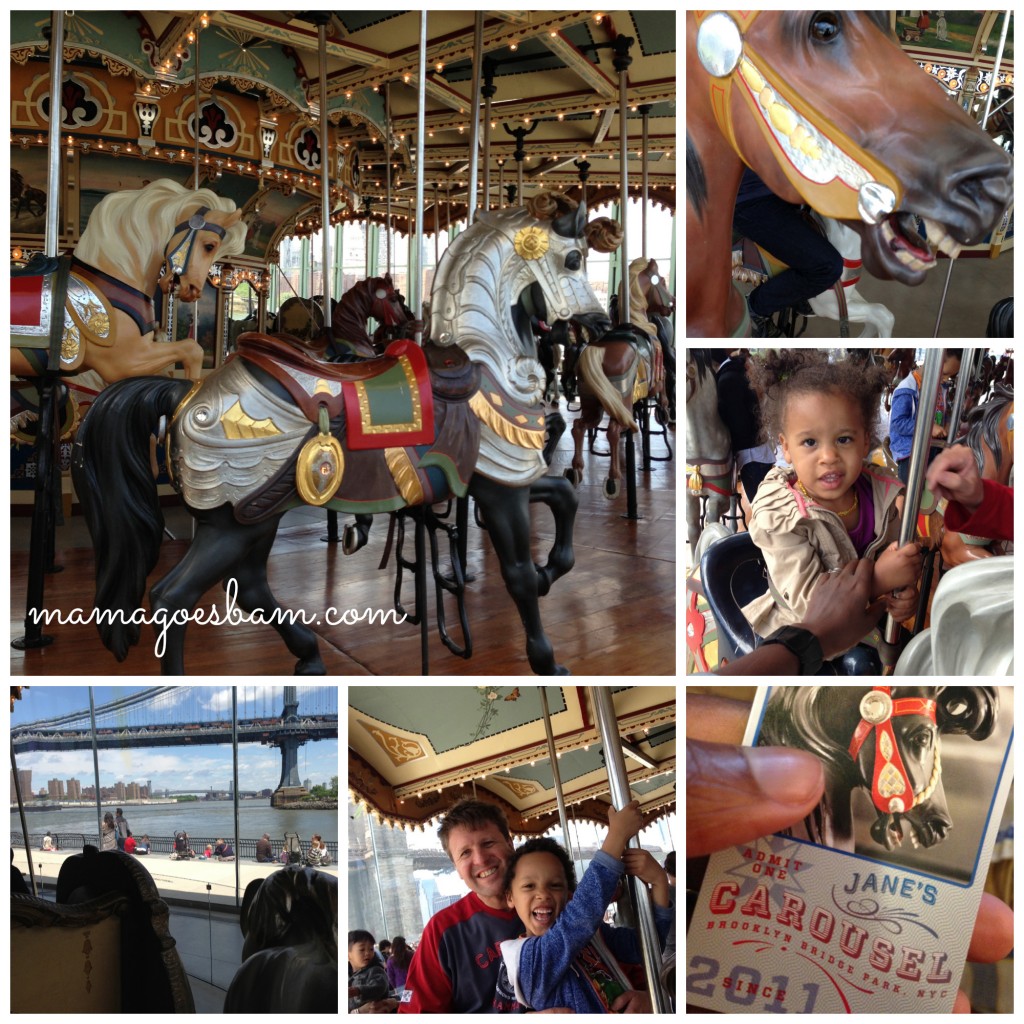 Blue Wall
Don't forget to head to the 'blue wall' in DUMBO. This beautifully painted wall is the backdrop to many professional photographers as well as amateur. We goofed around, including grabbing this photo of Mr P cracking the poos about something or other – I look none too impressed! All of DUMBO with its cobblestone roads, outdoor art installations and big bridges is a photographer's dream. Make sure to stop and look at the concrete walls as you walk down some of the main streets like Water, Main, Front and Bridge. At the moment, there are pieces from the "Everyday Superheroes" exhibit showcasing everyday Latinos the way their families see them: superheroes working to send money back to their relatives in Latin America. You have to see Latino/US Cotidiano to understand it – brilliant!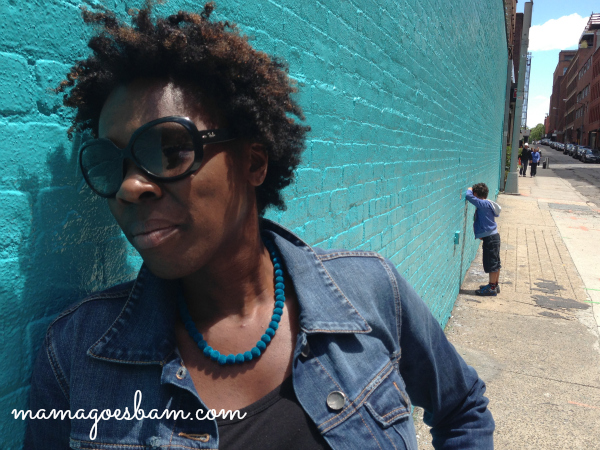 Besides the ability to walk around this fab neighborhood and not see that many cars, but still feel the buzz of a big city, it is also nice to discover smaller personally owned boutiques and cafes. Pack a lunch or be prepared to stand in line for well ove an hour and half for pizza at Grimaldi's that can only be purchased by the pie or if the weather is brilliant on a Sunday, to engage in a little light shoving at Smorgasburg in the Tobacco Warehouse from 100's of vendors serving up food from around the world. Their are a dozen places where the food is good and about a dozen more where it is meh.
DUMBO is definitely a nice stop for the entire family – Mom and Dad feel uber cool hanging out with other cool mom and dads soaking up New York's art and always interesting people. The kids enjoy the cobblestone roads, the views and water as far as their little eyes can see, but most of all rolling around on green grass!
Visit the Brooklyn Bridge Park website for more information on free activities all through the summer including outdoor yoga, history tours, concerts and movies under the sky.
If you'd like to see more of Brooklyn on a sunny day try these outings too:
This post is linked up at The Traveling Praters Best of the USA #bestoftheUSA