I generally drink milk based smoothies 4-5 mornings a week. I prefer the mild taste of almond milk in my smoothies over low fat cow's milk, plus it keeps my calorie count down (a girl's gotta watch her figure after all!) Not only is almond milk rather costly, but it is usually loaded with added sugar and a list of other ingredients that I can't pronounce. So, instead I have taken to making my own almond milk in batches every couple of days. I can blend up 4 cups of almond milk in no time with my blender and it lasts for about 2 days. Because I make it myself, I have the option of sweetening as much or as little as I like – I prefer the natural unsweetened blend.
This is such a super simple recipe that you could probably use for other nut milks. I'm allergic to most other nuts and can only eat almonds so I haven't tried any other variation of this recipe.
Ingredients
2 cups of raw almonds

4 cups of filtered water

1 tsp of sea salt

optional sweeteners: agave, medjool dates, stevia.
Instructions
You'll first need to soak your almonds overnight for at least 8 hours. The longer you soak the almonds, the smoother the final product will be. If you want to make a smaller or larger batch, just stick to the 1:2 ratio, so if you soak 1 cup of almonds then use 2 cups of milk when you blend.
Drain the almonds and rinse til the water runs clear. I run cold water over the almonds and allow to drain for a few minutes then rinse again and drain.
Combine the water, almonds and sea salt and blend on variable 8 for 1 minute. You'll still see little brown flecks floating around in the milk. If you leave it to sit for  few minutes, you'll see the white silky milk settle on the top and the grainier milk fall to the bottom.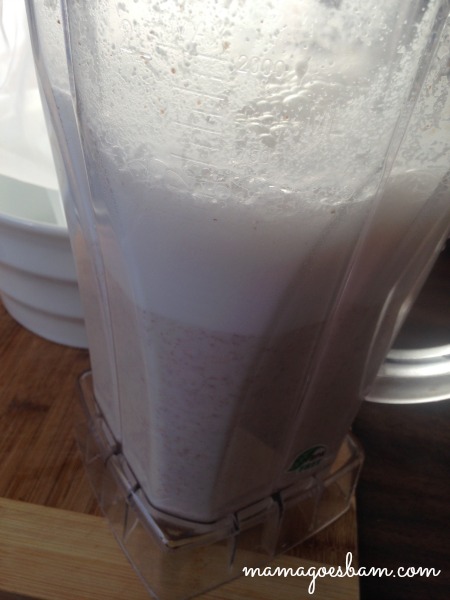 At this point you can add in any optional sweeteners and blend. I'd suggest making your first batch without a sweetener to see what the basic taste is before you dabble with sweeteners. I've made a sweetened version with 2 medjool dates added for a hint of sweetness but still prefer the unsweetened version.
Next strain the milk through the nut bag. My blender came with a nut bag, but you can always pick one up from a cooking specialty shop.  I've learnt to strain the milk into a measuring cup with a spout, as it makes it easier to then pour it into a jug to store in the fridge.
Pour the milk slowly into the nut bag, twist and squeeze the bag. To keep it from getting too messy, tilt the bag on an angle so that the milk streams out one point. If you leave the bag flat, it streams out everywhere and you'll need a much bigger bowl to catch it all.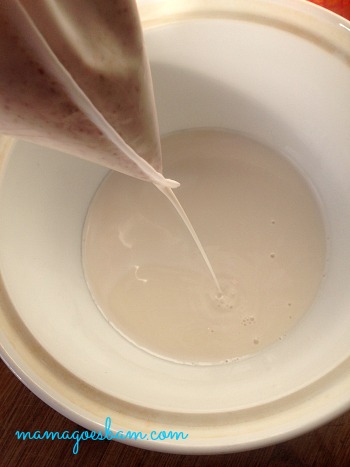 That's it! Easy peasy almond milk without all the additives and preservatives – perfect to drink on its own for a refreshing protein kick or add to smoothies.