Today's Family Friendly Travel Tip Pic Tip is brought to you by Bethaney D. from Flashpacker Family. I've had the pleasure of meeting Bethaney on Twitter, two of our common links being that we both lived in Christchurch, New Zealand at different times and we both love to travel.
I've yet to get to Bangkok, but hope to one day so I love this tip! I hope you'll follow Bethaney on Twitter (@FlashpackerFam) to get updates from her travels with her son and her husband and for gorgeous photos from her present home – Thailand.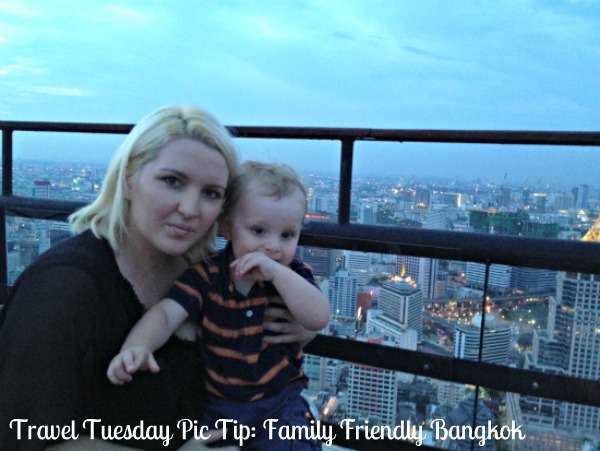 Sipping cocktails in a Sky Bar at sunset is a popular activity for many tourists coming to Bangkok- particularly since the infamous scenes from atop the Lebua State Tower in The Hangover: Part Two.
– Bethaney D.
However, if your kids are under seven you won't be allowed up the Lebua Tower.
The best alternative is to head to the Vertigo Bar at the Banyan Tree Hotel. Spectacular views and killer cocktails in a kid-friendly enrivonment. What's not to love!
———————
Check out last week's Travel Tuesday Pic Tip (#TTPT) to see how you can get free cocktail glasses at Bubba Gump Shrimp Co
Submit your Travel Tuesday Pic Tip –  I look forward to getting to know your part of the world.