The one thing you can be certain about in life besides taxes is change. Even when fear keeps you from trying new things, change is always just around the corner. A new day, a new work colleague, changes in what's on offer at the local grocery store – changes sneak up on us and some are minute while others are life changing.
This time last year we were on an 11 hour train ride back from my parents in Montreal to our home in Brooklyn. Getting together with family over the holidays is always a mix of fun and exhausting. I sometimes wonder how we can all be born of the same blood – though we love each other immensely, their are just areas that we have to agree to disagree or else a conversation will erupt into fisticuffs. My parent, sister and I are good at 'getting along' these days – we evade, avoid and ignore. Don't judge, it works for us!
Back to this time last year…We'd spent a blisteringly cold 7 days in the Great White North. Montreal had been hit by a crippling snowstorm, closing highways and forcing everyone indoors. Uuugh, though I was born and raised in Montreal I don't think I ever really got used to the winters. With a record one day snowfall on the island, Mr BAM was out shoveling with my Dad everyday and even had to push my Dad's car and sister's car out of ditches.
Can your brain even fathom what 40cm of snow looks like? This is what it looks like from the warmth of my mom's parlor room through the front window. This is what it looks like when Mr BAM tries to push my sister's car free of snowbanks, while she spins her wheels from the driver's seat.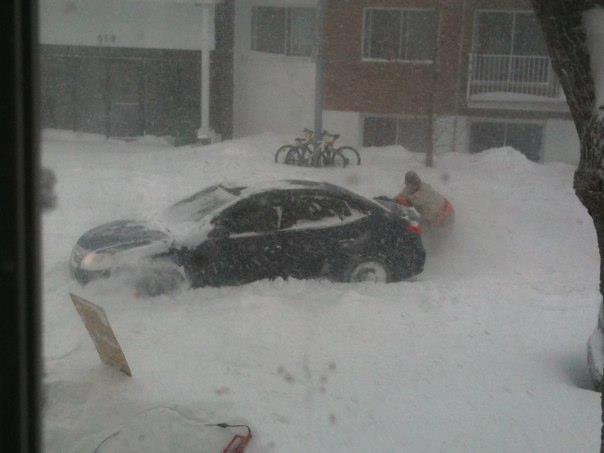 Fast forward to a year later and Canada and New York are again under siege by the white fluffy stuff – minus 26 celsius last time I heard – colder than Mars and Antarctica! What the?
Their are of course elements of New York that I miss, in fact the list is long. But the one thing I definitely do not miss is the weather. New Zealand is oh so beautiful, now who's working on the bullet plane to the rest of the world? The hardest pill to swallow from our move back to NZ, is the lengthy (and expensive!) 32 hour travel from door to door to see my immediate family in Montreal.
When people ask me what I miss about New York, I miss friends and family the most out of any "thing". My whining about the cost of food, clothes and mediocre New Zealand broadband internet will cool eventually. I'll forget that the $43 tub of haircare product that I used to buy for $4 in the US is exorbitantly priced here. I'll find new places to shop  for clothes and if all else fails I'll get someone to send me "only in US or Canada" goods as part of a birthday present.  After all, these are just things, life goes on even as the things I covet become less and less important.
But the one thing I can't recover from this move is the proximity and ease of communicating with friends overseas. Like all things, it'll take time to figure out a Skype routine that works, or when to call for a catch up. And most of all it is tough to start all over, making new friends and finding new support systems. Of course, I will go on, life will go on because in essence home is where the heart is and my heart is with my 2 lovely kids and Mr BAM.
Now this, this is the weather my body craves and loves.