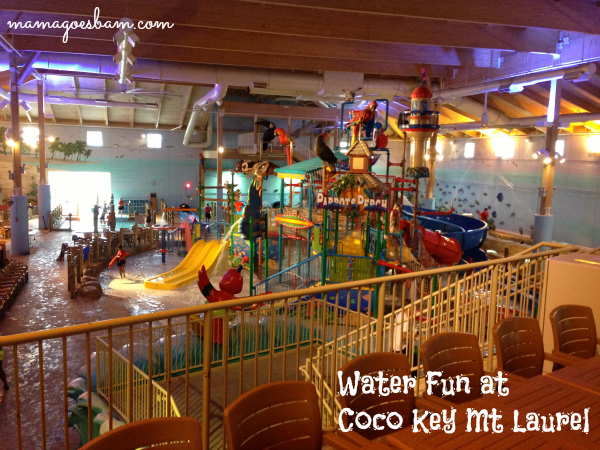 Where else can you go within 2 hours of New York, yet still be close to historical Philadelphia and enjoy the fun of an indoor waterpark? Coco Key Water Resort in Mt Laurel, New Jersey is an affordable and quick trip from New York City. Once you've arrived, you have spacious accommodations, free entertainment for the kids on weekend nights as well as some weeknights, and splashy good fun.
To be honest, our little family arrived on Easter Saturday to a completely booked resort. Their was a lineup nearly out the door at the water park end for those who were trying to buy day passes to enter. Word to the wise, if you are only coming for the day and especially on a holiday weekend, save yourself some hassle and buy your tickets online.
If you purchase overnight packages at the adjoining Hotel ML, then their is no needed to worry about your passes as you purchase them with your accommodation. 
We decided to try our hand at early check-in as it is always nice to drop off your bags early if you can. The line was about 8 people deep, but as soon as I joned the line a Coco Key employee came out to inform me that their computer system was down, and that they were doing everything they could to get more help on board to sign people in manually. She also made sure that everyone made themselves comfortable and started popping corn for the littlies. I know you're thinking that she must have done all this because I was reviewing the facility. Well, to be honest with you again, nope the team at Coco Key knew I was coming but this was not to be an official review seeing as I'd already booked for a steal of a deal that was advertised on their Facebook page. In fact, she nor anyone else knew who I was until I checked in. My husband sat in the bar lounge just off the reception area with my kids enjoying their popcorn. The wait was actually minimal.
We unpacked and the first place I headed was to the bathroom, I even tweeted that a clean bathroom is the sign of a clean hotel. Hooray! This bathroom was clean as was the spacious room – enough for the supplied crib for Little Miss and the pull out sofa for Mr P. The hotel is connected to the water park, so it's only a walk past reception and an elevator ride to the water park and arcade.
I had my best coffees of the weekend from the mini percolator in the bathroom. Go figure!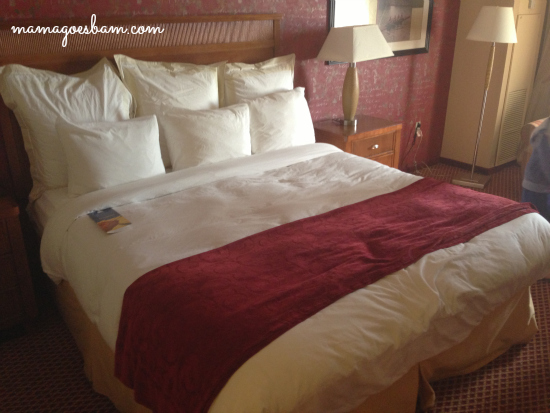 It was hard to get good clear pictures of Mr P at the water park because he was always ont he run! He had a great time sliding down from the pirate boat, lounging in an inner tube and making his way down the Coconut Grove Lazy River. We were presently surprised with the quality of the pizza served in the water park (no outside food allowed). I figured out that a large pizza was cheaper than ordering 4 individual slices. Many of the adults, including us took advantage of tropical like cocktails from the Wet Rooster bar.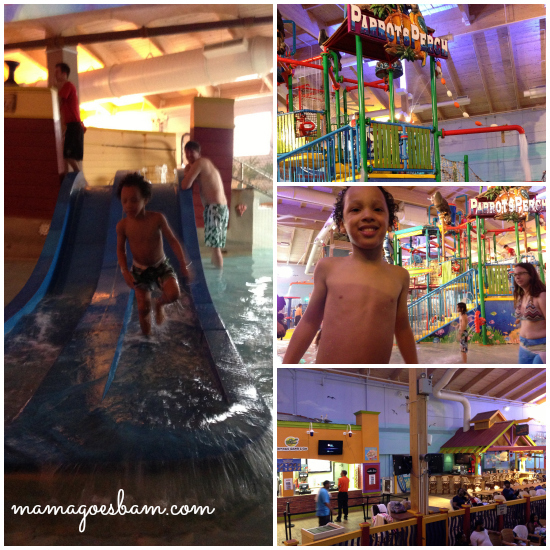 Over our 2 night stay, Mr BAM stayed in the room one afternoon while Little Miss had her nap, so Mr P and I had a chance to try out the arcade. Sometimes arcades can be a little too mature for 5 year olds, but I was happy to see that this one had some age appropriate dance games and some little boy faves like wack-a-mole!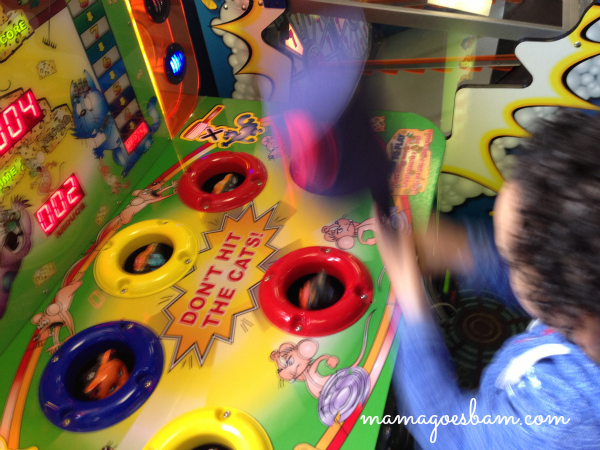 Overall the service staff was super-friendly, which is always nice when you only have a few short days to relax. My only recommendation would be that the music in the water park could be a tad lower. With the din of all the kids screaming and chatting, the loud music felt a bit over the top on the busier parts of the day.
I'd go back again as it was a fun stay for both kids and as parents we always felt they were safe. The bed was uber comfy and that is always a must when trying to take some time out. Other features we enjoyed were the free wi-fi and the kid's show on the Saturday night.
Next time we'd probably venture offsite for dinner and maybe drive into Philly if we had more time. It's easy to break up the day with water fun in the morning, take a break, and then go back in the late afternoon or early evening.
Do you have a family resort within 2 hours of your house?