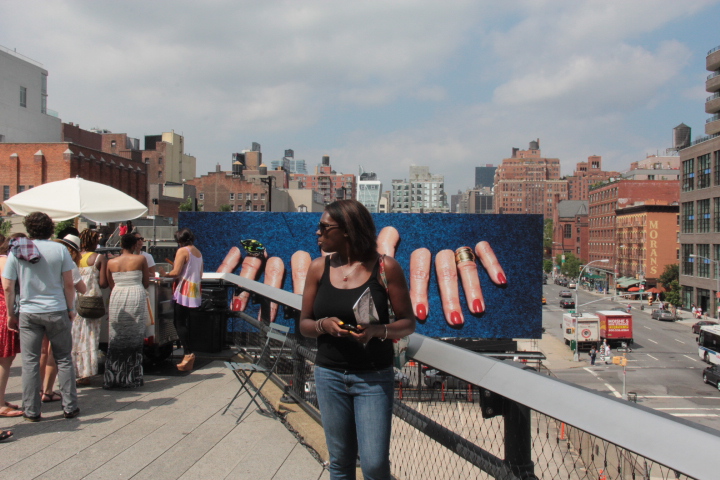 We visited the High Line a couple of weeks ago while my sister was visiting from Ottawa. It is such an amazing space, and we all agreed that other urban cities could take a leaf from their book for how to rejuvenate defunct industrial space and turn it into a neighborhood meeting space.
The High Line is an overhead green space built on a historic freight line. It stretches over Manhattan's Meatpacking District and Chelsea. So not only is their loads of beautiful green grass and flowers growing amongst these old rail lines, but you also get these fantastic view out over the Hudson River and to the East over Chelsea and the Meatpacking District. It feels so peaceful high above all the chaos of the city.
You can bring a picnic, grab food from Chelsea Market before heading up, or buy food and drinks along the High Line as you walk. Their are giant sized benches and cafe style table and chairs that you can park up on and take in the views.
Our favorite part was the little stream-like areas, perfect for soaking weary hot feet on these mega hot days.
Their are several ways to access these communal space in the sky on various subways and bus routes and at least 4 entrances have elevator access, making it a breeze to get strollers on the path. You can check out the High Line map on the official website.
It is one of those areas you just have to see to fully appreciate. Their rail lines are there, you just have to look. But what is really impressive is the sprawling lawns, beautiful perennials and artwork and music at every turn.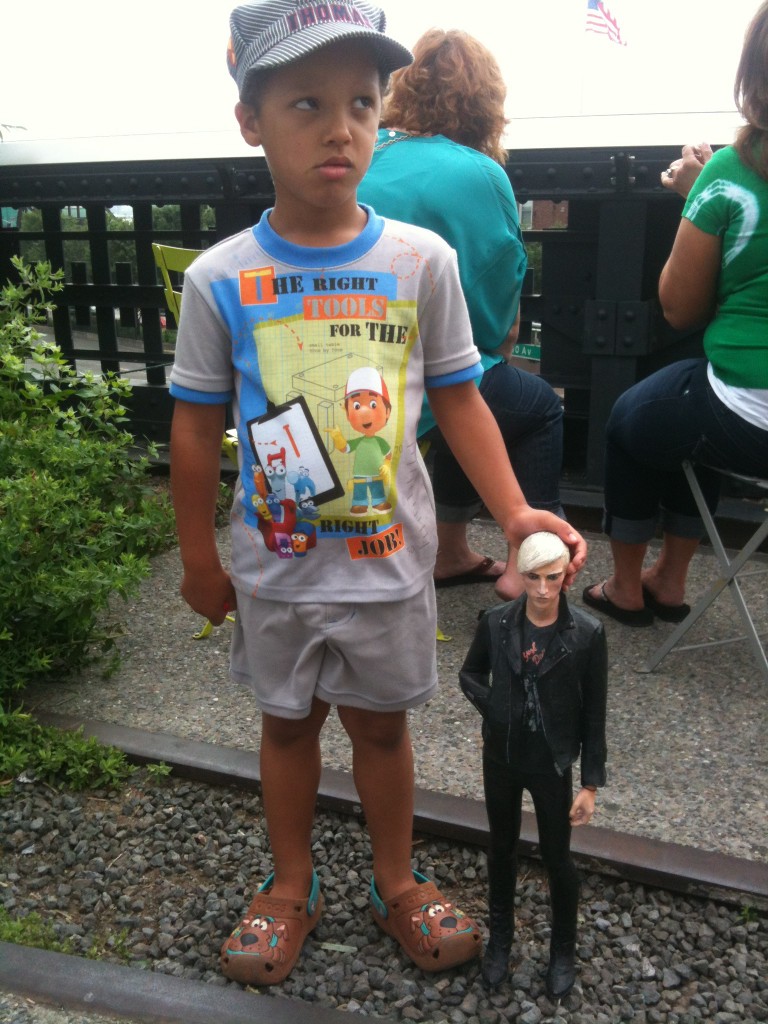 Pack your sunscreen, sunglasses, camera, a blanket for sitting on and you're set. Be prepared to turn off from the chaos of the city and just ramble around this awesome space.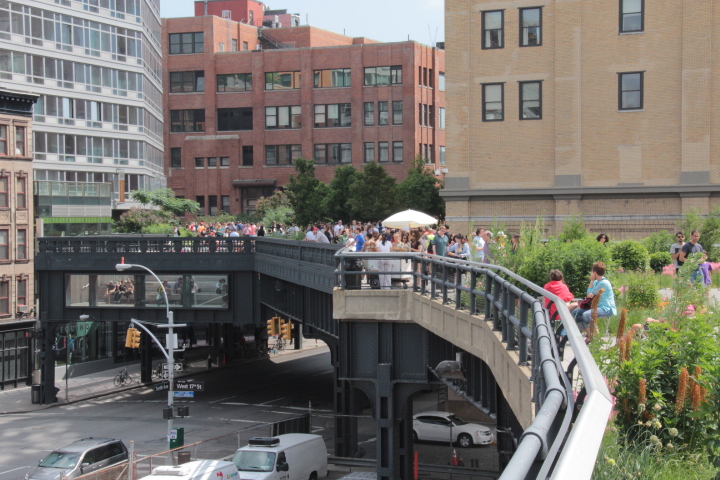 High Line greeters are stationed at different areas with maps and more information about the area as well as a calendar of events, including kid-friendly events like Lawn time for little ones every Thursday.
Though donations are welcome to help with maintenance, the High Line is one of your best bets for free family fun in New York city.
Top photo info: Commissioned by High Line Art, artist Maurizio Cattelan and photographer Pierpaolo Ferrari present the fourth work in a series for HIGH LINE BILLBOARD, the 25-by-75 foot billboard next to the High Line at West 18th Street and 10th Avenue.