Mr BAM was away for 2 weeks and during that time I really spent time in the kitchen getting reacquainted with creating new recipes from desserts, to soups and even drinks. I found these Lipton Diet Green Tea Honey Ginseng  drinks that look so refreshing, they seemed like the perfect ingredient to a mocktail! I say mocktail beause alcohol free means they are easier to try out on Mr P (who is only 5) and because lately most Girl's Nights In involve early mornings the next day! Seeing as most of my girlfriends have kiddos, its probably not a bad idea to mix in a few alcohol-free drinks to a fun night.
Here's my recipe for a Very Berry Mojito Mocktail. Refreshing, tasty and healthful thanks to mint, raspberries and strawberry ice cubes. I can't wait to mix this up for my next girl's night in.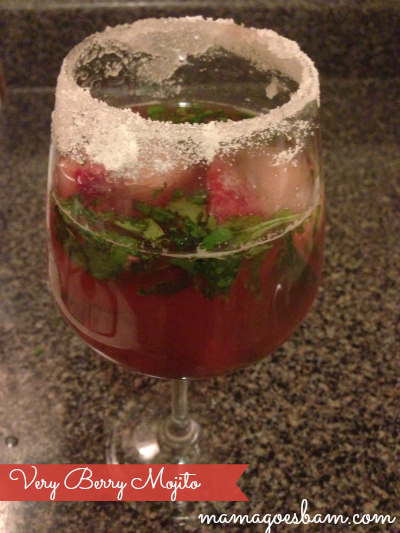 Ingredients
Lipton Diet Green Tea Honey Ginseng
Lipton 100 Calorie Half & Half (Tea & Lemonade)
1 cup of raspberries
1 cup of mint
Sugar for the glass rim
5-6 Strawberries (not  shown)
Directions
To make things a little pretty, first create the  strawberry ice cubes. Wash and prepare the strawberries cutting off the green stems, then cut 5 strawberries into quarters. This should be enough to fill a standard ice tray.
Pop the quarters into each square and fill with the Lipton 100 Calorie Half & Half (Tea & Lemonade). Put them in the freezer to freeze overnight.
It will only take a few minutes to create this fresh tasting drink, I'd suggest that you mix it up just before your guests arrive. Or even while they are there, as it is so easy to mix up. 
Add the mint to the pitcher you are going to mix it in and mash it up with a wooden spoon. You'll smell the minty flavors being released. Yum! 
Next add the raspberries a tablespoon at a time, mashing them into the mint.
Next, pop out 2-3 of your strawberry ice cubes into the glass.
To finish it all off, pour the Lipton Diet Green Tea Honey Ginseng over the ice
If strawberry ice cubes are not fancy enough, sprinkle sugar on a flat plate. Then wet the edge of your cocktail glass and sit the rim of the glass in the plate – voila, you have an instant vacation resort type fancy glass
Finally, enjoy a hint of minty sweetness and dream of summer on the way.
Let me know if you try out this recipe, I know you'll love it! And if you do buy Lipton Iced Tea, look out for the Sweepstakes to win an ultimate Entertainment Room. All the details are on the gray tag that you can see in the picture above.
Everyone loves a girl's night in and 2013 is my year to mix it up! Whether I am sharing unique, new recipes with friends, finding new ways to entertain or fun ways to stay active, I can't wait to have more girl's nights in this year.
Lipton Iced Tea and Dance Central 3 have teamed together to host the 'Game On' sweepstakes so you too can take your next girl's night in to the next level. Enter to win one of four ultimate entertainment room makeovers which include a new Samsung TV, sound system, Xbox 360 Kinect bundle and console, Dance Central 3 and more! Find out how here.
This is a sponsored conversation written by me on behalf of Lipton Iced Tea. The opinions and text are all mine.