My 5 nearly 6 year old loves to watch others play Wii Games, besides Just Dance I haven't really taken the time to find him a game that would actually be enjoyable at his level of game play rather than frustrating. He is starting to have play dates where he is invited to play video games. I believe this is what is spurring him on to want to explore video games more. So when I was given the opportunity to Review Ubisoft's The Smurfs 2 Video Game for Wii, I thought this sounded like it might be a fit for him. Though his past gaming experiences have mostly been on the iPhone,  he always picks up on the game play easily enough so I had hope that this would be a good introduction to an adventure platform game.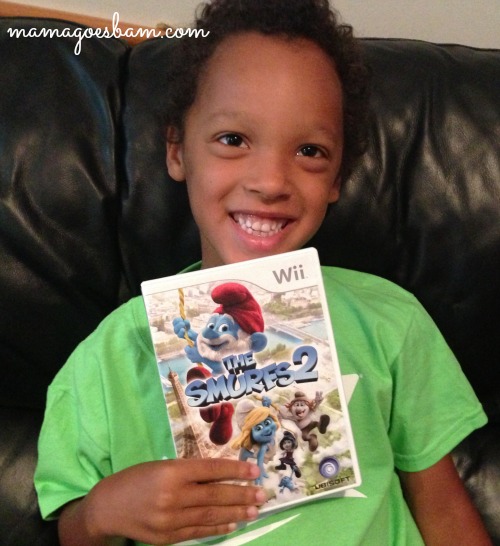 The Smurfs have been everywhere lately! On bus booth shelters and big billboards throughout the city. So he was over the moon when I showed him the game based on the Columbia Pictures' and Sony Pictures Animation's film. He couldn't wait to pop it in and give it a whirl. I was hoping to wait til morning, when he was fresh and more likely to let me help him through the game play, but he had other plans.
Thankfully, I was surprised that I was able to coach him through the process of using the console buttons to move from the left to right, jump and make super jumps. Within no time, he was moving from level to level. A couple of set backs along the way, but all in all I would say The Smurfs 2 game was made for the novice gamer like him.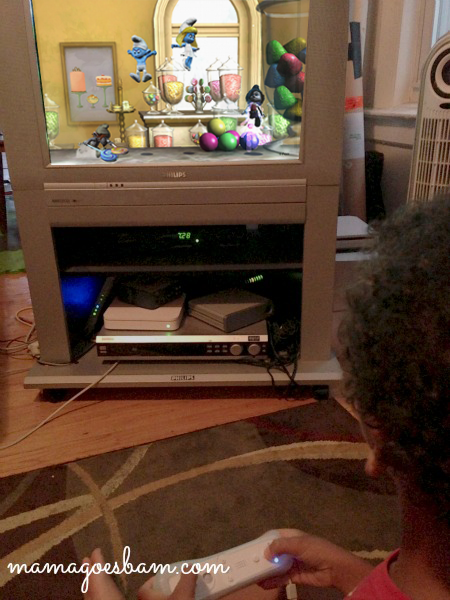 Here's the scoop,once loaded up we are introduced to the mission at hand which it to save Smurfette from the evil clutches of Gargamel and bring her back home in time to celebrate her birthday. Over 30 levels and 6 environments, you get to choose your character as one of the Smurfs featured in the movie – from the likes of Brainy, Hefty, Clumsy and Jokey Smurf. Just like the film, the action takes you through Paris, and the Enchanted Forest as well as new environments exclusive to the game.
As I mentioned before my son is not a hardcore gamer, so he is enjoying redoing the first few levels until he is fully happy with the way he has defeated his enemy. The storybook like interludes are great for him to read along to as well. If you've got a littlie at home who has only basic knowledge of platform games or any gaming at all I would recommend The Smurfs Game 2 as a challenging yet fun game for the beginner. The Smurfs 2 can be purchased via Amazon and you can find out more about the game on the official The Smurfs 2 website.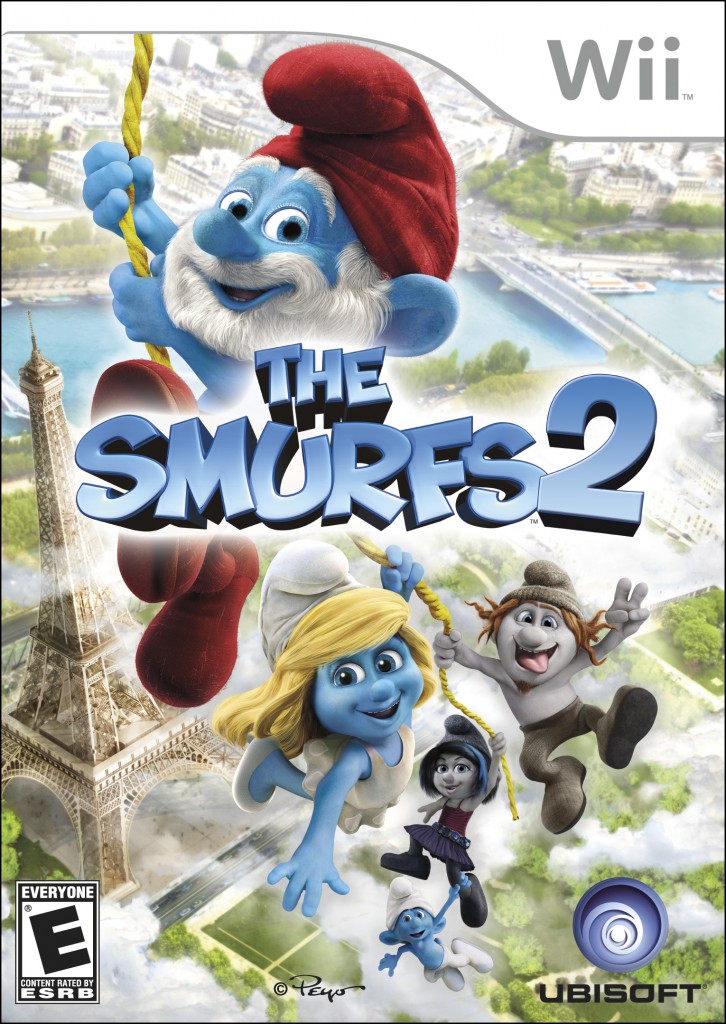 I was selected for this opportunity as a member of Clever Girls Collective and the content and opinions expressed here are all my own.