Welcome to A Tisket A Tasket Spring Giveaway Hop coordinated by ShePromotes.com!
This event will take place from April 8th at 12:01am EST through April 22nd at 11:59pm EST.
Over 100 bloggers have wonderful prizes valued at a minimum of $25 to help brighten your spring! So make like a bunny and get hoppin'!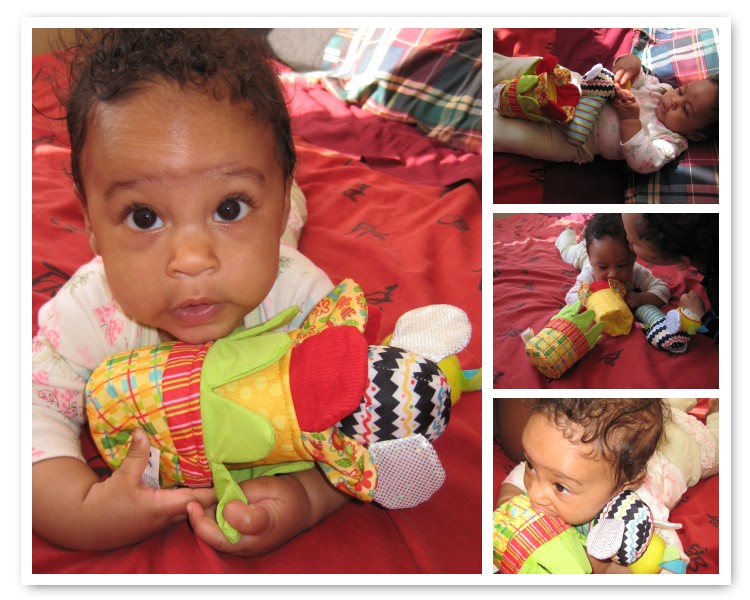 The Mama is giving away a prize pack from Alex Toys' Mix 'n Max Collection for that special baby in your life. Simply fill out the easy rafflecopter below and one lucky winner will be in to win a Mix 'n Match Yum Yum Teether and Nest 'n Bloom Toy.
Good luck!
I had the pleasure of trying out the Mix 'n Max Nest 'n Bloom with my 5 month old. She is all about discovering toys by holding them in her fingers and putting them in her mouth! The versatility of this toy means that she plays with it a little longer than some of her other toys. It separates into 3 pieces allowing her to hold a rattle or crinkle the leaves – creating sounds that make her laugh with delight.
The surface is bright, soft and shiny making it easy to wipe off, which is a bonus considering this toy spends so much time in her mouth.
It's a perfect toy for your littlie to enjoy while relaxing on their back or during tummy time. She's already taken up the challenge of trying to stack the soft cups into each other. Grasping is such an important part of developing her motor skills and this Mix 'n Max toy helps her practice.
This is such a great toy that will adapt with her as she grows. I've even started taking in with me on the go.
Check out the Alex Jr Collection for more Award Winning toys for baby, follow Alex on Twitter or say hi on Facebook.

Disclaimer: Mama goes BAM, "A Tisket A Tasket Event" or the "a Tisket A Tasket" bloggers are not responsible for sponsors that do not fulfill their prizes. We have represented each sponsor with the expectation they will fulfill their prize and in a timely manner. We will contact the sponsor regarding your prize(s). The sponsors, in most cases, are shipping their items to you directly. We will make every effort to assist you obtaining your prize. If there is an issue with a sponsor, please notify the blog you won a prize from within 4-6 weeks for assistance, after that we may be unable to assist you.