I had the pleasure of testing out a BOB Revolution SE Stroller for the past couple of months and it has been fantastic! As someone who walks everywhere with my kids in between rides on the subway and even runs with them, this jogging stroller has been a great addition to our family. I only wish I had pictures of me running with her in the BOB, but sadly I would just dress her up warm and take off – we haven't had as many warm days as I would have liked so far this year.
I was looking for something to replace our very ancient jogging stroller that served me well but had a few flaws that were telling me to kick it to the curb. First off the huuuge wheels and inability to fold it down without taking off all three tires was a big pain and waste of space for someone living in a Brooklyn apartment. All those old features that were meant to mean a more stable run with baby have been updated (for the better!) on the BOB Revolution SE. The back tires are a much more modern 16″, whereas they were about 20″ on my old model. The Revolution SE also has an easy, two-step folding, lightweight frame for convenient transport and storage – booyah!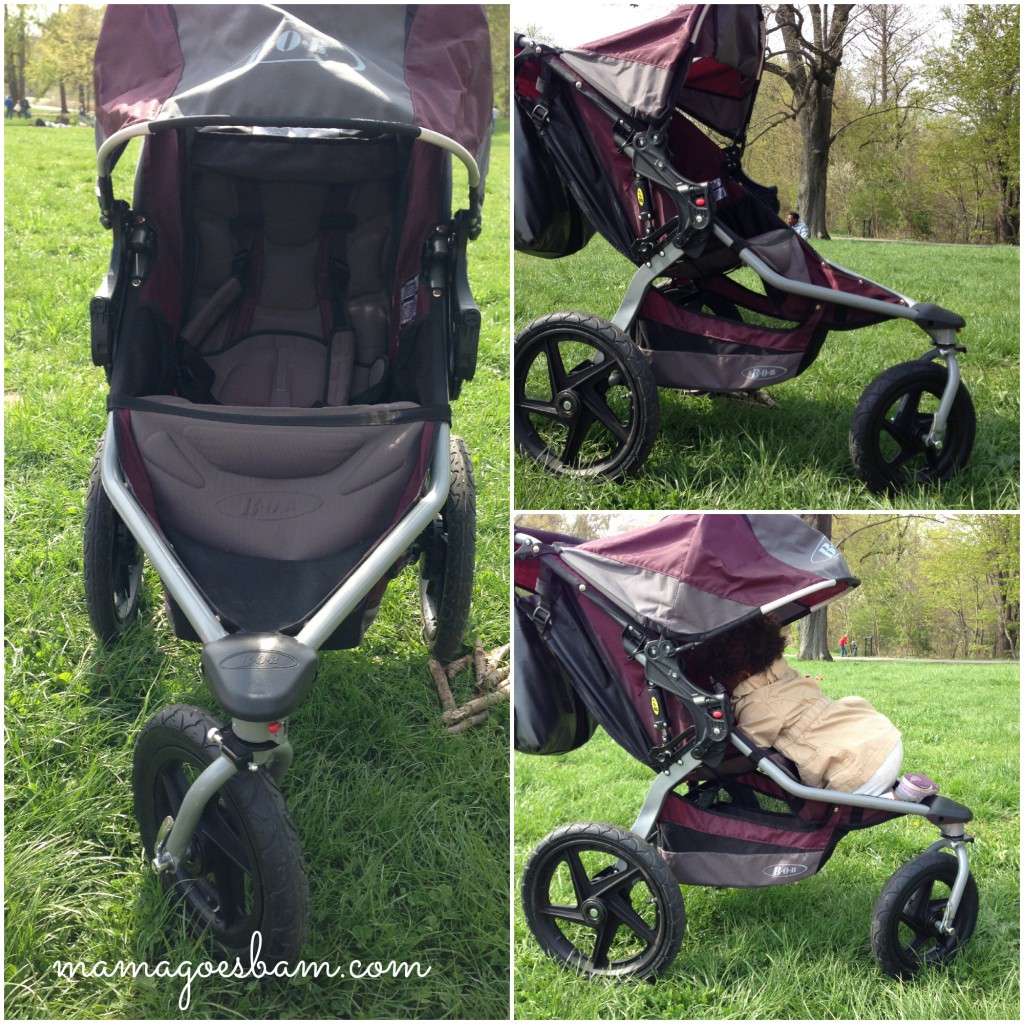 Because it is so easy to fold down, this stroller replaces both my antiquated jogging stroller and my everyday stroller. The comfort, and ease of maneuverability means that it works equally well on uneven terrains, indoors and on sidewalks. My Little Miss enjoys the comfort of the padded seats and harness and I like the added safety of the 5 point harness,  the all important foot brake and especially the wrist strap. We've been able to go from walking and running on the sidewalk, to the bus, up and down subway stairs and even through grassy parks and on the beach – all with ease.
The Revolution SE ticks all the boxes as being the right jogging stroller for our family.
Check out the list below to make sure that your stroller is right for your family, if not get yourself a BOB Revolution SE, Mama Goes BAM is giving one away right now!
This is your perfect all around jogging stroller. For my last half marathon, I was able to do some training runs with Little Miss, thanks to the Revolution SE.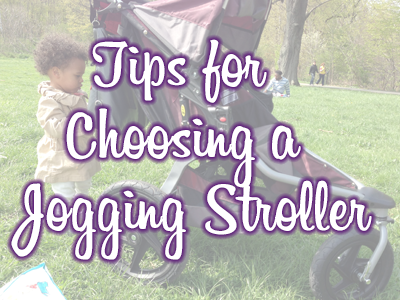 Features and Tips to think of when choosing a Jogging Stroller
The BOB Revolution SE checks all the boxes
16″ wheels offers flexibility of different terrains for walking and running
State-of-the-art, adjustable suspension system provides an exceptionally smooth ride for both baby and runner
Accessory adapters means you can run with a carseat and add a snack tray for older kids (helps keep them occupied on runs!)
A five point harness is a must, especially if you will be running up and downhill

A large sunhood to shade baby's eyes – the Revolution SE sunhood is adjustable

A simple fixed wheel/swivel wheel option to keep you rolling straight
Easy, two-step folding to store in your vehicle – or in m case in your house or to take on public transport easily
A suspension system for a smooth ride especially for uneven terrain
Ultra-padded, adjustable reclining seat for enhanced seating comfort – you'll be lucky you have this when you can run for over an hour while baby sleeps
Large viewing window lets you keep an eye on your baby
Large foot parking brake and wrist strap for extra safety
Weight capacity: the Revolution SE holds 70lbs (including cargo)
Seat pockets for baby to store books and toys: The Revolution SE has 2, 1 on either side
Seat recline: Check that your stroller will actually do this. The Revolution SE reclines at 70 degrees
Alloy vs Steel? I choose alloy because it is lighter and won't rust as quickly as steel which is important if you intend to beach it like I do!
To me the 2 most important tips for choosing your jogging stroller are to know your safety band make sure that it suits your kids. You are more likely to trip or lose control while running, so you want to make sure your stroller is fully loaded with all the safety features from harnesses to wrist straps. And comfort is a given, if baby can't stand it then you won't last more than a few minutes on a run. If it is truly a smooth ride, baby will be comfortable and look forward to taking off!