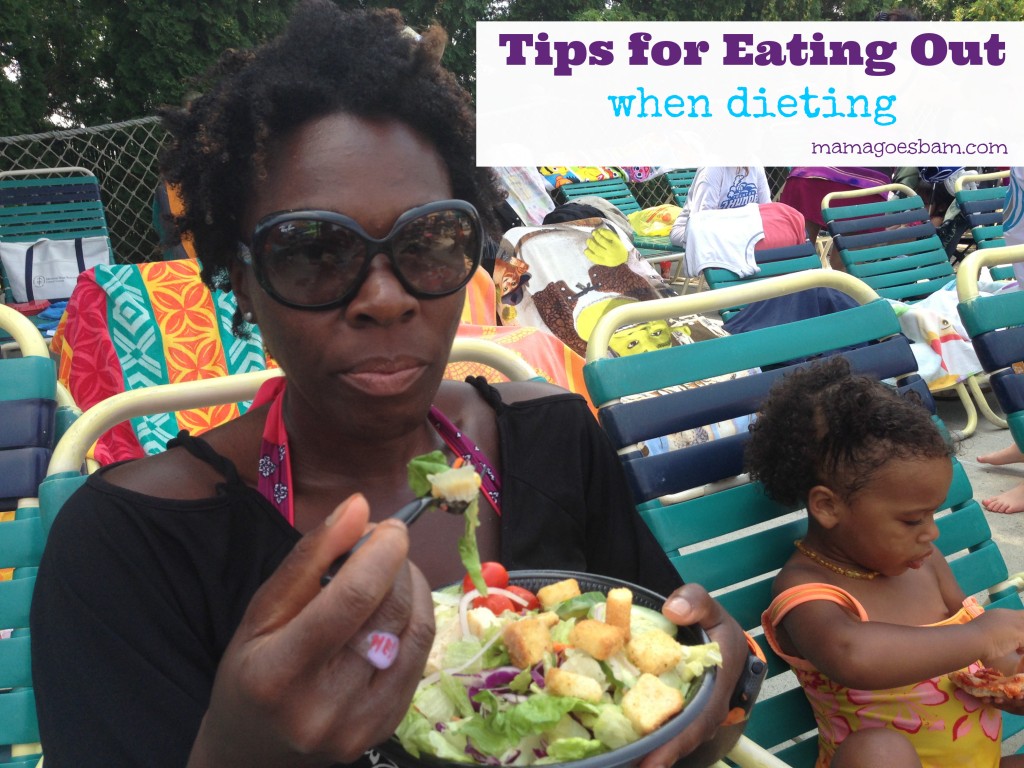 That's me at Sesame Place eating a salad with grilled chicken and dressing on the side. In the end I didn't even use the dressing and it would've been just as easy (but less friendly on my waistline) to order pizza, french fries or tacos.
Hopefully if you are dieting, you are on a sensible program that is helping you to change the way you eat and see food. Not a crash diet that forces you to starve yourself or has an unrealistically expectations of a low caloric intake that has your bod tired all the time. Here's a secret, if you are dieting to bring about a change for the long term, then guess what…
A good weight loss program will teach you the tools to eating properly not just while you are dieting, but the future as well.
I am in no way a doctor, and nor do I pretend to be one on this blog. These 10 tips for eating out while you are dieting are based solely on my personal experiences.
Skip the bread.

Ask for dressing on the side so your salad doesn't come drenched in dressing. You can also enquire to see if they have a low calorie option. I have been surprised to find that some restaurants actually do!

Be prepared: Check out the menu ahead of time online so that you are not making non sensible decisions on an empt, rumbling tummy

Drink water instead of a cocktail that will have a ginormous amount of calories. Save the calories for a treat, like sharing a dessert with your kids

Ask to replace starchy potatoes or french fries with steamed vegetables (no butter, please!) Use a little salt and pepper sparingly to season them up

Think through a proper main, and forego the appetizer

Remember to chew your food. Remember the old saying about it taking 20 minutes for your tummy to know it is full? Yep, that is pretty much true. If you gulp down your food, by the time you finish eating it is too late, 20 minutes later you will feel as if you are going to pop!

Look for light options on the menu. Many family friendly chain restaurants are starting to callout their low calorie options on the menu

Dessert is a toughy. Rather than ordering a whole dessert to myself, if my sweet tooth is calling I will share with my husband. Or I will take a spoonful of my son's ice cream dessert just to satisfy the sweet tooth. I've also had yummy specialty white or green teas while waiting for those I'm with to have their dessert. It's not always what I want, but it keeps my mouth occupied, gives a tinge of a sweet flavor and some teas are good for digestion, and as a metabolic boost.

Hopefully you are eating out to be social and catch up with whomever you are with. Remember what my friend Rocco DiSpirto said about eating with people? Talk, chat, be social!
In the end, going out to eat shouldn't be too agonizing. As you progress along in your diet and learn healthy eating habits, the less you will want to overstuff yourself on sugar and foods that do not nourish your body.  And if you do have a big piece of cheesecake for dinner, you'll probably feel pretty poorly afterwards. You can call up that feeling next time you are about to fall off the health food wagon. You'll get sick just at the thought of remembering how you felt.
And my absolute final word on all this is to not be too hard on yourself. It's nice to treat yourself once in awhile – we are all only human.
Did I leave any tips out?