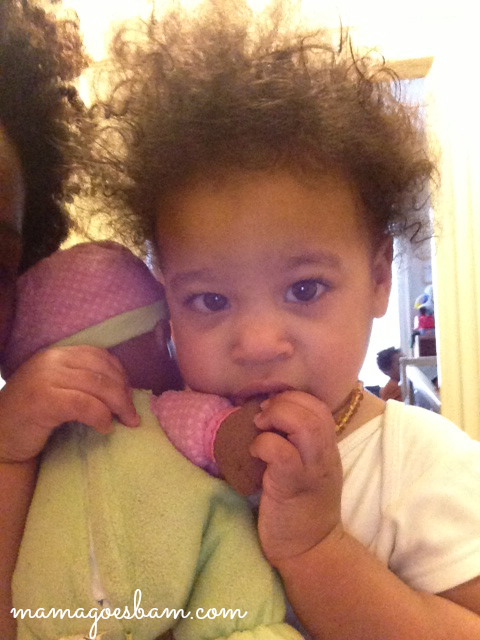 My children are blessed with beautiful caramel colored skin, thanks to the mixed influence of my dark skin and the fair complexion of Mr BAM. They have the best of both world's with my Bajan origins (my parents are from Barbados) and Mr BAM's Kiwi origin (from New Zealand). They have the culture, stories and inspirational grand-parents and great-grandparents to boot. The one downside to this mixed up family is the resulting hair of Mr P and Little Miss. Ok, I don't want to call it a downside – it's fun, it's crazy curly…and strait, and wavy, soft and textured all at once. Oy! How am I to tame the curls?
My mom has been bothering me since Little Miss sprouted hair to 'do something with it'. Sending not-so-subtle hints like brushes and hair bows in the mail and asking 'When are you going to comb her hair?' I was of the opinion that she is a baby, when else in life would she be able to roam so freely, her afro-curly-straight mop of hair blowing in the wind. I hate getting caught up in the whole hair movement more than I need to. In fact, I never quite understood why parents seemed to obsess over their natural girl's curls…until now. Showing an interest in our child's hair isn't vain, it's just about looking neat.
The morning I took the picture above is when it all changed. Mr BAM loked at me and said, 'Ok, we've got to do something with her hair'. I concurred that even though she is the most shining little girl inside and out, the knots and tangles were looking beyond messy, worst after naps and big toss and turn sleeps. So I went on the search for the baby equivalent of the haircare products that have helped me *finally* come to terms with my natural hair.
I was forced to go natural in 2003 when I moved back to New Zealand. Their were only a handful of salons up and down the country that catered to black hair, and if I was to get my beloved relaxer I was likely to burn half my scalp and lose hair in the process. So there you go, I was a forced naturalista. Over 8 years in New Zealand, and I can't say I ever really loved my hair, I knotted, twisted and just managed my dry hair. Fast forward to 2011 when I moved to NYC from NZ and couldn't wait to try ALL the products on the market. I started with other natural brands, with little to no success, but it wasn't until I stumbled upon Shea Moisture that I found a product my hair took to. My curls are bouncy, springy and overall my hair is healthy. A little over a year ago, I went to a salon here in Brooklyn and treated myself to a blowout and was presently surprised when the stylist said I had healthy hair, thanks in part to how I was treating it.
Back to the story at hand. Because Little Miss' hair is more soft and curly then kinky and curly like mine, I decided that rather than their AH-MAZING Curling Souffle I would try to define her curls with the Coconut & Hibiscus Curl & Style Milk. Success! It is such a versatile product that allows me to straighten her hair, pull it into the ever adorable little girl pigtails, or just leave it curly-wurly without the knots. Finally, her hair is one texture/style at once, instead of 3 or 5. The Walgreens near me didn't have any products from the baby line, but I figured if the adult line of products had ingredients good enough for my hair, it would be good enough for hers.
Without further ado, here are the styles her dad created. Yes, her dad looooves doing her hair. Truth be told she sits better with him than she does with me anyhow.
Now that I have the knots and texture sorted, I have another question for all you moms:
How do you get your toddler to sit long enough to do her hair? Share your tips!
disclosure: I received no compensation for this post. I genuinely love the product and just wanted to share with my readers.