If you're like me, you enjoy football for everything but the actual game. I love spectator sports, but there is something about the stop and start of football that has never fully won me over. But who can resist the Super Bowl, the fanfare that surrounds this last game of the season is hard to beat. I remember when I was younger (i.e. before kids), I was able to sit around for hours eating food, drinking, and watching the SuperBowl – the tailgaiting with friends AND the commercials made it AH-Some!
Fast Forward to Super Bowl 2013 and I have to admit, I am a little excited! If you haven't yet heard Beyonce is the half-time entertainment, and the commercials as always promise to amaze!
A little birdie told me that 2 of Disney's highly anticipated feature-length releases for 2013 will be launching trailer. Check out the sneak peeks below.
The Lone Ranger
I've said it before, I love me some Johnny Depp and I can't imagine he will disappoint in The Lone Ranger due in theaters July 3. Catch the Super Bowl Pregame show to see the trailer, or if you can't wait head, over to Yahoo! to see it online now.
Tweet your thoughts on the trailer with hashtag #LoneRanger.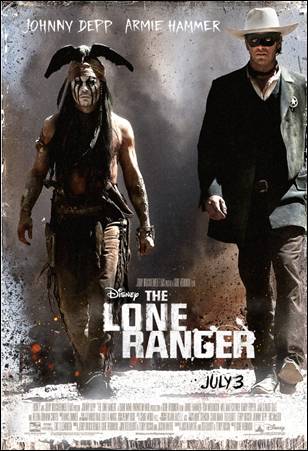 To participate in The Lone Ranger "Who Will You Ride With on Game Day" Sweepstakes* and get a chance to win prizes for "You and Your Kemosabe," tune in and follow @LoneRanger on Twitter.  For a chance to win, after the sneak peek airs answer trivia questions about the spot correctly and use #LONERANGER in the reply. All correct entries will be entered in a blind drawing for a chance to win a prize pack, such as Kawasaki helmets, SUBWAY®  gift cards, and more.  Each prize pack includes two prizes, one each for "You and Your Kemosabe." The sweepstakes will end February 4, 2013, at 3:00 p.m. PST. Entries will also be accepted via email to lonerangersweeps@thaweb.com.
Iron Man 3
And the other Disney Flick that has a spot set to air during the game is the third in  the Tony Stark/Iron Man movie franchise.
Here's a 10 second teaser. Weigh in during the Super Bowl on Twitter with #IronMan3