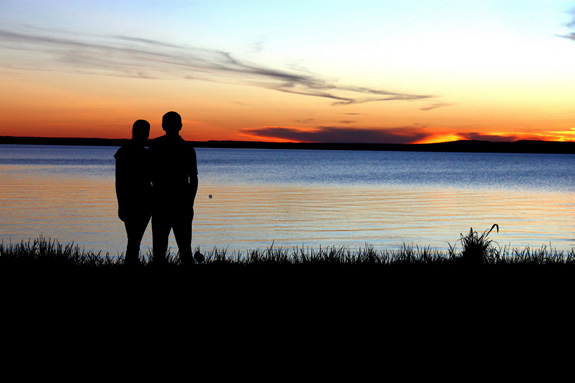 My husband and I recently had a not so successful date night, we've figured it all out now and now what not to do next time. In the meantime, I thought I'd also solicit some helpful tips from a bloggy friend.
Finding time for your spouse can sometimes be tricky. You have work, friends, taking care of the household, and children. Your spouse seems to be the easiest thing to push to the back burner.
One way to put your spouse on the front burner and reconnect as a couple is to plan midweek date nights. Now, midweek date nights do not need to be as lengthy and planned out as their conventional counterparts – weekend date nights. In fact, they do not even need to be at night! Here are some ways to fit some "us" time into your hectic week without it feeling like a stressor.
Make it a short date
Make your date around 2 hours in length. No need to get a babysitter, ask a friend or neighbor if they will watch your kids for 2 hours max. You could trade this "babysitting" time with them. You will watch their kids for 2 hours another night.
Now that the kids are hopefully not on your mind, do something fun together. Here are some ideas that you can do in 2 hours or less:
Get a little picnic together and head outdoors. Watch the sunset and drink some wine.
Go for a walk. Wander the neighborhood or a local park. Getting up and moving will help you relax and get your mind off of your day so you can concentrate on your spouse.
Head to the bedroom for some fun! Give each other massages to help with relaxation. Who knows where a good massage can lead!
Go to happy hour at a local bar. You can get some great specials at weeknight happy hour events. Plus, they usually only last a couple of hours giving you a set start and end time for your date.
Make it a "Date Day"
If you have a hard time winding down after work, or you have difficulty making time for each other in the evening, try a date day instead of a date night! Here are some ways you can have a date with your spouse during the day:
Have breakfast together. Get up an hour or so early so that the two of you can make breakfast together. Or, head out to a local diner for breakfast before work. It will help you wake up, prepare to face work, and give you time to enjoy your partner.
Have lunch together. If you work near one another, schedule a lunch date. Meet at a local restaurant or bring your bag lunches to a park bench. Meeting in the middle of the day will help break up the monotony of your work day.
Plan a few hours of vacation time. While the kids are at school, you can be at home enjoying one another! Schedule an activity you both enjoy for this time. Rent a movie, go out for an afternoon meal (early bird specials anyone?), or recreate some of your favorite dates from the past.
Whether you decide to take a couple of hours in the evening, or during the day, make sure that this time is solely for you and your spouse. Turn off your phones, computers and the TV. Concentrate on your spouse with no interruptions.
Have you had a successful weekday date night? What did you and your spouse do?
About the guest author:
Stacey writes for Newlywed Survival. Read more about relationship issues and other newlywed survival techniques on her blog dedicated to newly married couples.