I recently had the pleasure of celebrating my birthday at the SpringHill Suites Philadelphia Langhorne. I can't thank them enough for the complimentary stay and for being part of an unforgettable birthday. With just an hour and a half drive from New York city, it makes for a great getaway from the hustle and bustle of the city. It is not always easy to find time for an extended vacation with the family, so getting away close by to the closest hotel to Sesame Place is a pretty good idea for a nearcation for a family of four with 2 kids under 6.
Here are just a few reasons why I'd recommend SpringHill Suites Philadelphia Langhorne for your next family-friendly stay.
1. Complimentary 24 hour valet service. This may not seem like a big deal when you have kids and are not likely to be out and about at all hours of the night, but trust me this valet service is more than meets the eye. As our very first point of contact with the hotel, the valet were helpful, almost like a mini-tourist desk. It is also nice to have free parking. The front desk staff was equally as friendly, but you don't normally expect that level of service from the valet staff.
2. Did you catch what I said above, yep that's right SpringHill Suites Philadelphia Langhorne is the closest hotel to the ever popular Sesame Place. Just park your car, put on your bathing suit and follow the path less than 10 minutes from the front desk to the Sesame Place gate. So convenient if you need to duck back for an afternoon nap so the kids can stay awake til the night time parade at 9PM and close the park with their favorite furry animals. We were happy to be able to stroll over to bed rather than deal with the traffic of everyone driving home. Less travel with kids that late at night, means less chances of a meltdown!
3. Complimentary Coffee that actually tastes good. I only drink one cup of coffee a day, so it has to be good! I found out that complimentary coffee was brewing on the ground floor all day long! As a bonus, there were single serve international delight creamers on hand to make the coffee extra special. Can you say French Vanilla? Being caffeinated is important to this mama in order to keep up with my kids!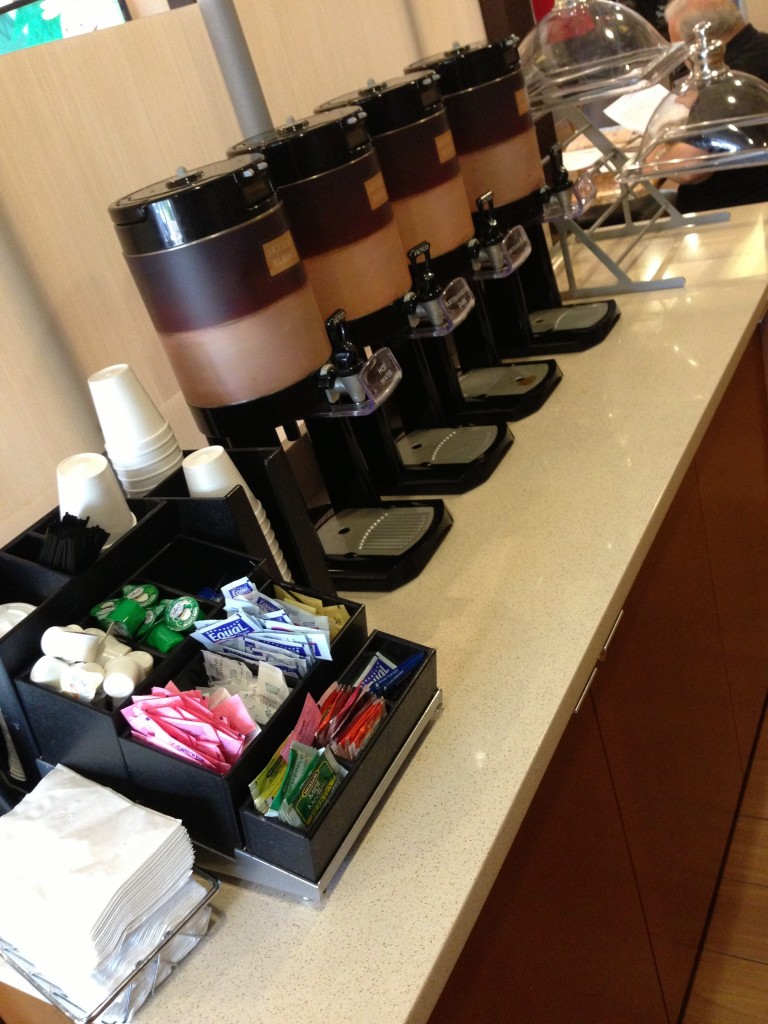 4. The Playroom is a great place to unwind with the kids and get out of the heat. Their is really nothing more family friendly in a hotel than having a dedicated cozy space for the little ones. The room is full of fun toys for all ages, my kids thought all their dreams had come true with the Elmo cutout at the entrance to the playroom. They thought they were already at Sesame Place!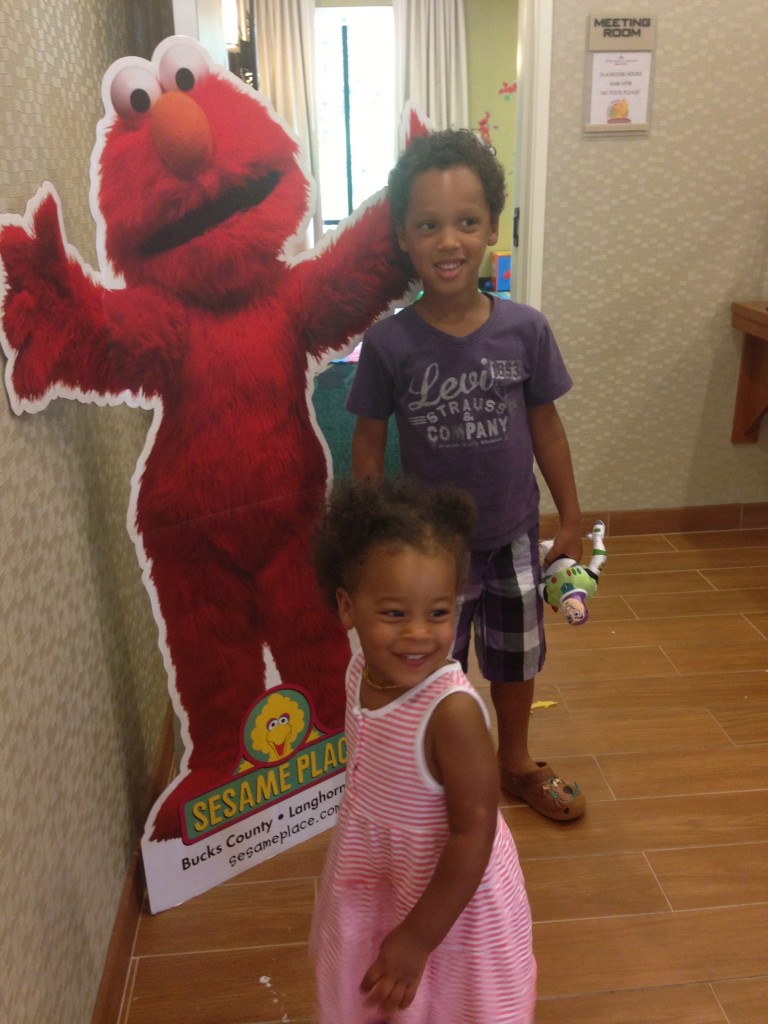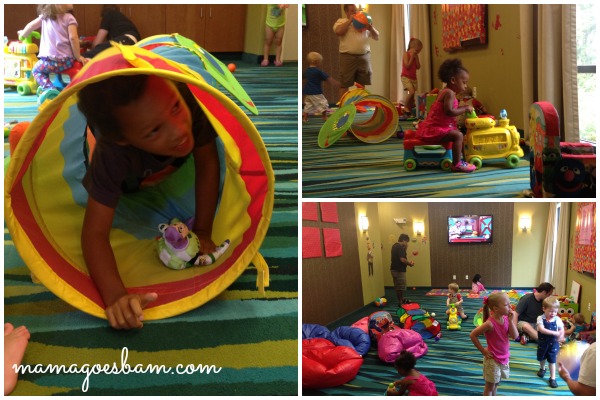 5. The clever room layout means you are not stepping all over each other. SpringHill Suites Philadelphia Langhorne boasts rooms that are 25% larger compared to rooms of the same price. The privacy wall means that you can put the kids to bed and the adults can hang out and watch TV in the living room. Business on one side, party on the other.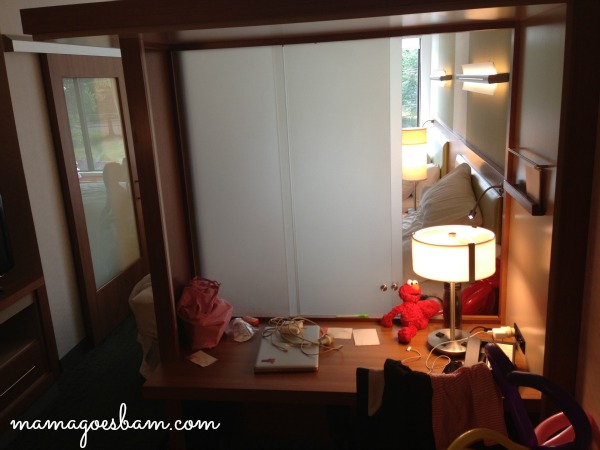 6. As someone who is dieting, it was nice to have such a healthy (and complimentary) option for breakfast. More than just the average cold pastries other hotels serve up, SpringHill Suites Philadelphia Langhorne actually had mostly hot options and a selection of cold cereals and fruit as well. I had no problems indulging in a protein packed plate of scrambled eggs, fresh spinach and a dollop of salsa. Beyond yummy! Though I held off on the bread and pastries for the sake of my waistline, the kids had a side of fresh do-it-yourself waffles one morning and toast the next morning along with cereal – yes, those little people can eat alot!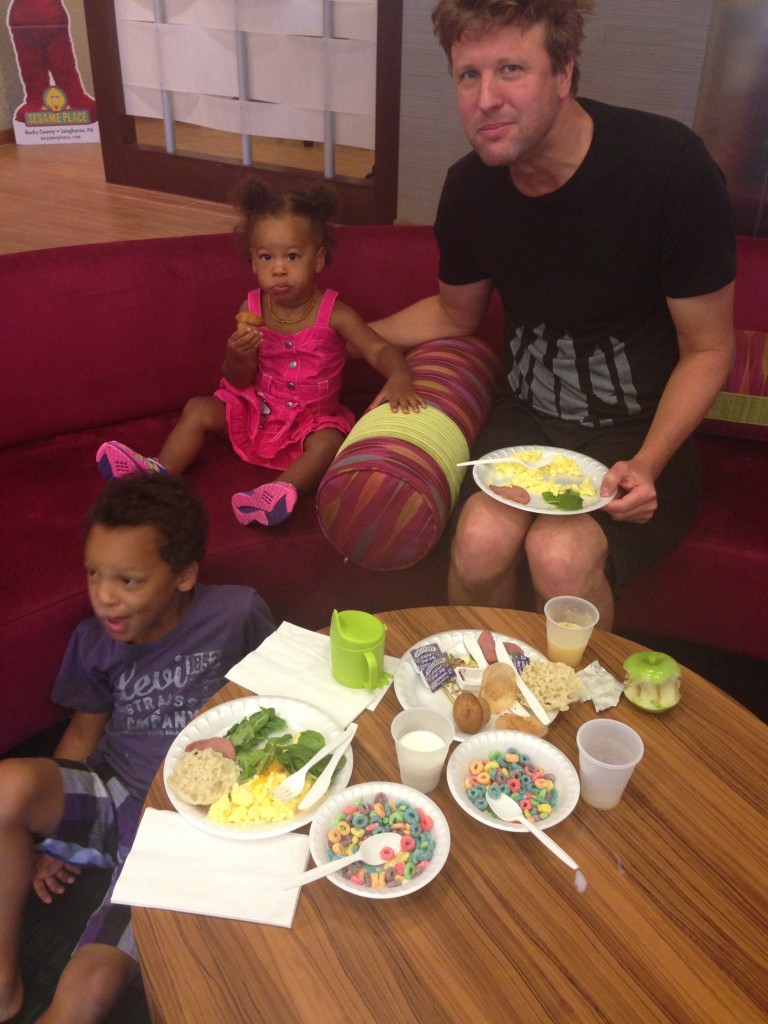 7. When you're not traveling far, it is also nice to be able to pack light. The fact that SpringHill Suites Philadelphia Langhorne has cribs available in most of their rooms was another bonus, one less thing to pack.
8. Free wifi and cable TV are always nice options on vacation, don't you think? Our family doesn't watch that much TV day to day, so it is a novelty when we have cable TV. After reading many a book and building many a lego set, Mr P watched his first ever episode of Ninjago.
9. The 24 hr Market at reception came in handy to buy drinks to rehydrate after a long day at Sesame Place. They also carry microwave dinners and snacks, making it really easy to make the hotel your base.
10. The microwave and fridge in the room are also helpful for families. My Little Miss still drinks milk regularly throughout the day, so it was nice to have a half gallon of milk in the fridge and not worry about breaking her routine.
11. Easy to get your health on with a Fitness Room, Spa and Swimming Pool. The Fitness Room is open 24 hours and the other facilities til 11. We all know as parents that nothing knocks the kids out more than swimming. A swim with the kids and Mr BAM and the kids were ready for bed. I was able to return for a quick workout followed by a relaxing spa – bliss to this busy mom!
What do you look for in a family-friendly hotel?
Our Studio room with 2 queen beds was super comfortable. Being able to regulate the temp for our individual room was nice, not having to worry about the air being too cool for the kids is important as they can quickly catch a draft with too high air conditioning. You can check out all the amenities and room options on the SpringHill Suites Philadelphia Langhorne website.
To catch up with SpringHill Suites Philadelphia Langhorne socially, follow them on Twitter or visit their Facebook page.
Interested in winning a one night's stay at SpringHill Suites Philadelphia Langhorne?
Make sure to check back on the blog later this weekend for an exciting giveaway!
disclosure: I was provided with 2 nights complimentary stay at the SpringHill Suites Philadelphia Langhorne in order to facilitate my review. As always all opinions expressed are 100% my own and I only provide information that I feel will be of value to my readers.