When I heard about the Bag It Forward initiative created by Elmer's, I instantly knew that I wanted (needed!) to apply to #BagItForward to my son's preschool.
Moving to New York from New Zealand was a challenge on so many levels. When I boarded the plane I was 5 months pregnant, I was leaving behind a job that I really liked with co-workers that I liked even more. Life was pretty good and Monkey #1 was happy and settled with life at his preschool. But, for many reasons, we could not pass up this opportunity to move to New York. My husband relocated our little family thanks to a job transfer – I would be starting my professional life from scratch and Preston (Monkey #1) would have to start making friends all over again.
If you are a parent, you know that kids are resilient, they bounce back. But, still it is not easy watching them process changes in their lives. New house, new neighborhood, new preschool, new everything.
'Mom, where is our car?' he asked after endless days of walking everywhere and taking the subway everywhere. In New Zealand we drove everywhere.
"Mom, where are my friends?"
Fast forward to nearly a year later and of course, he could not be happier. Part of his sparkly personality and the tremendous growth I have seen in his development has been thanks to his preschool here in Brooklyn – Children's Corner.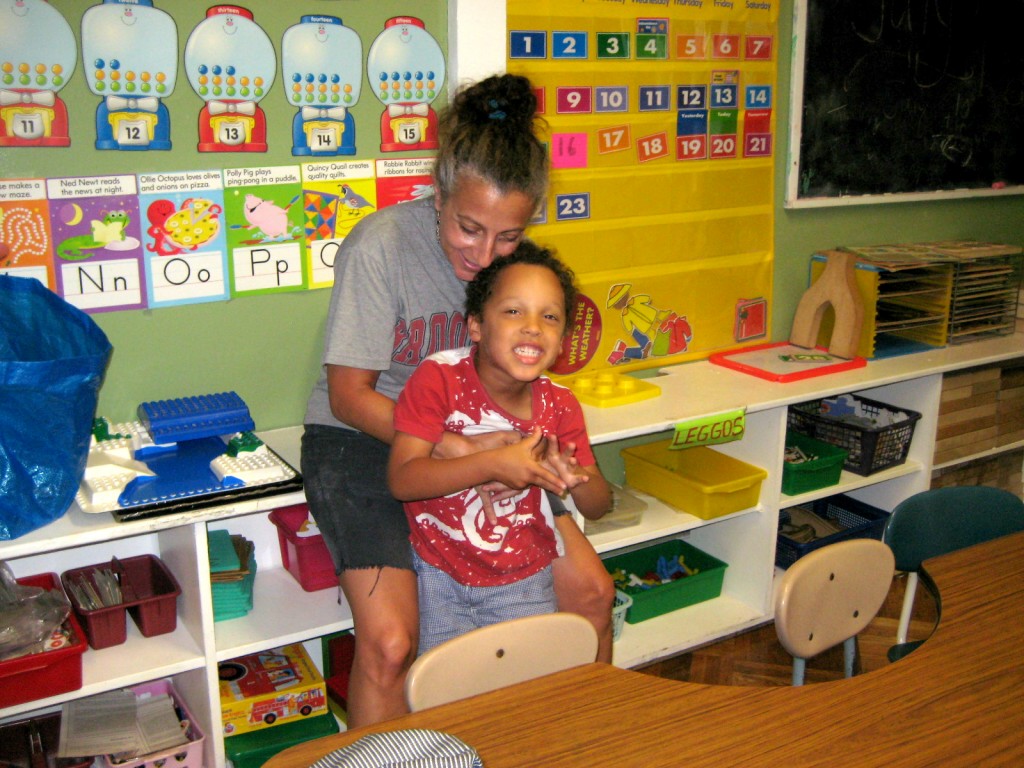 If you've ever had to search for a preschool for your child, you know how hard this can be. Multiply that a few more times in difficulty when you know very little to nothing about the area.
We'd been to 3 preschools and instantly felt they just weren't right for us – unclean, unfriendly, damp, the list went on and on. But, with Children's Corner, it was the exact opposite. We stumbled upon it one day, walking back from yet another preschool that we didn't like. The side of the building was brightly painted with words like "reading" and cartoon characters like Dora. It felt warm and welcoming – both the people and the building. The owner "Uncle" George welcomed us and Ms D showed us around.
Better than a thousand days of diligent study is one day with a great teacher.
―Japanese Proverb
I used to be a teacher, so I know it's not easy. I know how emotionally and mentally taxing it can be. I also know how difficult it can be to resource a room that engages, entertains and stimulates little people.
On average, teachers spend $356 of their personal money on quality school supplies every year. By simply picking up an extra bag of school supplies for a child or teacher in your life, you can make a huge impact!
I don't know that I will ever be able to fully thank Preston's teachers and everyone that we've met through Children's Corner for welcoming both him and our family into the school, but this is one small way that I can show my gratitude.
Elmer's and Walmart have made it so easy to buy affordable and needed school supplies to help teachers and students start the upcoming school year off right.
I decided that I would shop for quality school supplies for Children's Corner that they could use to help decorate the classroom, as well as flash cards, composition books, scissors and heaps more that they could distribute to students as they see fit.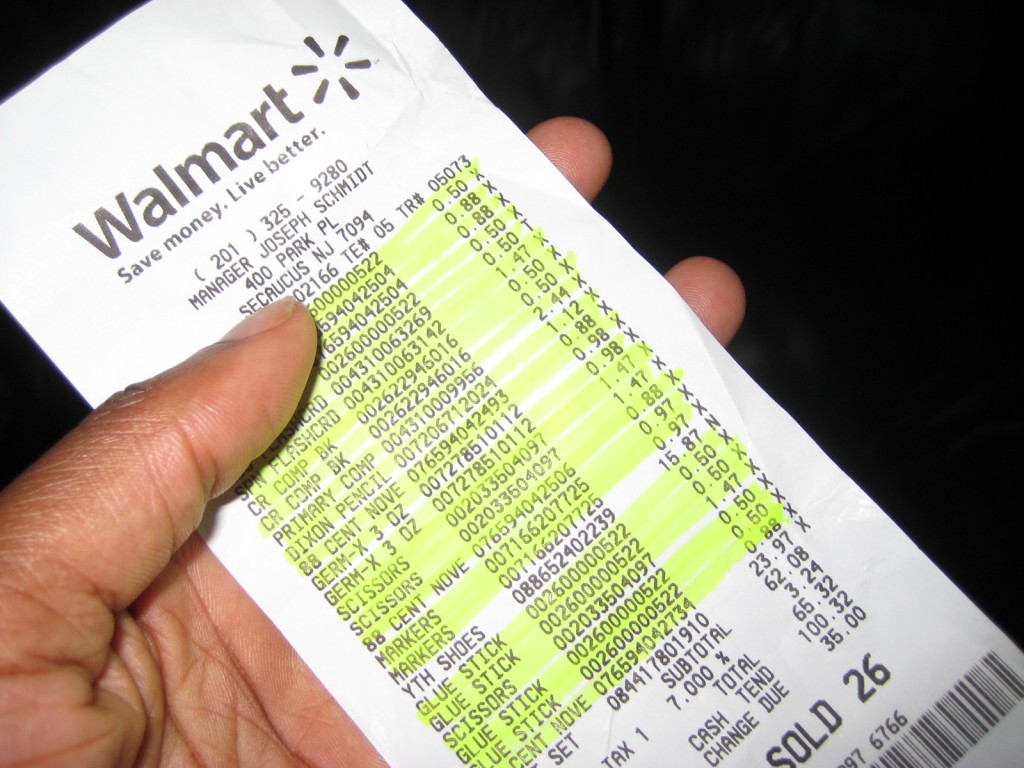 Back to School Shopping at Walmart, couldn't be easier. Everything I purchased was less than $2 a piece, with several items less than $1 a piece. So, I've started a small stash for Preston and was able to buy so much for his teachers.
On top of that warm fuzzy feeling I got shopping for the items and preparing them to give to his teachers, I was also able to download the Elmer's 1st Day App to my iPhone and do even more good! It is a great way to chronicle your child's first day at school. In August, you can receive a free 5 x 7 Photo from the Walmart Photo Center from the photos you uploaded on the 1st Day App.
***For every photo uploaded to this App, Elmer's will donate one product to KINF or The Kids in Need Foundation (up to 200,000 products). Elmer's is committed to the education of children and innovation for educators who inspire them to learn. ***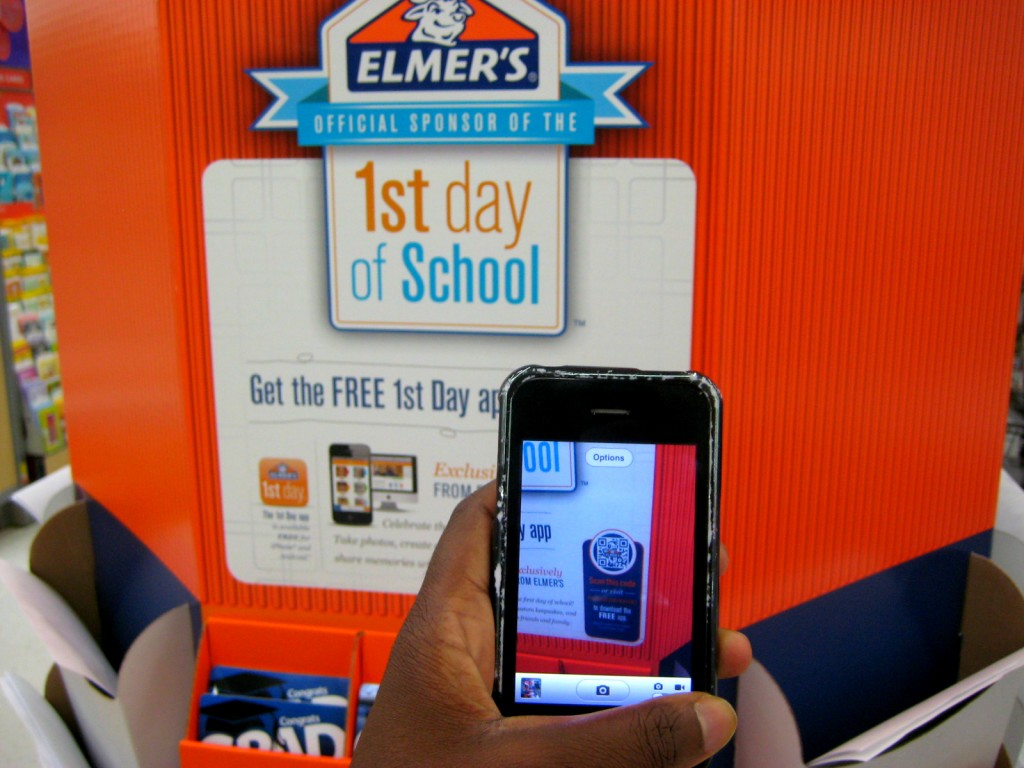 Kids go through lots of glue, crayons, pencils and work books, it's as if they eat the stuff! So it was easy to build up a list of essential items for Back to School. But just in case you are not sure what you should get to Bag It Forward to a student or teacher in your community, your local Walmart will have extensive School Supply Lists to help you build up your donation. I've also created a top ten list of Back to School items to help you get started, be sure to check it out and let me know what you think.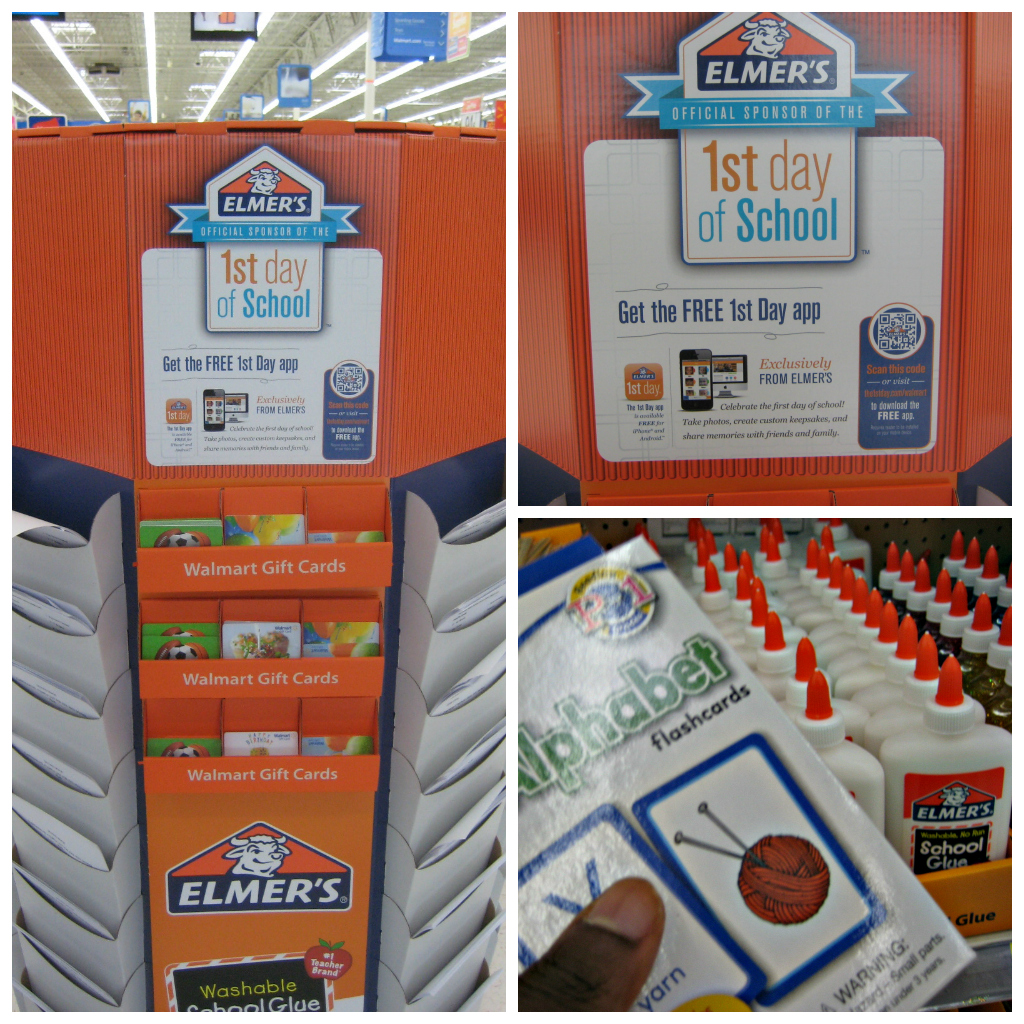 It was a family affair with Little Miss Monkey #2 coming along for the shop while her brother was at daycare at Children's Corner. Big Monkey then helped me create a school supplies cake, Preston added the finishing touches and we were then able to present it to some of his teachers.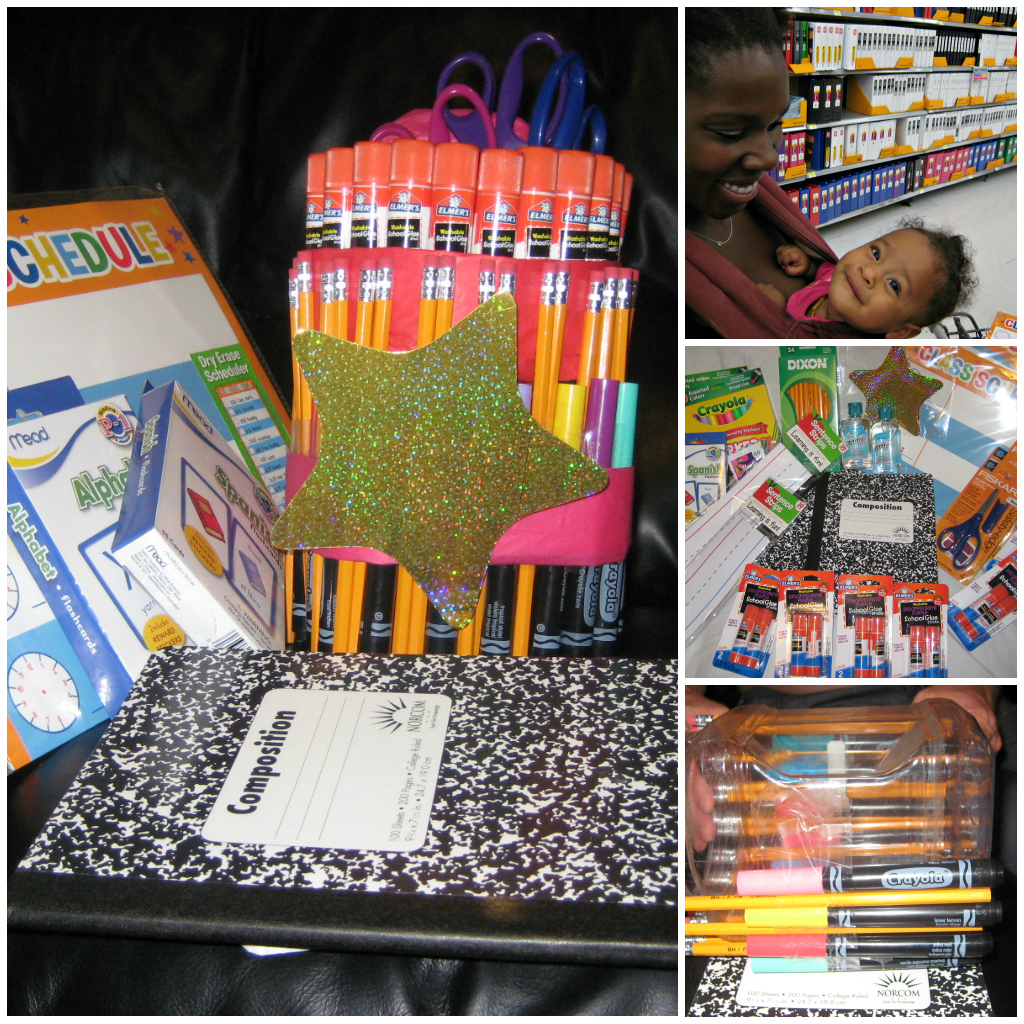 Children's Corner is running a daycamp, so we were lucky to be able to present them with the school supplies cake and other goodies and not have to wait til September. Preston was busting at the seams to give it to them all day. By the time I returned with it at the end of the day, he was beaming from ear to ear. It was well received, with the kids wanting to get their hands on everything and the teachers visibly happy as well. You can see more photos from my shop at Walmart with the Elmer's First Day App on Google +.
And if you need one more reason to download the 1st Day App, Walmart and X-ACTO Designer Series are giving away a trip for four (4) to Orlando!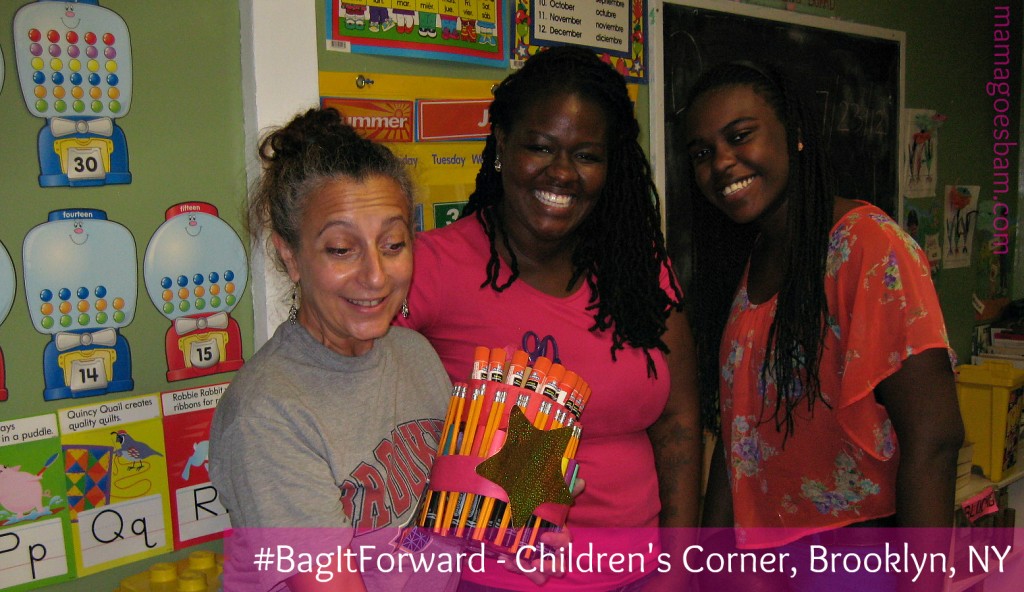 If you need inspiration for creating your Bag It Forward donation, check out the Bag It Forward Pinterest Board for some bright ideas. Also make sure to keep up with Elmer's on Facebook and Twitter.
Will you Bag It Forward for Back to School?
I am a member of the Collective Bias™ Social Fabric® Community.  This shop has been compensated as part of a social shopper insights study for Collective Bias™ and and Elmer's.  #BagItForward #CBias #SocialFabric