We had the pleasure of going to Sesame Place in Langhorne Philadelphia for my birthday weekend. It was our first time and Mr BAM and I agreed it was perfect for our kids (Mr P nearly 6 and Little Miss 20 months).  The drive from NYC is an easy breezy hour and a half if you go straight or a little longer if you detour to rest stops. Definitely short enough for busy toddlers.
Their were water slides, roller coasters, carousels and a ton more dry rides. We really enjoyed all the opportunities to get up close and personal with the kids' (and our!) favorite characters. Once you get one cuddle with Elmo or Abby Cadabby you just can't get enough! We discovered a few tips and tricks just by trial and error and amazing intuition that really made the trip awesome.
I hope these help you have as great a time at Sesame Place as we did.
1. Sunscreen, a hat and water shoes are a must. Without watershoes, you'll burn your feet lining up for popular rides like Sky Splash on the concrete steps
2. Kids under 2 are free! Their is plenty for them to do as well. My 20 month old had a blast on the carousel, Peek-A-Bug, Grover's World Twirl,  and even the waterslides and wading in both The Count's Splash Castle and and the Teeny Tiny Tidal Wave. Those are just the rides she did, their were man more that she could've done
3.Twilight tickets are available after 3PM for a reduced price
4. Stay at Springhill Suites, not only the closest hotel to Sesame Place but also a hotel that caters to family and offers friendly service
5. Grab a map as soon as you get in, this will help you plan what shows to see when and basically how to lay out your day including where to find your favorite characters for photo opps
6. Get a reusable cup from any Sesame Place restaurant and refill for just 99 cents throughout the season. This is great cause kids get a souvenir, plus you can refill in most all restaurants for 99 cents! Choices are mainly soda, but there is also Hi-C and iced tea on offer
7. Though the servers at the restaurants will always say "fries with that", don't forget that you can swap the fries in your child's combo meal with apple slices or applesauce
8. Children's combo meals come with complimentary plates and straw cups – another souvenir from the trip
9. For all you diehard coffee drinkers, their is a Starbucks on site!
10. Check the schedule of shows and allow for 25 minutes for each – Elmo Rocks is outside, so don't think you'll get away from the heat, but there is still shade
11. For the Let's Play Together show sit directly behind the reserved seating to get up close and personal, as all the characters step up on those benches and dance!
12. If your child wants a chance at dancing with Mr Noodle and Elmo during the Elmo World Live show,  make sure they have closed toes shoes on to be considered (water shoes are fine)
13. Most rides will require an adult 18+ to ride with kids under 42″ or under the age of 7
14. Line up to take pictures with Elmo and Big Bird at the 1-2-3 Smile With Me! Studio. You don't have to purchase the pictures (you'll probably want to!) but your kids get extra cuddle time with Elmo and Big Bird
15. Bring a towel or so that you have something to sit on during the afternoon parade. Stake your place 15-20 minutes before the parade begins
16. Slap on the sunscreen and sit on the sunny side of the street, the characters dance to the side more (our observation after attending 3 parades in 2 days)
17. Head to the middle of Sesame Street for the parade (between Abby's Surf Shop and the Fire Station), this is where the main characters stop on the route and perform for a good 10 minutes. Think Elmo shimying right in front of you and waving directly at you
18. Leave the lifejacket at home, Sesame Street has some for use on all appropriate rides
19. Find a shady place by the Count's Castle and eat on the lounge chairs while watching people get soaked
20. Dine with Elmo and Friends to ensure your child gets to cuddle with all their favorites. This is a guaranteed way to get up close and personal with all the faves – Elmo, Abby Caddaby, Count, Grover and Cookie Monster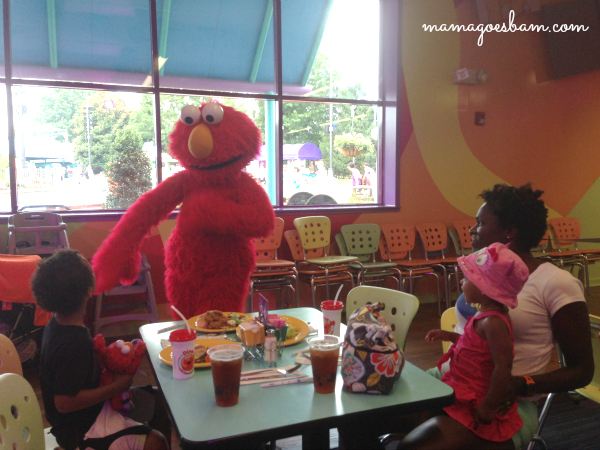 21. Bottomless drinks are served to your table during Character Dining experiences and more souvenir cups for the kids (they offer milk too!)
22. Kids under 2 eat free at Character Dining experiences, kids between 3-10 eat for a reduced price. All kids eat for free if you chose the Breakfast or Lunch options (as opposed to dinner)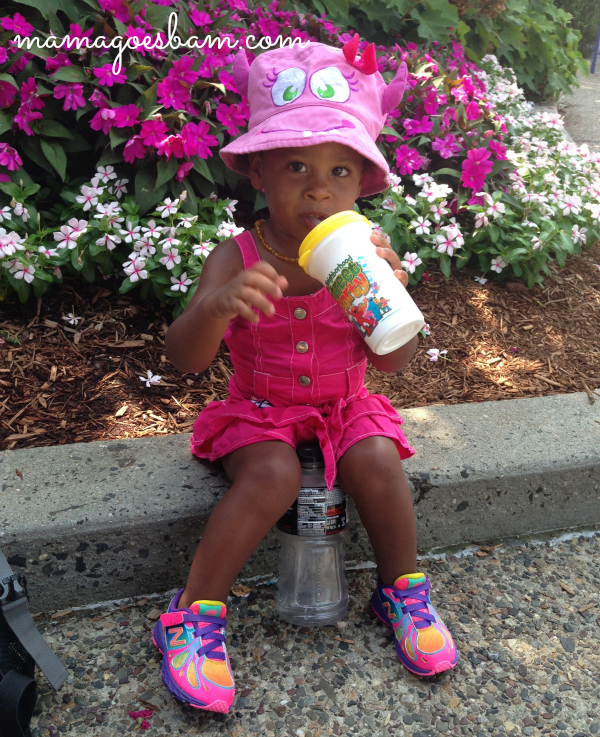 23. You are allowed to take your own pictures just about anywhere that paid photos are being offered. We thought this would be frowned upon, but the staff was great about not pushing purchases
24. If you buy before you go and print your tickets at home, you can bypass Guest Relations lineups and just stroll up to the gate and have your ticket scanned
25. Bottle warmers are available at The Welcome Center, Dine With Me!. Cookie's Cafe, Elmo's Eatery, and Captain Ernie's Bistro
I just received an email from Sesame Place with an awesome lineup of fall shows for the kids – Yo Gabba Gabba and Super WHY! would definitely top Mr P's list of must see concerts. I don't think I can tell him about them!

Disclosure: I was not compensated for this post.