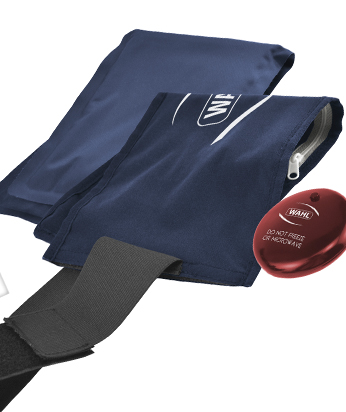 This review of the  Wahl's Hot/Cold Massaging Gel Pack was made possible by Mom Spark Media.  All thoughts are my own. It couldn't have come at a better time, as a metaphorical pat on the back for all the strength training and running I have been doing. I have a confession to make…I actually like running and I get into periods of time where I love to really get my cardio on! Jillian Michael's 30 Day Shred is my weapon of choice at the moment. But, my second confession is that I am terrible at stretching. I know, I know, stretching is so important after any physical activity. I actually had my nails done last week at a nail bar just so I could sit in the massage chair for the amount of time that it takes them to make my battered feet look pretty. Sad, eh?
Not that a massage should replace stretching, but it does help. Their is a very good selection to choose from at www.wahlmassagers.com and this nifty little number prices in at just under $25 (MSRP 24.99) but packs a soothing punch. 
Hot/Cold Therapy Massaging Gel Pack – This one-part massager, one-part hot/cold pack is the latest in a series of new pain management products from Wahl. Unlike conventional hot/cold packs, this first-of-its-kind product combines two of the most common treatments–temperature therapy and massage– to offer a new level of pain relief. It also offers Velcro straps for hands-free use. 
It has come in particularly handy to soothe my tight shoulder muscles which are thanks in part to long hours at the computer, carrying a clingy (and heavy!) 18 month old as well as the aforementioned lack of stretching after exercising. The cooling pack is ready to go in just under 2 hours in the freezer and paired with the massaging disc, it's bliss. No more hinting at Mr BAM to give me a massage, I can get pain relief all on my own. Why don't you just hint at your significant other to read this post, so they know what to get you for Mother's Day!
Win it!

I'm sure most moms can relate, with literally juggling a bazillion things at once that cause sore knees, shoulders and backs. I bet this massager would come in handy. That is why Wahl have been nice enough to allow me to give one away to one lucky reader! All you have to do is fill out the easy Rafflecopter below. The only required entry is your email address so that I can contact you if you win. But of course, the more entries you fulfill, the moe chance you have of winning. Good luck!
What's the pain you'd like relieved this Mother's Day?