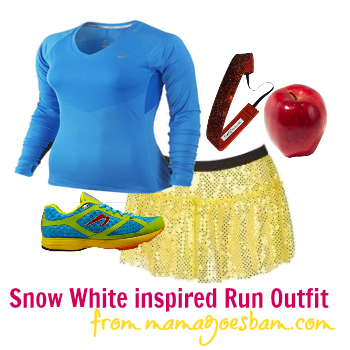 As the weather turns somewhat wintery, I can't help but hang out and dream about warmer temps ahead. Granted, those warmer days are many months away, but hey it never hurts to dream a little dream. As I look ahead to 2013, two of the sunniest parts of the year I am dreaming of are our trip to Orlando in September and running in warm weather again. Well, when you combine the two it makes me think of Disney's races – unfortunately I will not be in Orlando at the time of any 2013 races. One day, one day I'd like to run like a true princess at Disney!
In the meantime, I've compiled a list of US races that are fit for a princess.
Races Fit for a Princess
It's on my bucket list to run an all-female race, simply because it is so powerful to see so many women, from different walks of life, of all shapes and sizes running. I do believe 2013 will be the year for me! Here is a selection of some women only fun looking runs that include feather boas, champagne, foam and oh yeah mud! Because mud is fun

If you are just starting out on your running journey, many of these races offer 5K and walk options alongside the main half-marathon.
Jiggle Butt Run January 12, Arlington, TX
Mermaid Half Marathon San Diego February 9, San Diego, CA
Disney's Princess Half Marathon Weekend Feb 22-24, Orlando, FL *real life Disney Princesses, Mickey Mouse, tiaras and tutus, oh the list goes on*
More|Fitness Women's Half Marathon April 14, Central Park, NY  *I'm highly likely to be at this one :)*
Nike Women's Half Marathon April 28, Washington, DC *running in the Capitol City*
Revlon Run/Walk for Women May 4, NYC
Heels and Hills May 5, Irving, TX
Happy Girls Run May 26, Bend OR
Gritty Goddess Fest May 4 & September 28, Galveston, TX *mud*
NYRR New York Mini 10K June, Central Park, NY *Historical women's only run*
5K Foam Fest Various locations *a run through soapy suds*
Diva's Half Marathon and 5K Series Various locations *roses, bubbly, tiaras, feather boas and massages*
See Jane Run Half Marathon and 5K Race Series Various locations *chocolate, champagne and massages*
Women's Half Marathon Various Locations *awesome charm bling for finishing medal*
LoziLu Women's Mud Run Various locations *lotsa mud*
Zooma Half Marathon Series, Various locations
What daydream gets you through winter?