Monkey #1 recently started at a new Pre-k and after the initial adjustment phase, he now loves it. He's only been going 3 days a week since the beginning of January, yet still his social and educational growth is amazing to watch. He's learning how to write letters and numbers and grasping concepts that I myself would have had no idea how to teach him. No matter how much Big Monkey and I try to instill good behavior in him, it sticks the most when he can model the behavior alongside his other little friends.
But still, as parents we are always on the lookout for ways to reinforce the good things he learns outside the home. That is why I am excited for the launch of Roma Downey's Little Angels educational DVDs on Valentine's Day. My boy loves a good DVD and I love finding him ones that we can watch together and talk about afterwards. The Little Angels DVDs contain interactive elements, music and Spanish Language tracks. Now is the time to introduce him to languages, he's such a sponge and already speaks more Spanish than his Dad!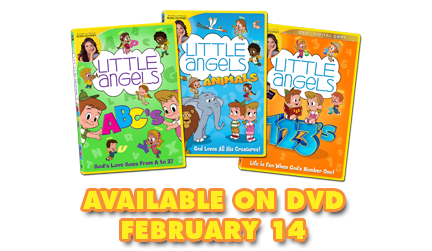 Our little Monkey has also been encouraging us to say grace before meals, something he has learnt at school. We're happy to do this, but not sure how to further explore the subject of faith and religion with him – it's something we'd like to do but not sure how. From the description of the Little Angels DVDs, we're excited to see if these might be a good conversation starter around the subjects.
Roma has said,
For many years I had the privilege of playing an angel on television, bringing a message of God's love to millions of Americans.  As a mother, I have longed to be part of a project that would help to bring that same message to children by not only teaching them the foundations of education – but also providing strong examples of good behavior.  Little Angels does just that.  It offers critical learning skills through the lens of timeless and age appropriate Bible stories. I only wish this series had been available when my kids were younger!
My two little Monkeys and I will be attending an afternoon with Roma Downey next week. I'm looking forward to meeting with her and hearing more about the DVDs, iPhone app, books and CDs that have been created for Little Angels.
If you'd like to find out more about Little Angels, make sure to follow Little Angels on Facebook.
How do you instill good values and good behavior in your toddler?
I'm always interested to hear new ways of doing important parenting things

3 DVDs from Roma Downey's Little Angels will be available February 14 from Twentieth Century Fox Home Entertainment. In the meantime, click on the image below to printout Little Angels inspired Valentine's Day cards.