Hummus is one of the easiest spreads to make yourself at home. The number of ingredients are minimal and generally you can add or remove a few spices depending on how punchy you want the end result to be. You might need to make a special trip to the store for chickpeas and tahini, but once you've done that prep time is a mere 5-8 minutes. This includes the time it takes to chuck everything in your blender and then turn it on. With my Optimum 9400 Blender, it's super simple.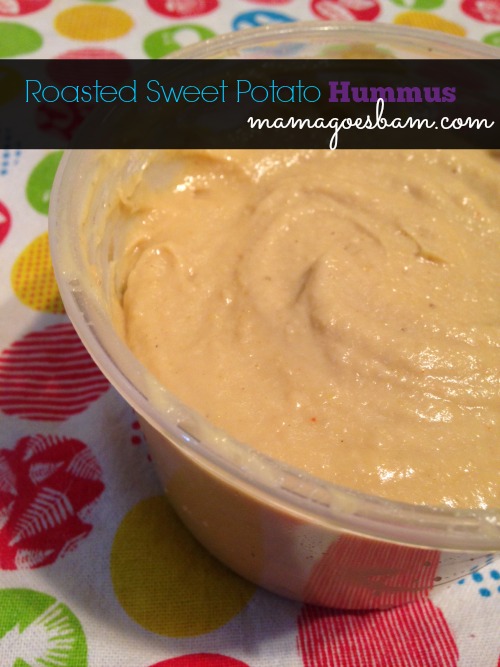 The most time consuming part of creating this tasty hummus is roasting the Sweet Potato. Truth be told, I've made this a handful of times and forgot to roast the sweet potato once. It still came out just as creamy and tasty, but there is a definite stronger sweet potato flavor when it is roasted first. A small sized sweet potato takes about 20 minutes to bake depending on your oven…and its not like you have to sit there and watch it roast. So I consider this time negligible.
You could easily replace sweet potato for pumpkin, but you don't want to take away from the creamy goodness of blended chickpeas with a vegetable that is too overpowering in taste. Let me know if you try another roasted vegetable that works for you.
Sweet potato is high in iron, B, C and D vitamins, so not only does it have all those nutritional benefits, but the hint of sweetness makes it a winner with the kids too.
Ingredients
1 400g can of organic chickpeas drained
3 tbsp of fresh lemon juice
2 tbsp of tahini
1/4 tsp of paprika
1/4 tsp of cumin
1 small roasted sweet potato
2-4 cloves of garlic
There are only 3 steps to this recipe. Once the sweet potato is roasted, wait for it to cool then peel the skin. Add it along with all the other ingredients to your blender. If like me you own an Optimum, let it whirl on variable 6 for about 2 minutes or until you see a creamy (munnus-like!) mixture taking shape.
There you have it! You should be able to fill a 500g container (old yogurt container works for me), which is just enough hummus to last a week in our house if we're not being too piggy. I add it to Mr P's sandwiches for school lunches, and we all love snacking on carrots and hummus either as a pre-dinner snack or with dinner. Anytime I can make my own version of a food the whole family loves, I consider it a win. Minus all the preservatives plus getting the taste just right, makes it a bonus.
Is hummus a big draw at your house with the kids?