I am thrilled to have been provided with a Joovy Bicycoo Balance Bike for to facilitate this review. My little daredevil of a daughter mastered a scooter earlier this summer and has since been enamored with her brother's bicycle. I have heard from other parents how much easier learning to ride a bike is when a child starts on a balance bike as opposed to with training wheels. And as we watch our older son on his bike with training wheels, we can see the value in balance bikes actually teaching the skills needed for bike riding – more so than training wheels.
Joovy wrote an article on  Balance Bikes vs. Training Wheels if you are still trying to decide what is best for your child. They also offer some great tips for encouraging your child as they learn to balance.
Their are a variety of balance bikes to choose from, what I like about the Bicycoo is  the strong aluminum frame – makes the bike lightweight just like high-end bikes. I've seen wood and steel versions of balance bikes,  but Bicycoo's lightweight frame makes controlling the bike much easier for kids in comparison to those other more dense materials. I had a friend recently tell me that if given the chance again, they would definitely choose an aluminum frame over any other.
Of note, if your child has already tried a bicycle with training wheels and pedals they might be a little resistant to a balance bike. In my experience, because Little Miss had rode (or been pushed by dad) on her her big brother's bike, she was a little taken aback by the Bicycoo having no pedals. The hesitation might also be her stubbornness, she sat on the Bicycoo and screamed "pedals". The workaround for this was to get big brother to mimic the movement of the balance bike – she is a master at copying him!
She hasn't yet mastered balancing with her feet off the ground, but after only a few times out on the Bicycoo she is getting the idea of what to do – I love that is seems to be an intuitive bike.
It was super simple to put together, it took Dad less than 15 minutes. What's great is even though we'll probably have to put this away over winter, she can grow into the bike as the seat is adjustable and will support up to 55 lbs. She should be more than efficient well before the time she reaches that weight.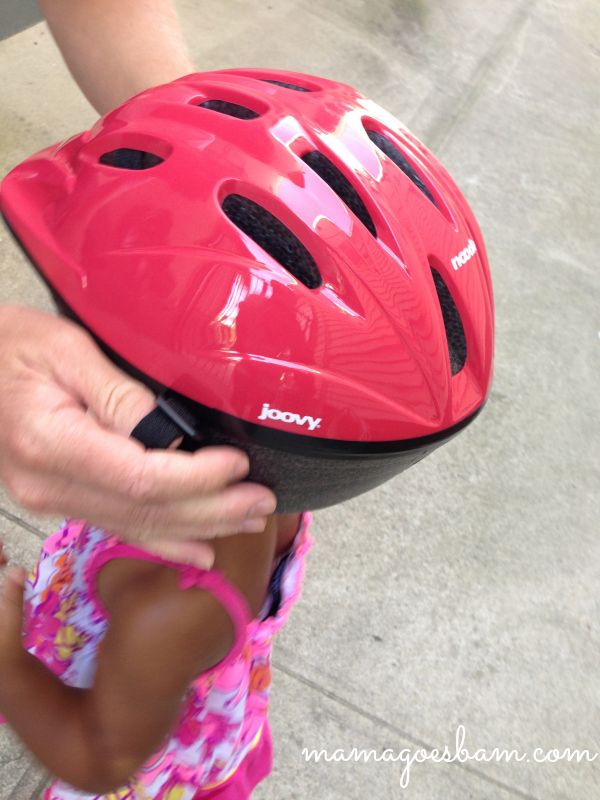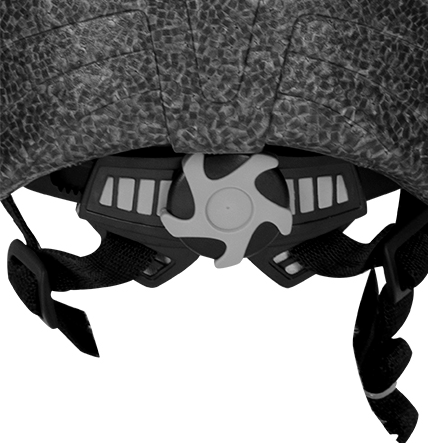 We we're able to get her to wear her Joovy Noodle helmet without any issue as well, which is great because it's never too early to start good safety habits. The Noodle helmet is for children 1 – 4 years old with a head size between 18.5 – 20.5 inches (47-52 cm).  It is recommend when children ride bikes, trikes, ride-on cars, scooters, bike trailers and other activities like these.  There is an adjustable fit dial at the back which we haven't had to use yet, but will also allow her to grow into the helmet.
If you are looking for a stylish and lightweight balance bike, be sure to check out Joovy's Bicycoo. You can find out more about Joovy on Facebook, Twitter, Instagram and Pinterest.
Did you use a balance bike or training wheels with your kids?
disclosure: I received a Joovy Bicycoo and Noodle to help facilitate my review. As always, all opinions are 100% my own.