It seems that everyone including my kids love them some Nutella! I've never tried the stuff as I am allergic to hazelnut (as well as peanuts and some other tree nuts). But luckily for me, I am not allergic to almonds. Almonds are a full of fats and omega-3s which are good oils and fats that the body uses to clean the bad fats. Fats are also filling, so if you can include the good kind in your daily diet then you're onto something good. I'm sure if you are trying to lose weight or have done so in the past, you've heard all about proteins role in assisting with weight loss. Almonds equal protein, protein equals feeling full, feeling full helps with curbing you're appetite. Get it?
So now that you know almonds are good for you, besides eating a handful as a snack, what are the other ways you can get almonds into your diet? Almond milk, is a smooth, protein-rich, lactose-free and healthy alternative to whole milk. If you'd like to make your own, check out my delicious homemade almond milk recipe. Another tasty way to full up on this tasty snack is with almond butter, and if you're prone to a sweet tooth attack like me, why not give this chocolate almond butter a whirl! Super simple in my Optimum blender and with the addition of chocolate, its just like Nutella (so I'm told!) but better. Creamy and smooth, its easy to spread on toast for the kids, to dip apples in, or any other fruit and even pretzels – the possibilities are endless. If you're feeling really decadent you could dip biscuits right in….um…yum.
With the Optimum 9400, you have full control over the speed of the blender with the variable dial. You can have it a little crunchier, but I prefer smooooooth like the photo above.
The best part of this chocolate almond  butter is that it only has 2 ingredients – almonds and dark chocolate.
Its really satisfying to eat foods that have less preservatives and words I can't pronounce. Even more satisfying to whizz it up myself.
Make sure to start with dry roasted almonds and make sure that your blender jug and lid are equally dry. Unfortunately I made a batch with a wet jug and the results were not as smooth *sad trombone*. It was more like the consistency of cookie dough as opposed to a butter. Follow these tips and you should be right, if your blender or food processor is not as powerful you could also try adding coconut oil to smooth is out.
Ingredients
2 cups of roasted almonds
1/3 cup of dark chocolate
1. Add the almonds to your Optimum blender and set on variable 6 and blend for 5 minutes. You'll need to stop every once in a while and scrape the sides down. The mixture will go from grainy, to a flour substance. The oils will start to release and this is where the butter magic comes! Again, if your blender or food processor is not as powerful this could take up to 20 minutes – so don't give up!
2. While the almonds are blending, melt the chocolate. We don't own a microwave, haven't owned one for 3 years now so I rig up a double boiler to melt the chocolate. Make sure to use a metal bowl and a wooden spoon and stir constantly til fully melted.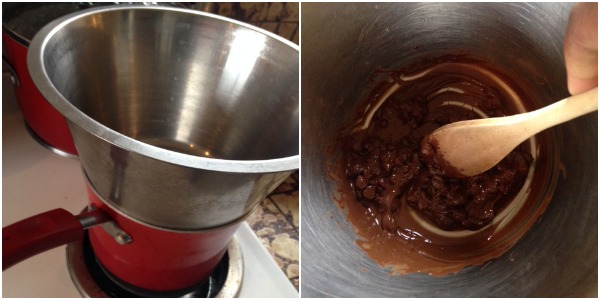 3.  Once the almonds have reached 'butter' consistency, scrape the chocolate into the blender a blend a further 1-2 minutes until the almond butter and chocolate are fully mixed.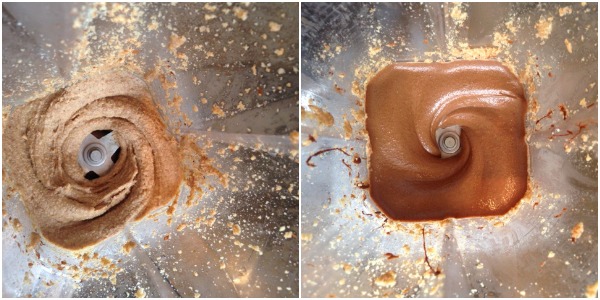 I know I'm biased to this recipe as it uses a nut I can actually eat without going into anaphylactic shock, but the kids and Mr BAM have assured me that this taste much better than nutella. When I make nutella on toast for the kids, I can pretty much stick a knife it in and have it stand up straight, to me it feels tough and sticky. Now my chocolate almond butter on the other hand is oh so creamy.
Are you a fan of almond butter or nutella?