I posted this picture over the weekend to the Mama Goes BAM Facebook page, and the obvious joy on my son's face had a few people enquire as to what the recipe was. My boy is a big eater, but he's never usually one to rave about my cooking. I generally make simple but tasty food, so when he said 'Mom, these are really good! Can I have another?' I knew I was on to something. Especially since he is normally to busy in his toddler life to actually sit still long enough to eat!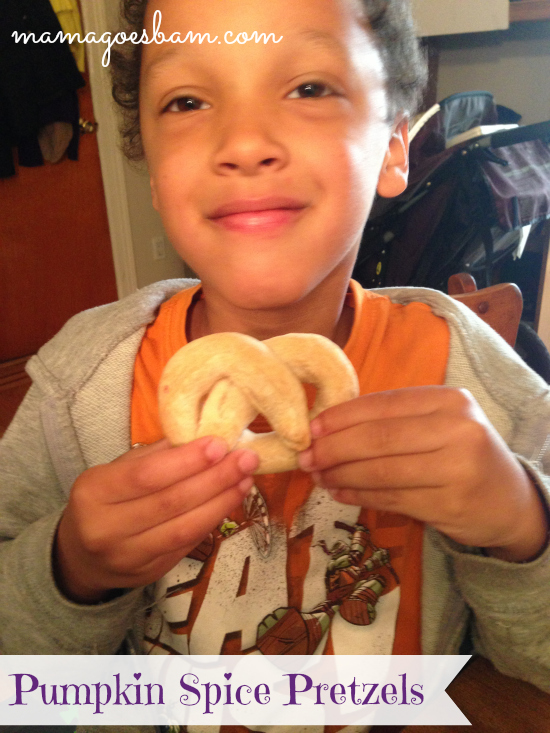 Pretzels are a very New York kinda treat, and is up there with the ways I think New York is cool. But, most New York pretzels that you can purchase in the park are often huuuuge, and way more bready goodness than I need. Also, even though a pretzel looks good its sometimes hard and tough, not quite how I like my bread. And since I've started on the Shaklee 180 program I rarely even eat bread, so I figured since it is now a sometimes treat, rather than an everyday staple why not give making pretzels a whirl!
The first thing I wanted to make sure of is that the texture would be soft and chewy, not hard like a rock. By using bread flour I achieved a nice crispy outside with a soft chewy inside, yum!  And to give the pretzels a bit of a kick, I also used Pumpkin spice. I was going to add apple butter but due to a scattered brain I didn't and instead just used it as a side. The other important thing for just about ANYTHING I make is it needs to be simple and not too time consuming, I often don't have the luxury of time. So I used a packet of instant yeast that I had let over from Thanksgiving, no need to fuss with first mixing in water.
Overall this is a pretty simple recipe to make, especially considering I don't have a fancy appliance with a dough hook. The only thing I will caution is that the actual pretzel making can be a little tricky. Try to roll your pretzels thinner rather than bulkier. The bulkier they are, the more they wil puff up and the less they will look like actual pretzels – trust me, you won't want to serve them to guest if the look like, well…turds. The kids on the other hand will eat them no matter what they look like

This makes a great snack for kids or as part of a brunch.
Ingredients
1.5 cups of lukewarm water

i packet of instant yeast

1/4 cup of pumpkin spice

1 tsp of salt

3 cups of bread flour

1 cup of whole wheat flour

1/2 cup of all purpose flour to flour your surface

Musselman's Apple Butter for dipping
Directions
Mix your flours, salt and instant yeast in a large bowl. Add in the water a half a cup at a time and mix with both hands. Get right in there and make sure everything is well mixed. It'll take about 5 minutes to mix until you get a nice ball. The dough should be quite smooth, almost a little bouncy.
Switch the ball of dough to a greased bowl and cover with plastic wrap and leave in the fridge for 15 minutes to rise.
Preheat your oven to 425 degrees.
Once out of the fridge, knead the dough for another 5 minutes on a floured surface and then roll out into a square shape.
With a sharp knife, cut the long pretzels strips about 3 inches wide.
Next you'll shape your pretzels and place them on a greased baking sheet.
Leave in the oven til slightly brown, about 13-15 minutes.
Pop out out of the oven, allow to cool then enjoy the yummy goodness by dipping in apple butter.