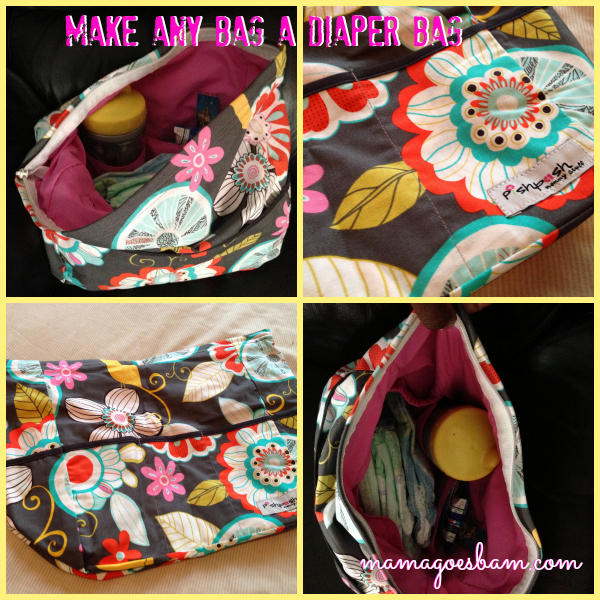 I remember being pregnant with Mr P and trying to build my baby registry. It's all so foreign and the best way to find products that work is to ask the advice of moms who have gone before you. The diaper bag was one item that no two moms will give you the same advice on. Some moms want function and don't care about fashion, some want a bag big enough to carry everything but the kitchen sink, others don't want their diaper bag to look like a diaper bag. I remember settling on a backpack style diaper bag, reasoning that function definitely trumped all other features of a diaper bag. When I actually started carrying my diaper bag backpack, I was disappointed. I wanted the leather handbags I used to carry – in rich purple and blue faux leather, not this horrible school kid like backpack in bright green – yuck! It absolutely clashed with everything.
I recently met PishPosh Mommy at the Brookly Baby Expo and was introduced to their Quickzip Carryall Organizer. Now this, this is the perfect solution for keeping your handbag identity while still having it function as a diaper bag. With several internal pockets, an internal zippered pocket as well as external pockets, the carryall makes it easy to store diapers, wipes, creams, toys and bottles and sippy cups – zip it all up and then drop it in your normal coveted handbag. The pockets inside a diaper bag are what make them necessary – but with the PishPosh Mommy Carryall, you carry these internal pockets with you from bag to bag – no need to sacrifice style!
Between spending time with my 20 month old and her also having a nanny, it makes it easy to grab the carryall from my bag and stash it under the stroller ready for the nanny.
So not only is it easy for me as I switch from day bag, to beach bag and sometime even a gym bag, it also makes it easy to switch from person to person and not forget any of baby's essentials.
I think the QuickZip Carryall is a great idea for allowing mom to have as many purses as she wants and not being dictated by limited affordable diaper bag choices.
I brought it on our recent beach vacation and it was so handy. I was able to stash it under my carseat, pop it in the beach bag and even carry it on its own into restaurants for dinner – making sure I was not caught out without Little Miss' essentials. The various patterns are stylish enough that you can carry it on its own if you need, I have!
I am happy to report that it has held up very well to washing, an added bonus when a banana or some other toddler goodie becomes unexpectedly smashed at the bottom of the Carryall.
Special Offer for all Mama Goes BAM Readers
Use code "BAM25" at checkout to receive 25% off your online order at PishPosh Mommy.