disclosure: This is a sponsored post as part of the Shaklee Corporation blogger program. I have received free products, online support and incentives for participating in the Shaklee Corporation blogger program. My opinions are my own.  People following the weight-loss portion of the Shaklee 180™ Program can expect to lose 1-2 pounds per week. I am also a Shaklee Independent Distributor.
Within 2 months on the Shaklee 180™ program, I had managed to lose 13lbs. at the end of April. I am now just at the end of month 3 and the pounds continue to come off with a healthy dose of good food choices, exercise and of course Shaklee 180™ meal bars, protein smoothies and metabolic boost pills.
I'll tell you right now, its not all been a bed of roses. Over Memorial Weekend my sister arrived from Canada and we celebrated my husband's big 4-0 with friends…Hmmm, let's just say that weekend deserves its own blog post

On the awesome side, this month I rediscovered Jillian Michael's 30 Day Shred and fell in love with Level 3. if you are looking for a quick workout that helps you condition your body from head-to-toe, check it out. Google 30 day shred or search on YouTube for free videos and 99 cent rentals. Jillian leads you through a rigorous 2o minute workout with abs, strength and cardio. It's a fantastic boost to your metabolism and you gradually work your way from level 1 to 3 over 30 days. I didn't do the 30 days religiously, but I did skip ahead to Level 3 rather quickly so that I could get that uncomfortable feeling that comes from your body changing, working hard, getting stronger.
I've had people on the blog and in real life ask what I'm eating (or not eating) to lose the weight. Even my own husband has questioned what I eat in the day when he is not around! He sees the healthy dinners, broiled fish, meatless chili, vegetable stir-fries and chicken salads, but he wondered…
Are you eating anything besided bars or smoothies in the day?
And of course the answer is yes! I am eating plenty! As I've mentioned in past Shaklee updates, I've cut out the mindless munching and eating when hanging out with the kids or when pouring over a powerpoint presentation or document that I've already read and edited a handful of times.
I decided a long time ago that I needed to purge my cupboards of the cookies and chips and replace with the natural sweets like strawberries, apples and carrots. I admit, the past month it has been glorious to see the fresh fruit coming into season in abundance. Because I live in New York and am without a car, I take advantage of ordering my groceries online and having them delivered straight to my door. This lets me plan meals on the weekend and stay out of the stores more where I can sometimes fall into the trap of buying something purely cause it looks yummy. After the delivery has arrived, this is what my fridge looks like.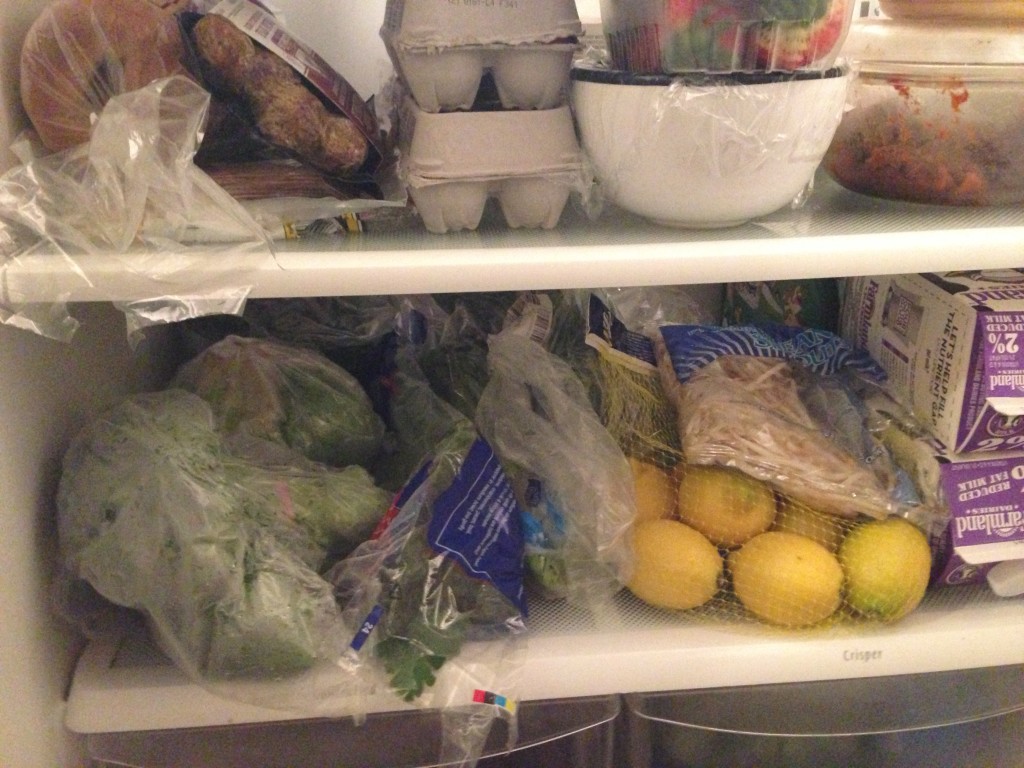 You can't see the vegetable keepers on the bottom, but they are full of bell pepper, tomatoes, cucumbers, brussel sprouts and beans. The next shelf that you can see has broccoli, kale, spinach, celery, lemons and lots of milk for Little Miss. One shelf up is a bag of 100% whole wheat bagels, gone are the "Everything" bagels eaten by everyone in New York. Their are chicken meatballs instead of fatty mince meat meatballs.
My cupboards have less canned food and I embrace fresh foods. Fruits and vegetables are now the snacks I eat in the day. My one healthy meal has alot less fatty meat and I rarely eat past 7PM.
I hope that doesn't sound too boring to you! Trust me, this weight loss is something I wanted because I knew my body could get here.
So I stuck to the plan from day one, and pretty soon into the program my tastebuds changed and the cravings for sugar lessened.
But, I am also not one to deprive myself. I work hard at exercising, drinking water and making better food choices. So, what are the things I do eat that might sound more exciting to you, here goes:
Coffee with milk and sugar or splenda if I am at a coffee shop. I just can't do any of the other sugar substitutes, I find they  taste too chemically. Instead I add a whole lot less sugar than I used to
Greek yogurt with honey, muesli and dried cranberries
A boiled egg with traditional hummus
Celery sticks with cottage cheese
Carrot sticks with edamame hummus
Ok, this is a real sometimes treat reserved for when I have had an all out run…Cookie butter with pretzels! I know crazy, but it really does feel like a treat since its like 2-3 times per week
popcorn (NOT dripping with butter)
On top of my Shaklee 180™ tea, I also drink other caffeine free teas throughout the day with a squeeze of half a lemon
All that to say that the aim is to bring in more healthy food choices and cut out the foods that are doing nothing good for you!
At the end of my 6 months on Shaklee, I don't want to breathe a sigh of relief and go back to my own ways, I want to know that I have made changes for the long term.
I've also been taking a harder look at what a "serving size" recommendation is on all food labels. I'm sure like me, you probably eat waaay above the recommended amount. For instance, a service size of medium pretzels is actually equivalent to 14 pretzels! And most dips recommend 1-2 tablespoons, which is much less than I used to use.
Stick around, cause tomorrow I reveal my 3 month weight loss stats! Eek!
So what do you think? Could you hack a diet like this? I bet you could!