Have you ever had that feeling that you are jack of all trades and master of none? Some days, when the kids are in bed I look back at all I have accomplished for the day and marvel to myself at how many places I've been, people I've interacted with and things I've tried to cross of my list. There is a little nagging voice in the back of my mind that scolds me for congratulating myself on all that I have done. Mainly because I feel like I am rushing through what I do – not necessarily enjoying it, or even taking the time to savor the moment. There is alot of "doing" and not necessarily so much creating.
I'm so happy I have started running again, but the other morning I managed to do a 50 minute loop, start my cool down and realize that I barely remember breathing in and enjoying the fresh air. I barely remember seeing the changing leaves around me. Why? because my brain was swirling with all the blog posts I needed to do, what needed to be returned to Mr P's kindergarten teacher in the morning, how I was going to make the time to have fun with my 2 littlies. Yes, I am trying to arrange my schedule so that I have time to "have fun" – sounds fun, right?
And don't forget Mr BAM, how do we provide so much love to our 2 beautiful children and still have the energy to be good to ourselves and kind to one another. Sometimes we pass like ships in the night. He comes home just in time for dinner and the kids clamber him for hugs and kisses. I sneak off to do a few of the house chores I wasn't able to do all day. Then, we start the "wind down for sleep" dance. Bath, stories, homework check, and sometimes we literally have a song and dance as a family in the living room. We're both exhausted by the time the kids are in bed, we catch up on our day and invariable I will have work to do, or Mr BAM will want to curl up with a book…I wish I could curl up with a book.
I love my family. We are in such a great place at the moment. My eldest is settled at kindergarten and my youngest forming into a little person with her own ideas on just about everything. I'm continuing to grow this blog and my brand. Mr BAM is finding his place at work as well. But still, things are always changing. My son has just recently become very protective of his room – little sister must tread lightly when she enters his space. I respect that, I have to. Just because he is 5, doesn't mean he shouldn't be allowed to have his own space within the house. We all need our own space.
If you have a more than one child, you know how difficult it can be for everyone. Little Miss has to fit into everyone else's schedule, her morning breakfast fits  around school drop off and she is often left to her own devices at homework time. Are we all getting what we need from our family? I'm an early morning runner, but is running at 5:30AM really the best time or would I avoid 3:30itis if I ran more often during 'normal' morning hours with my daughter? Is my husband getting enough time to himself with long hours at work? I may be overthinking this because after all, we are all happy. But what I have stumbled upon lately is that we can be even happier as a family.
I'm sure we've all heard the expression "Happy wife, happy life" but I've found that the core of any family goes deeper than that. Each family member's individual happiness and the ability to nurture natural abilities and passions is really where it's at.
I've had these thoughts swirling around in my head for a long time. That is why I've been experimenting with ways to develop our individual happiness into a Happy Family, and wherever you see the below logo will be a post in our Happy Family Project.
I've already made changes to the way I work that benefit myself and my children and Mr BAM. I'm spending less time on the computer most weekends, and sometimes spend no time at all. I am also trying to raise children who are not self-involved and understand the importance of giving. I've had these thoughts swirling around in my head for so long. I've got so many ideas that I want to share, and I hope along the way you will share your happy family moments with me too!
Do you ever daydream about your Family's happiest times together?
As a family, we've had some of our brightest, smilingest (is that a word?) and most memorable moments thanks to some of the conscious things we have done to bring about happiness. I daydream about these moments – an afternoon on a rug in the park, dinner out, playing board games, teaching my son about donating clothes and toys – and it makes me smile. So, I feel that I am on the right track when I think about actively continuing on our Happy Family Project.
I'm striving for a family where each of us seeks out and enjoys their biggest passions. I'm looking for
Balance
Long lasting connections between us all – for the kids to always have a bond, for each of them to have separate relationships with both me and Mr BAM
Time for me, time for my husband and time for each of the kids. Time that feels easy and not borrowed
More happy times and less tired times
Everyone's health and fitness. We already have this, and for that I am thankful, so we need to keep it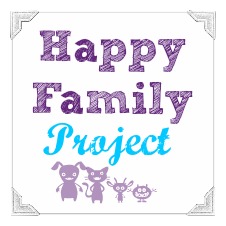 Click here to sign up to the Happy Family Project list and receive updates specific to this project .
I'm looking forward to sharing our Happy Family Project with you, and I hope it inspires you to define your family's happiness too.
What are you and your family doing today to be happy?