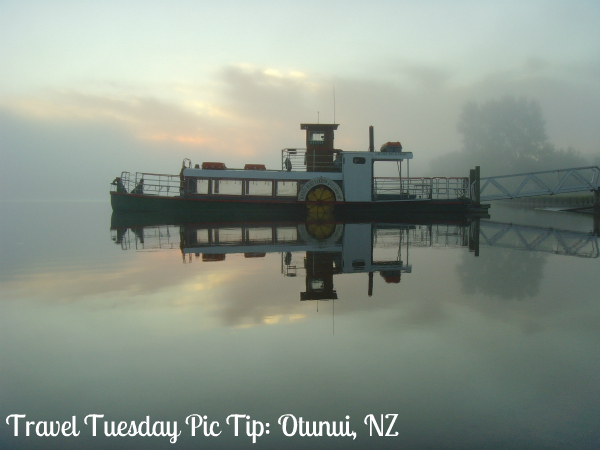 Today's Travel Tip is about a stellar attraction is New Zealand that I unfortunately never got the chance to visit. When I met Leola through work, she told me all about it, but time ran out before my big move to New York and so I never got to experience it. Special thanks to Leola for providing this gorgeous photo and more info about the Otunui paddleboat, it sounds like paradise!
The Otunui paddleboat (used to be a paddle steamer) makes regular trips on Lake Maraetai from the lakefront reserve in Mangakino, New Zealand. The "Lost World Cruise" is out of this world. The two hour cruise heads south down Lake Maraetai towards the Whakamaru Domain passing the golf course, the Waikato River Trail boardwalk, wetlands and farmland before turning into the Mangakino Stream. Passing under the Waikato River Trail swing bridge and the Waipapa Road Bridge, the stream narrows and high cliffs rise above the boat.
Lake Maraetai was formed 50 years ago with the commissioning of the Maraetai Dam and today some native trees still stand in the river as ghostly reminders of a drowned landscape. There are native trees such as Tanekaha, Ponga, Rimu and some pine and willows while ignimbrite cliffs carved and channelled by water, wind and time, dominate the riverscape.
Coots, Teal and Paradise Ducks, Cormorants, Swans and Falcons are a few of the birds we will see, along with many trout and the occasional wild boar along the river edge, curiously watching the boats passing. This is a great place for bird watchers, bikers, nature lovers etc…
Approximately 4kms upstream, the river narrows and the captain will turn off the engine so that you can relax (glass of wine in hand) and listen to the surrounds. Using the current and the skipper's skill, the boat is swung around midstream for the homeward journey where often a different perspective can be had by changing seats from Salon, to Fore or Stern decks for a new view of the passing scenery. A commentary points out features and gives a history of the lake, stream and local New Zealand community.
—————–
Check out last week's Travel Tuesday Pic Tip (#TTPT) to see how you can Slow Down at Disney World
Submit your Travel Tuesday Pic Tip –  I look forward to getting to know your part of the world.