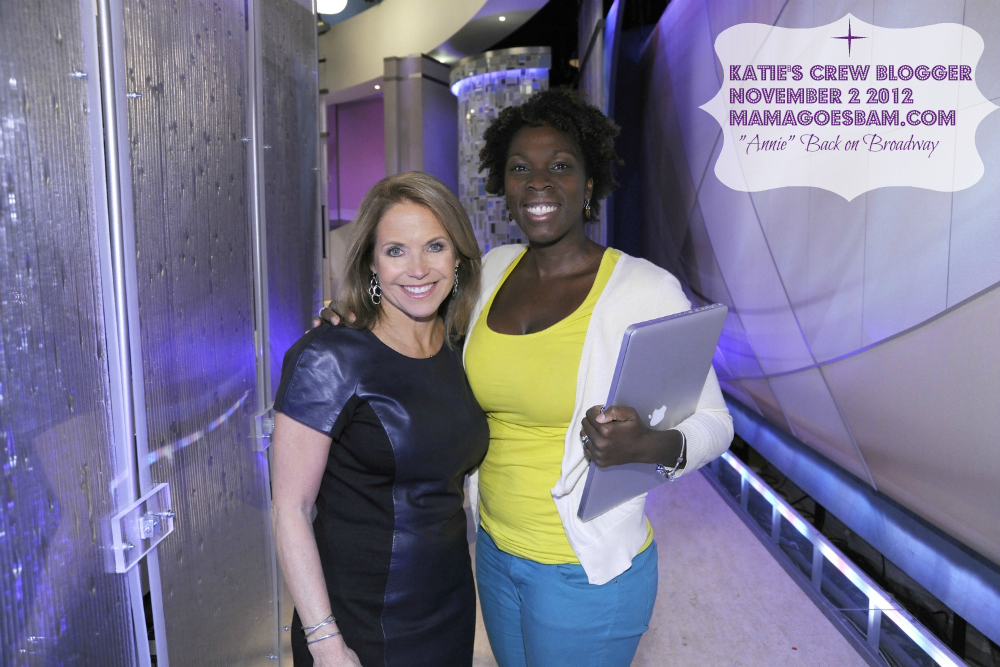 I was contacted a few weeks ago to be part of the Katie Couric Show as a Katie's Crew guest blogger. I was ecstatic because Katie is someone I've watched on TV for aaaages – I have memories of her hard hitting reporting and megawatt smile from the Today Show and Dateline. One of the first things I did was to call my mother, she's a huge Katie fan and she was able to catch me up on some of the episodes I'd missed on Katie's newest show on ABC.
The second thing I did was panic about what to wear. I've only ever been to one other daytime talk show taping, and in that instance I wasn't meeting the host, this time I would be meeting Katie Couric. The requisite for wardrobe was the same – wear bright clothes on top. Obviously it stands out better on TV. Bright clothes in late fall? Needless to say I was a real standout on the subway amongst drones of black and grey wearing New Yorkers.
After sitting back stage with the new cast of orphans from Annie the Broadway Musical and meeting up with my contact, I was escorted to a front row seat right in Katie's eyeline – an interesting perspective. I was able to live tweet the whole segment and as a bonus, they were also taping a segment with Sharon Osborne. She's often compared to Kris Kardashian – the family matriarch, but I'd have to say she seems to have more substance. I don't know either women, so I'm not really at liberty to judge. But for the sake of argument, whenever I've seen Sharon speak she seems so honest. She had some insightful words to share about trying to have it all as a mother as well as her regret about areas of her life where she cut corners to get ahead.
I've written a post on KatieCouric.com on my love of musicals and how I wished I could be Annie. I'll link up the post once it goes live on the website. You can catch the episode of "Annie" Back on Broadway on November 2 on ABC.
If you'd like to check out my behind the scenes pics from the Katie Couric Show, head on over to the Mama goes BAM Facebook page.
You can also enter to win tickets to Annie on Broadway from the Katie Couric website.
UPDATE: Read the post written by your truly, Why I can't wait to see "Annie" on Broadway on the Katie Couric website.