Earlier this week I had the pleasure of taking a sneak peek at Leading Lady's 2012/2013 range of nursing bras and camis – new designs and styles, as well as their longstanding favorites among nursing mamas. I had a really good conversation with their Director of Design Haidee about fit and how to make sure you have that all important lift – it's good for your posture and even better for your breast health.
I'm looking forward to sharing some photos with you next week about their innovative designs, but in the meantime take advantage of this fantastic offer that Leading Lady is running for the rest of World Breastfeeding Week – save 20% off nursing bras and free shipping!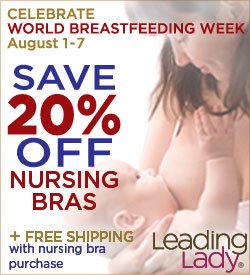 Tips for you when choosing a nursing bra
We recommend beginning with three nursing bras or camis: One to wear, one in the wash, and one in the drawer. Bring them with you to the hospital. You will need them right away!
Begin shopping for nursing bras in your third trimester of pregnancy.
When your current bra pinches or feels too tight, it is time to shop.
Towards the end of your pregnancy and into your early nursing days, stretchy leisure styles
You should be fitted for nursing bras, just as you would for all of your other bras. Your size will fluctuate over the first few months of nursing.
We suggest you re-measure yourself about 4 weeks after delivery, once your milk levels stabilize.
At this time, you will likely be ready to transition from more flexible bras into more structured bras.
Leading Lady has created a handy fit calculator and printable measuring on its website to help make this super easy for you!
When looking for a nursing bra, fit, comfort, support and accessibility are the most important factors.
A proper fitting bra will allow your breasts to sit upright and centered on your chest, and the straps will remain in place while you are moving.
Fit is vital for maintaining good breast health and preventing plugged ducts.
Remember to replace your nursing bras if they have lost their shape or no longer fit. We recommend purchasing a new bra every six months.
disclosure: These tips were provided to me by Leading Lady after the sneak peek. I am under no obligation to post them and have not received any compensation.