If you've never been to Bikram Yoga, you may be wondering what to expect. You've heard it is a 90 minute yoga class in intense sweat inducing heat, so why do people either love it or loathe it?? I'm on the love it side of the fence for so many reasons…The most obvious reasons being the physical – increased flexibility, weight loss and strength, and the mental benefits – have you ever experienced a yoga high? No? Try any yoga for this euphoric sense of lightness and peace.
I met the owner of Christchurch's only Bikram Studio about 10 years ago at a Women's Lifestyle Expo. She offered me a pass to come as often as I wanted over the course of a week. She said if I made it to the studio at least 2 times I would have made my my money back. If I made it to the studio within 3 times in 7 days, she promised I would be hooked and my body would love me for it. My husband happened to be away on business that week, so I made it in for a class 4 times that week and I was instantly hooked. The weight dropped drastically at the beginning, sugar cravings lessened, my skin looked great and at night I slept like a baby while by day I had a ton of energy. 
I practiced religious for 3 years before baby number 1 arrived. I even managed to practice up until 3 weeks before I delivered Mr P. I wouldn't suggest a beginner start while pregnant, and neither would a Bikram teacher. But if you have been going regularly before you get pregnant, its common for yoginis to stop practicing for the first 3 months of a pregnancy and then to start a modified practice in the second trimester. I reckon it definitely helped me during labour and with my body bouncing back post-pregnancy.
I've gone on and off since then, but have never been able to put aside the 2 hours + plus needed per session since having kids. That's a 90 minute class, plus transportation on either side, 2-5 minutes savasana (rest) at the end of class and a shower. I even managed a Bikram Yoga class in Times Square last year to celebrate Summer Solstice and to prove that I could have mind over madness in the crazy surrounds of the crossroads of the world.
I recently started going again at a great studio in the Auckland CBD and am trying my hardest to start going as regularly as possible again between running, the kids, work, family…yada yada…you get the point, in between life! I sort of feel like a beginner again and have had a giggle about a few things that I thought I would share with you. You will either find them funny, enlightening or just silly…But maybe it'll be that push you need to try a class

1. Contrary to rumor, even if you are wearing  THE infamous see-through yoga pants from THAT yoga company, no one will really see through your yoga pants, everyone is too busy concentrating and looking into their own eyes.
2. And on that note, release your inhibitions, the less clothes the better. You will be a sweaty mess within 5 minutes or less from the moment the class starts so need for too many clothes.
3. Ok, I know I said the less clothes the better, but I'd have to say NO to wearing a one-piece bathing suit. Though I've seen it before, it is just plain weird! You don't wear a netball outfit surfing and vice versa, do you? Dress for the occasion! A bra and shorts or tights works best.
4. Pavanamuktasana  or Wind Removing Pose is called that for a reason. If you end up going to Bikram long enough, you'll hear a toot from a fellow classmate sooner or later.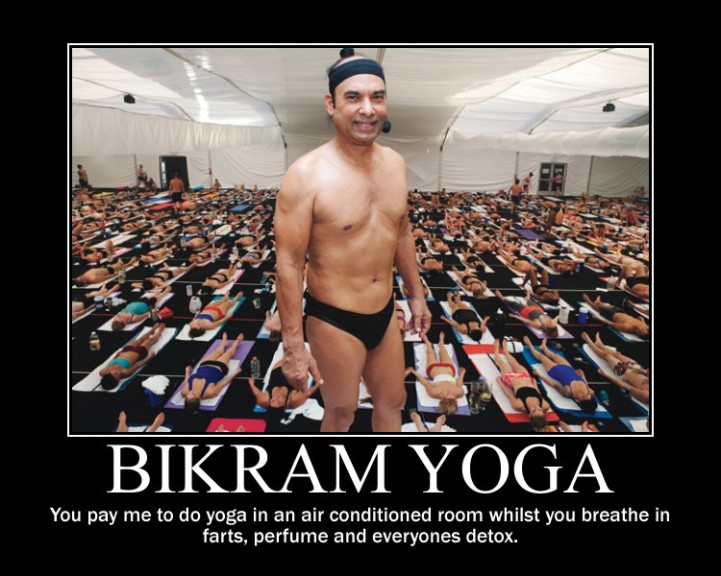 5. Savasana or Dead Body Pose is the Bomb! You get to lie completely still for 20 seconds. This will be your favorite pose from the first class!
6. Did you see what happened up there in number 4 and 5? I'm speaking in Sanskrit! That's right ya'll San-frickin-skrit! Add that to my fluency in English, Canadian French and Kiwi English. Come to Bikram and you too will learn words in Sanskrit – the ancient Hindu language.
7. You will love the floor poses. They will give your legs a chance to rest after the rigorous standing poses which include several poses where you have to balance on one leg and sometimes even just on the tips of your toes.
8. Don't guzzle water in class, especially just before the floor poses. This is a surefire way to feel as if you want to puke the water right back up as you do all manner of balances on your tummy, backward bends and poses that leaving you feeling choked in the throat. Their are many differing opinions on how much water you should drink during Bikram. I think that if you can drink at the 'designated water' break, just before 'party-time' then again only at the end before your final savasana you'll have a focused practice.
9. On the subject of water, don't I repeat DON't think that you can drink an excessive amount of alcohol the night before a Bikram class and then drink several liters of water an hour or 2 before and be hydrated enough to NOT feel woozy during class! Trust me, not only have I been there, done that and then ended up in Dead Body Corpse for more of the class than I should've, but it's also basic physiology. If you go into class dehydrated, then it is too late – drinking throughout the class won't help. It can take water up to 2 hours to get through your system. Think about the last time you were hungover, even though you drank a ton of water all day you still didn't feel better til 7PM that night.
10. Cut back on expensive facials, go to Bikram instead. Bikram yoga rejuvenates your skin from the inside and out. Not only do you sweat out toxins over the course of 90 minutes, but you also get a natural flushing of your system – think of a less painful and intrusive colonic. My skin never looks better following the 24 hours post Bikram. In fact my eyes are even brighter too!
11. Please don't grunt in Bikram, we breathe in and out through our noses except for the final breathing exercises. Besides how off-putting it sounds, when you find yourself wanting to breathe through your mouth it also sets off a panic button inside. Now your screwed, now you'll never get your breathing back to normal. You might wonder how anyone can breather normally in 105F heat? But you can…if you breathe through your nose and concentrate.
12. Eventually you may feel sweat on you that is not your own, rather that of the person next to you. There is a whole lot of sweat in Bikram, this can happen as the person next to you flings their arms into a pretzel.
13. Lying down is totally acceptable, in fact it is encouraged. If you are anxious about your first class and feel dizzy or are having trouble breathing, it is better to stay in the class and lie down than to leave. Your effort to try and get your breath back to normal is better than quitting.
14. You'll learn quirky new expressions like Japanese Ham Sandwich. I don't want you to be as confused as I was the first time I heard it, so here you go!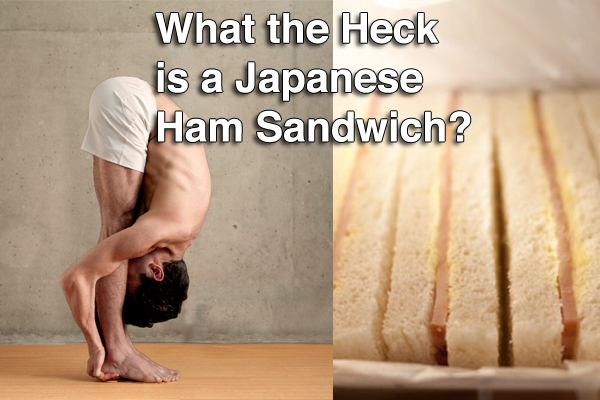 – image curtesy of Bikram Yoga Vancouver
Have you ever been to Bikram Yoga? What did you think?