Welcome to A New Year, A New Me Giveaway Event hosted by Daily Mothering, Mommy of Two Little Monkeys and Mommy Digger!
The BabyTone DVD Set is one in a series of DVDs by fitness professional Justin Maher. What I really like about the BabyTone DVDs is that they are separated into 7 varied workouts. I really enjoyed the workouts that incorporate baby as a weight. Because I still have days where my baby barely sleeps, it is great to have  the option to still workout even when she is awake. She even seems to enjoy being part of the action. Babywearing is part of my daily life, so exercises while wearing baby were also on my top list.
Each video has instruction by trained professional Justin Maher with a real life mom performing the exercises right there in her home.
The videos highlight that exercise is really accessible to anyone and can be done right there in your own house.
My suggestion is that this DVD is perfect for anyone unsure about how to get started with exercise, of course especially post baby. The exercises will help you progress through toning and cardio exercises as your body gets more used to being worked out.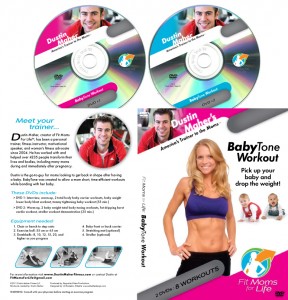 Dustin Maher's BabyTone DVD is great for new moms who have just had a baby and are looking for an exercise routine to challenge and improve fitness. Watch the video below for outtakes of the workouts.
Buy it!
Go to Dustin Maher's BabyTone DVD website to purchase or connect with him via Twitter or Facebook.
Win it!
Fill out the easy Rafflecopter below to be in to win. The only required entry is your email address. Of course, the more entries you fill out, the more chances you have of winning. Good luck!
Disclosure: I received a copy of this DVD in exchange for my honest review. I was not compensated in any other manner. The opinions expressed above are my own and any claims should be verified on the sponsor's site. Entries received before Jan 31 will be added to these entries.
***please click on "read more" if the Rafflecopter does not show below***