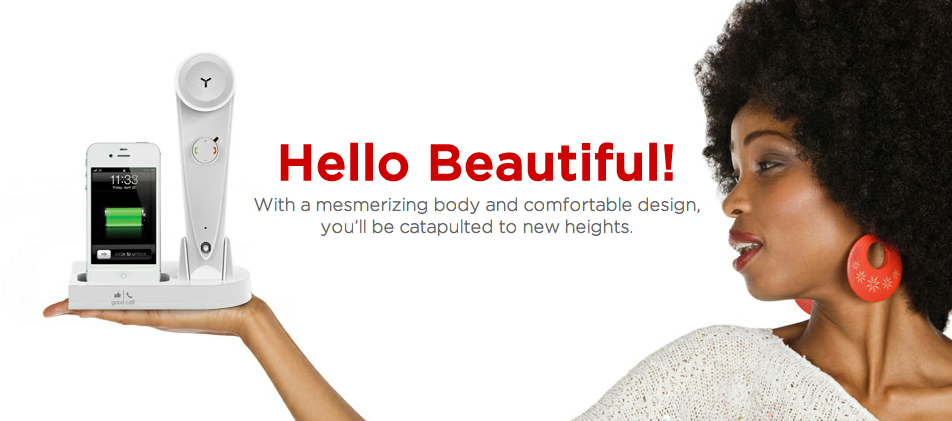 I've recently been made aware of the sleek and sophisticated Good Call iG1 Bluetooth Handset by the good folks at Collective Bias. In a nutshell, you can dock your iphone and then use the Good Call handset to answer your iPhone calls. This is cool on so many levels cause now you can multi-task while you answer iPhone calls. While you talk through the handset, you can use your iPhone (or other bluetooth enabled device) to continue to surf the web or use an app. I can't tell you the amount of times I've needed to check a Google Map or find someone's contact details while talking on my iPhone – inevitably I end up hanging up on the caller while trying to put the call on hold and navigate from app to app. Big.Fat.Fail

Their are many more features, but this is one added bonus…
The G series reduces cell phone radiation. With the unknown fear of unprotected mobile usage, Good Call allows for peaceful conversation.
I now have the opportunity to win one of these super duper whiz bang gizmos by nominating another Collective Bias community member who I believe to be an over-the-top awesome in juggling life. So without further ado, I would like to MOMinate Janet from Going Crazy!! Wanna Go??!! Though I only know Janet through the blogging world she manages to be a supportive bloggy friend on top of full-time out of the house work and life with a toddler and husband. When I requested guest bloggers last month to help me out while my inlaws visited for 3 weeks, Janet offered to help out even though she herself is super busy. But best of all, I appreciate her sense of humor as shown in her response to me tagging her in a coffee related post. Check out what she looks like before her morning coffee! Coffee lovers unite!
Anyhow wish us luck! If Janet wins, I win too!
If you're interested in finding out more about Good Call, chat them up on Twitter or Facebook or check out this video below on how it all works
Disclosure: I am a member of the Collective Bias™ Social Fabric® Community.  This content was created for Collective Bias™ and GoFusion but is a non-compensated post. As always all opinions are 100% my own. #CBias #SocialFabric