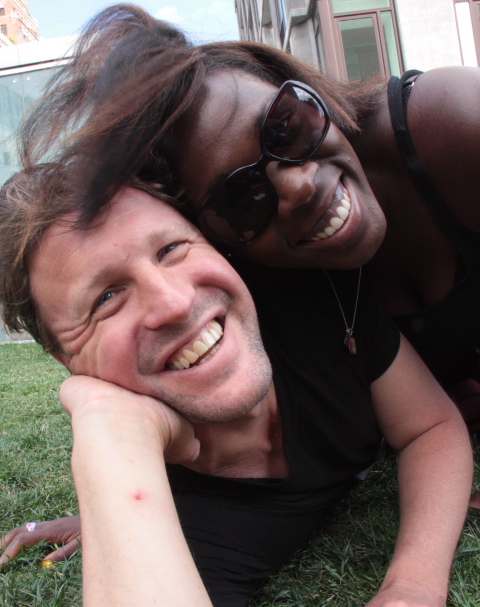 That's the hubster (Big Monkey) and I. We are a happy couple, but like many other couples with kids, we just don't get as many opportunities to go out *alone* in the evenings as much as we'd like. I admit, that with having 2 kids my priorities have shifted. I am most often happier staying in and playing board games with Mr 4.5 or snuggling up with hubby and watching a movie. But, with the sun shining and after 2 winters in a row (coming from winter in New Zealand to winter in New York) I am ready to shake off the layers and step out with my man.  But again, the aforementioned kiddos makes that a bit difficult – it's not always easy to organize a sitter, and up until just a few weeks ago it wasn't always guaranteed that my lil Miss would take a bottle in my absence. So, understandably I was hesitant to leave her at night. Thankfully, she is successfully drinking from a sippy cup after trying out a gazillion bottles – that is one thing working in our favor for trying to get out for a date night. And she has been sleeping through the might for months now, another thing in our favor.
When family comes to visit, they are always looking for ways to help out as much as they can. When my mother comes to stay, she aims to send us out on  at least one date night. When Big Monkey's parents came to stay, they also wanted to make sure that we made it out at least one night without the kids. So, we booked out a night and I found the perfect place for us to go for drinks and dinner. We were both so excited, maybe too excited. Like teenagers, we texted each other all day, counting down the minutes til our date, and even starting to plan what we'd wear and what we'd drink.
That evening I decided I'd help out the grandparents by making dinner. I cooked while they watched the kids and then I gave Little Miss her final drink for the night before putting her down to bed. Meanwhile Hubster arrived in from work and quickly changed his top, while I changed into more suitable date night clothes. I could feel exhaustion setting in as my feet stopped rushing around. His brain was still whirring from the hectic day at work.
We left, happy to finally start our date night.
An hour later we were home. I was in tears and he was also visibly upset. All I can say is that midweek date nights are hard to do.
From that experience, I've learnt that we have to give ourselves time to turn off before date night, otherwise, we're both too scratchy. I think I literally need to wash the away the day with a shower. My husband has since said that he doesn't think he can fully turn off during the week. That was during a particularly busy time at work, he has since said that he probably could.
Unfortunately, our pent up anticipation for our special night together made us so anxious and excited, we just couldn't gel. We both needed a good night's sleep, so ending our night early before we had a big blowout was the best thing to do. It was heartbreaking for me at the time that it could all go so wrong, but the next morning we were able to talk it through with a fresh perspective and with rested minds.
Since then, we've managed a night out at the Montreal Jazz Festival while visiting my parents earlier this week and plans are in the works for my upcoming birthday and our 8 year anniversary.
As all things in life, making quality time for our relationship is a work in progress. But like anything of value, it is worth working it through.
Have you ever had a date night go wrong?
Though we've come up with a few of our own ideas of how to have a mid week date night, I thought I'd ask an expert for her ideas. Thankfully, she tells me a midweek date night is possible!