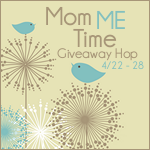 Welcome to the Mom ME Time Giveaway Event coordinated by The Maven of Social Media, Formula Mom, and Tales From the Nursery! This event will take place from 12:01am EST on April 22nd through 11:59pm EST on April 28th.
Mother's Day is fast approaching and we want to help YOU find the perfect gift for that special woman in your life (or to treat yourself – we won't judge)! Every blog participating in this event will feature awesome gifts that are perfect for giving to moms on Mother's Day. Each prize will be valued at $25+ plus we have a couple awesome grand prizes that are available for a couple lucky readers. We really want to help all our fellow mamas out there to get a little bit of ME time and hopefully these prizes will help do just that!
Two lucky winners will receive (1) $100 Spa & Wellness Gift Cards by Spa Week to help pamper themselves and massage the stress away. Spa & Wellness Gift Cards are accepted at over 5,000 spa locations across North America. A third lucky winner will receive a Godiva coffee and breakfast gift basket sure to pamper their taste buds. The gift cards are open to US and Canada while the gift basket is open to US only. So be sure to enter the Grand Prizes!
Click here to enter the Grand Prize
Before you head over don't forget to check out what the Mama is giving away.

The 10th Anniversary Couponizer and $5 Amazon Gift Card
The Couponizer will help you cut down on your shopping expenses. 2012 marks the 10th anniversary of this inventive productive that has been helping people save 100's of dollars every year. This 6-piece system gives you the tools to organize every type of coupon in an accessible manner. It's not just a fancy way to organize your coupons, it's a whole system of tools. All you have to do to win this is enter through the easy rafflecopter below. The only required entry is your email address (to contact you if you win!). Enter as many as you like, the more you enter, the more chances you have of winning.
Read my review of The Couponizer here
Disclaimer: Please note that Mama goes BAM, "Mom ME Time Giveaway Event" or the "Mom ME Time" bloggers are not responsible for sponsors that do not fulfill their prizes. We have represented each sponsor with the expectation they will fulfill their prize and in a timely manner. We will contact the sponsor regarding your prize(s). The sponsors, in most cases, are shipping their items to you directly. We will make every effort to assist you obtaining your prize. If there is an issue with a sponsor, please notify the blog you won a prize from within 4-6 weeks for assistance, after that we may be unable to assist you.