With a 16 month old and a 5 year old in the house, it is sometimes hard to keep up with how quickly they are growing everyday. Each of them is as inquisitive and industrious as the other – when they want to get to something or do something, they come up with every trick in the book. Just recently, my 5 ear old surprised me with his bottle of vitamins alerting me to it being time to take his regular dose. I was gobsmacked! He wasn't meant to be able to reach his vitamins, they were sitting in a cupboard alongside cold & flu medication as well as other far from kid-friendly pills. I've since changed where I put these harmful pills, as I realize how easy it was for him to grab his step stool and get into this potentially dangerous cupboard.


This scenario highlights the importance of medication safety. As parents, we can't be everywhere at all times to make sure our kids don't go where they shouldn't, so the least we can do is safe -proof our house.
Tips for medication safety
Put medicines up and away out of sight
Survey your house and consider items you might not think of as medicines, make sure they are safely put away
When visitors like grandparents and friends come to visit, do they have medicine – be alert!
Make sure medicine is put away after EVERY single use
Know what's in our medicines, make sure that your child isn't take two medicines that could cause problems when combined
Know the poison control number! Put it some place visible and in your phone 1-800-222-1222
500,000 times each year, a child gets into medicines or gets the wrong dose.
Don't forget the medicines stored in purses, or the "harmless" vitamins on countertops. The dosage can be harmful to a child, medicine left laying around may be seen as a play thing or even candy.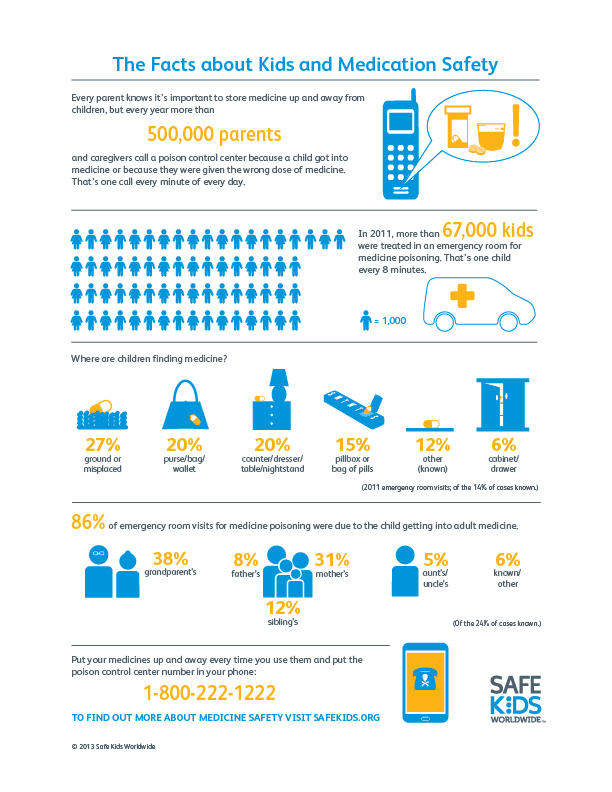 Infographic from SafeKids.org
How do you keep your kids safe against potential medicine poisoning?
 disclosure: I wrote this review while participating in a campaign for Mom Central Consulting on behalf of Safe Kids Worldwide and I received a promotional item to thank me for my participation.