My Mamavation Monday post is uber late this week. Primarily because I have been so motivated to keep moving that I haven't had the time to sit down and write it, this is a good think, right?
My husband discovered this weekend that my 4 year old can run for about 15-20 minutes at a pretty decent pace without stopping. I don't know why this surprised me, but it did! He has an immense amount of energy and is always on the move, but 15 minutes seems like a long time for his little legs. I decided to put this to the test on Monday and our little fiesta trio headed off to the park. Yep, he's pretty fast. It was quite hot on Monday so we had to stop a few times to get some water in him, but let me tell ya – I was so proud of him!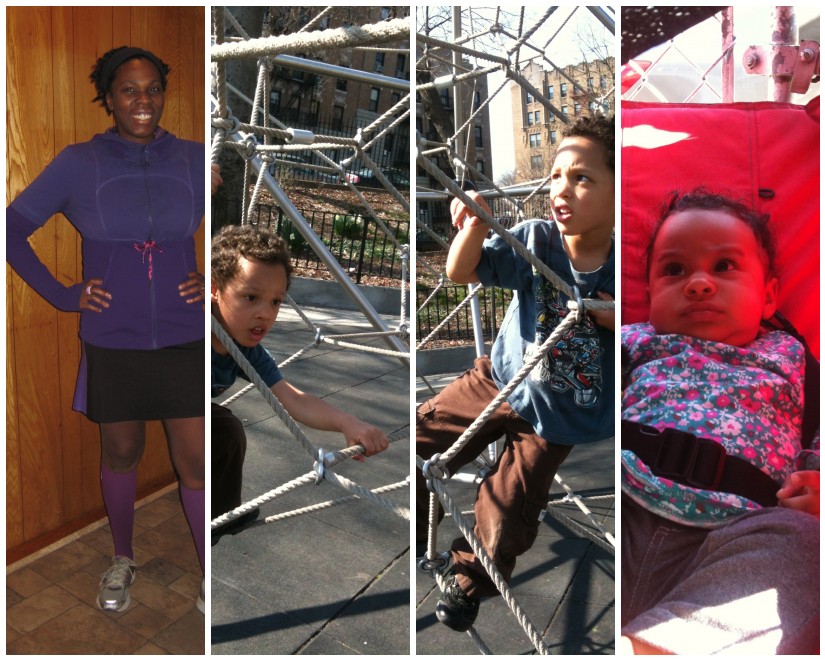 Here's the run we did to the park, not a bad pace, eh? He was still rearing to go and we had a good time at the park followed by the same run back. I think he was even faster on the way back, but I didn't record that one.
I've been locked out of my original Runkeeper account, so I can't add to the 2 years plus training I did for my first 2 halfs

I've started a new account so be sure to look me up and become a Street Teammate – my username is "ghada".
While we were at the park. A lady with an 8 week old baby came up to me and striked up a conversation. She then said, "I was saying to my husband, she's beautiful!" I thanked her on behalf of my little 4 month old, cause yes, she is beautiful

She then said, "No, I'm talking about you!" She couldn't believe that I had 2 kids, she said I was glowing and looked genuinely happy. That was an "a-ha" moment for me. Right at that moment, I did feel happy. My skin was glowing and I was doing 2 things that I love – keeping fit and hanging out with my kids.
I once had a Bikram yoga teacher who said the class was like getting a free bonus facial. All the release of toxins and fresh oxygenated blood coursing through your body always left my skin feeling clear and my eyes sparkly. This incident at the park reminded me that exercise is good for me, and it attracts people to me.
Running is going well. I'm still so excited for the Half coming up in just under a month. I've yet to be able to hook up with Black Girls Run for group runs in the evening, but they have a supportive Facebook group that allows me to keep in touch with them. Their are going to be a ton of us running, jogging, walking and wogging the More Half in April so I'm relieved that I will have this group for support.
Also, to follow up on my taking time for me, phew, it really does take discipline to take that time out for myself. My standout moments from last week were going for a walk and getting a library card. Yes, I'm one of those old school souls that still loves reading hard copy books. So for me, getting a library card was a big "me" moment.