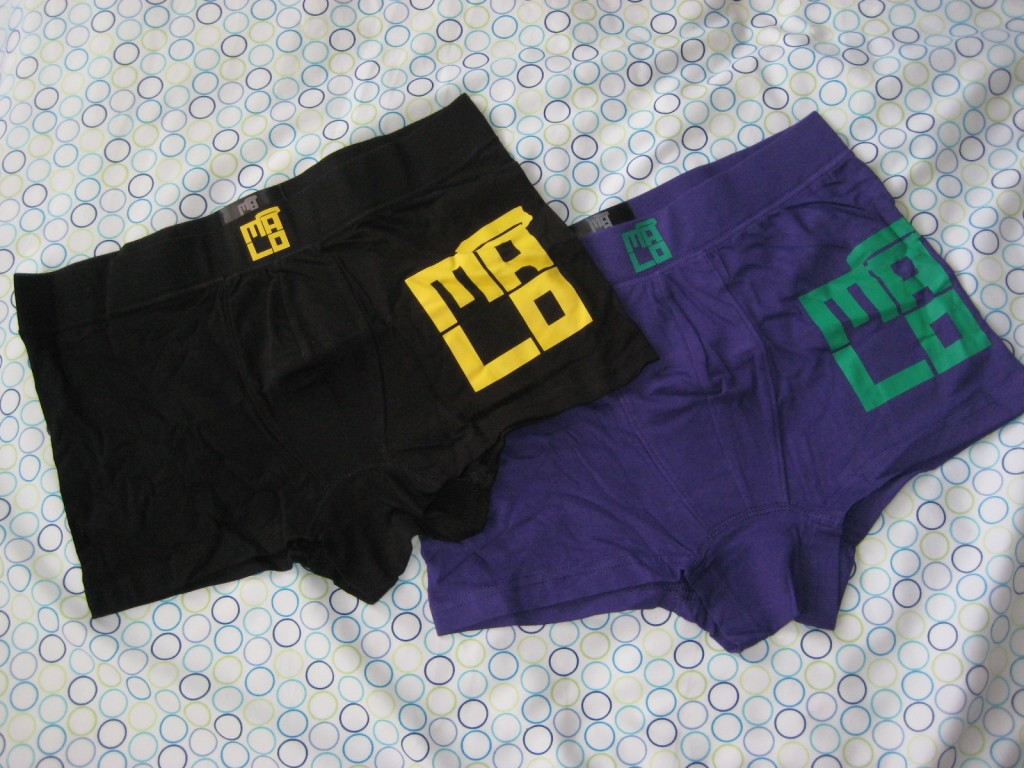 My husband and I are about to celebrate our 8th wedding anniversary.  I am taking the opportunity to introduce him to Mario Lopez's new line of men's underwear MaLo that is found at select Target stores nationwide.
I've written before about our attempts at date nights and how few and far between they are these days. But with our anniversary next week, I'm looking forward to treating my man to a night out this weekend. My husband actually has a good sense of style, his only fault is that he does not like to go shopping. When he does go clothe shopping, it is normally to get himself outfitted for a specific event like a wedding or a party. And even then, he will normally only focus on one piece of clothing like a pair of pants or a shirt. He then wears said shirt or pants until they have no life in them and have to be thrown away.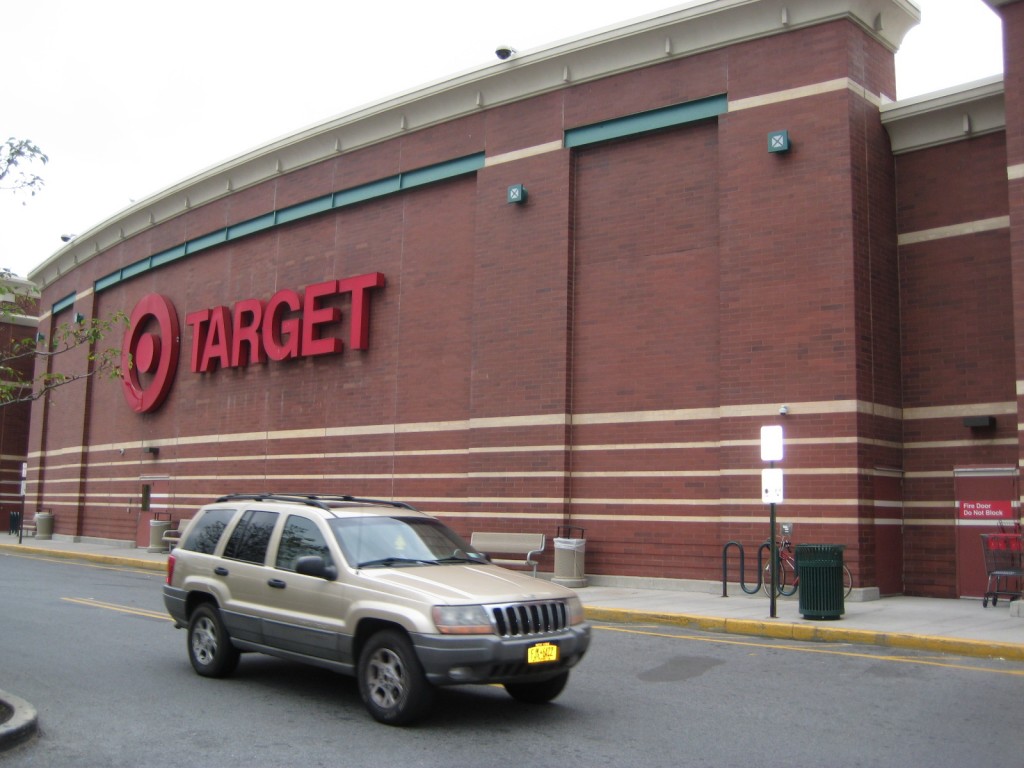 Unfortunately for his poor underwear, they are last on the list when it comes to replacing his old clothes. So I headed to Target and checked out the range of MaLo underwear. They were a bit hard to find near the back end of the entire section of men's underwear. The signage from other underwear companies was everywhere, but nothing in sight for MaLo. When I did find them, I was surprised to see that apart from briefs and trunks, MaLo also sells under shirts. All of their selection comes in bright colors and dazzling patterns.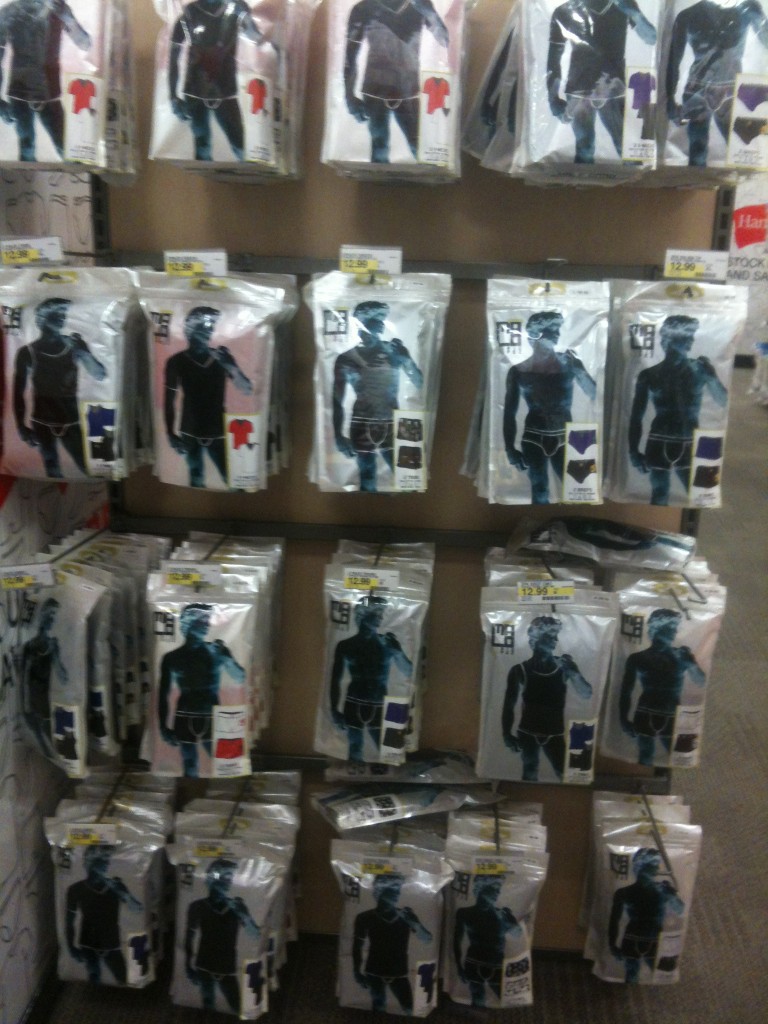 Normally I would buy him a large, but the corresponding sizing told me that he needed a medium. I like when their is a number sizing (32-34) next to the  letter sizing (M), it makes it much easier to know that you are getting the right size. I have to admit, I did text him for back up, to make sure that I was getting the right size.
I decided to go for the simple black/yellow and purple/aqua 2 pack of MaLo briefs. They aren't the most out there of the patterns, but at least they are bright and fun. Hopefully, if he is wearing something fun and cheery it will make him feel good and translate to his mood on our upcoming date night. Do you agree? I know I can often channel an attitude from my unmentionables. Sassy knickers means a flirty attitude, granny pants means a frumpy night in.
Check out exhibit A below, a pair of his "black" underwear. I use the word "black" very loosely.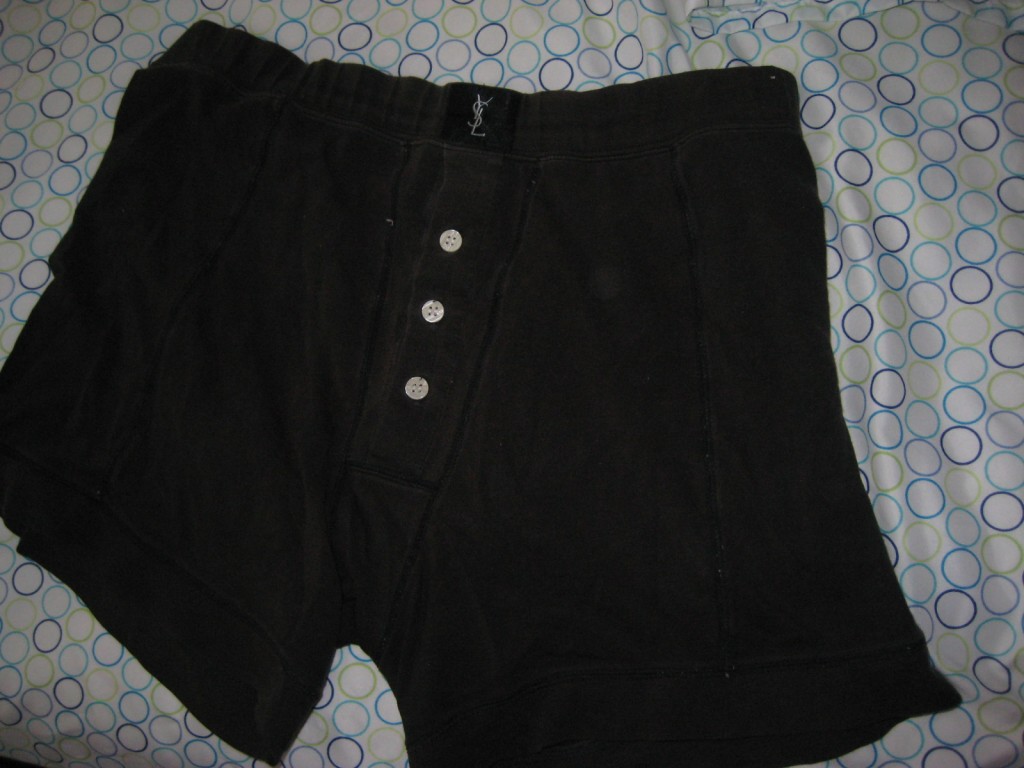 Compare his same trunk style underwear to a new pair of MaLo underwear. You can see how his old pair of trunks have lost their elasticity in the waist and around the leg, and the color is very faded. Time to bin these bad boys!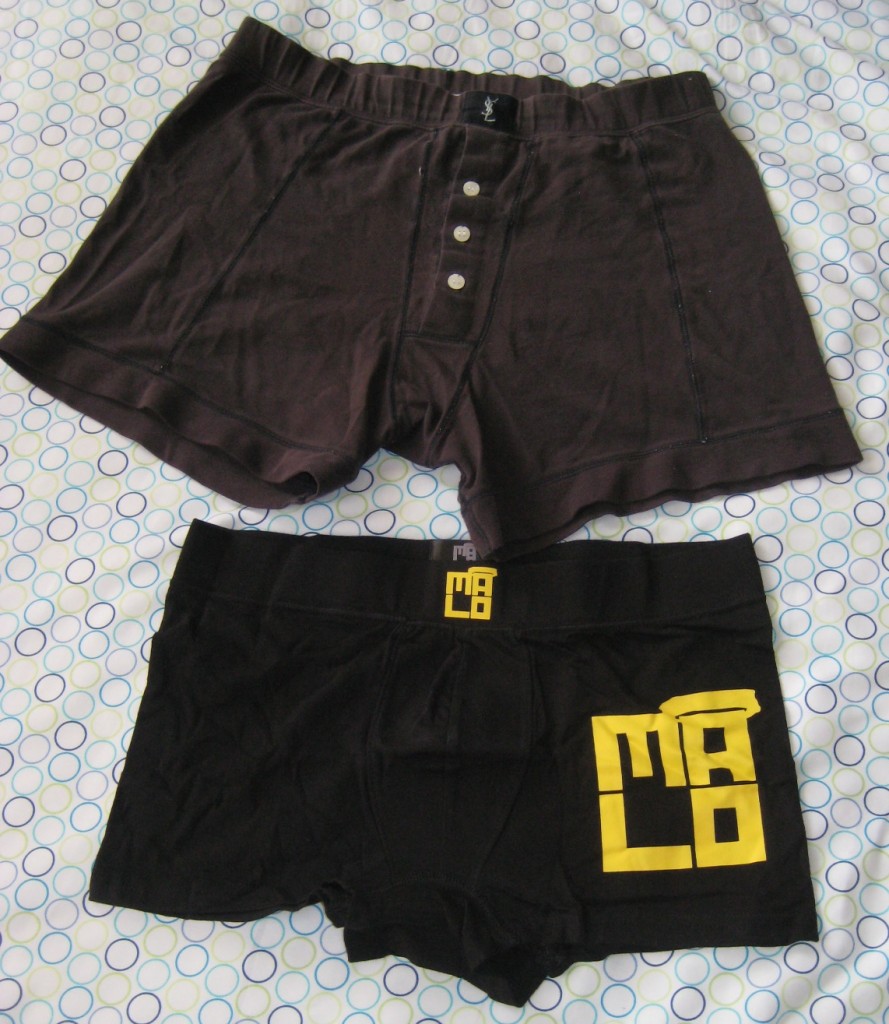 Though he knew he was getting a new pair of undies, he did not know what they would look like. I also decided to make it a little extra special by surprising him with some flowers and a picture of us all laid out on our bed. When he got home from work, he was pleasantly surprised by the new undies and the invite out for our date night tomorrow.
The initial feedback is that they are stretchy and comfy. He wore them for an entire evening around the house playing with the kids. He mentioned that he can definitely feel the spandex stretch. The purple is a little less his style, but it doesn't impede on the comfy feel.
We are both looking forward to our date night. We can't leave the success of our date night in the hands of new underwear, but at least I know my man will be putting his best foot forward thanks to a MaLo makeover. See how others are making over their men with #MaLoUnderwear by seeing their stories on Twitter and follow Mario Lopez on Twitter.
Check out my Google + photo album to see if I share the bottom half of the photo below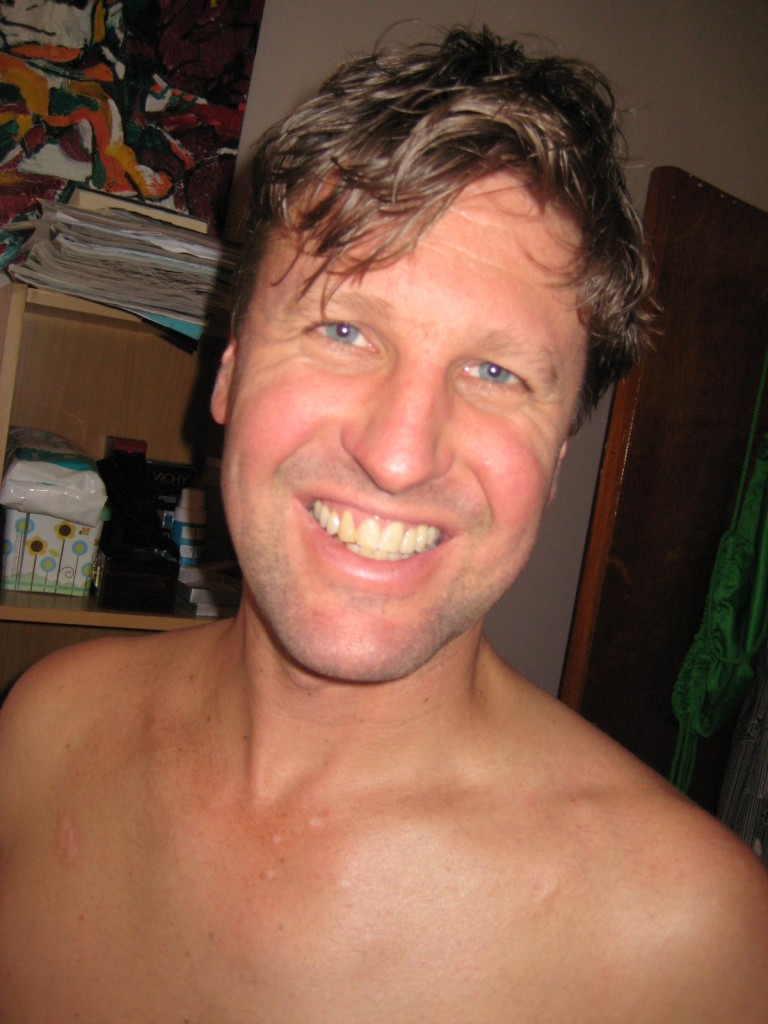 Happy Anniversary!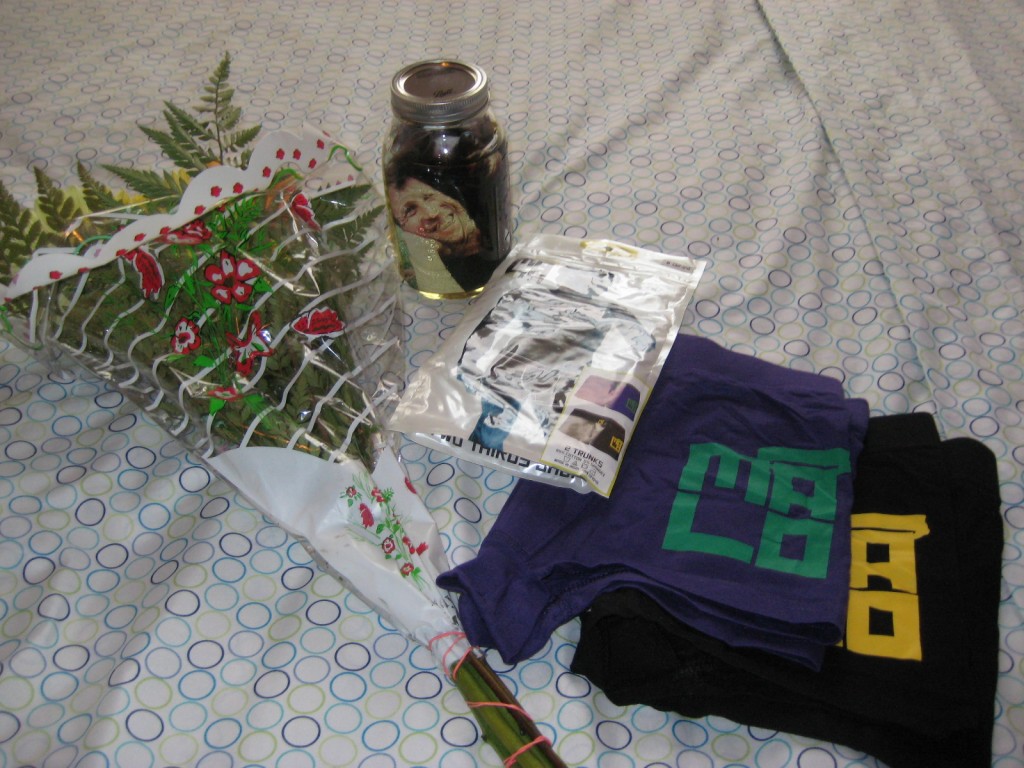 disclosure: I am a member of the Collective Bias™ Social Fabric® Community.  This shop has been compensated as part of a social shopper insights study for Collective Bias™ and MaLo #CBias #SocialFabric. As always, all opinions are 100% my own.