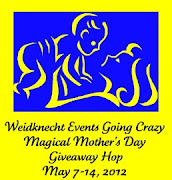 Welcome to the Magical Mother's Day Giveaway Hop sponsored by Planet Weidknecht and Going Crazy!! Wanna Go??!! Dozens of blogs have joined together to offer you prizes that we're sure moms will love! After you enter my giveaway here, be sure to visit each participating blog below to enter all the giveaways! The giveaway begins at 12:01 a.m. on May 7, 2012 and ends at 11:59 p.m. on May 14, 2012.
I am giving away a Flora Stuff Bin, Flora Paperbox and $5 Paypal.
If you are like me and you can't get enough of beautiful paper, stationery and folders, this is the giveaway for you! To be in to win simply fill out the easy Rafflecopter below. The only required entry is your email address, so that we can contact you if you win! Of course, the more entries you enter, the more chances you have of winning. Good Luck!
If you can't wait to win it, The Organized Parent is offering a 15% discount to Mama goes BAM readers throughout the month of May. Simply enter the code OP031 at checkout to receive the discount.