Welcome to the Lots of Love Giveaway Event. This event is hosted by And The Little Ones Too, Put A Little Umbrella In Your Drink, Seeds of Life, and Taking Time For Mommy. This event features giveaways with a value of $25 or more at each of the participating blogs! Be sure to visit each blog from the linky below and enter for your chance to win! This event will close on February 14th at 11:59 pm EST. Don't forget to hop on over to the other blogs once you have entered my giveaway.
I am pleased to be giving away a year's supply of Multi Healing Balm (MHB). Also known as the "go to balm", MHB can be used in so many situations. A smart mama would be silly to be without. I've recently started cloth diapering my 3 month old, and though I love the practice, the super absorbent inserts can sometimes be a real killer on my hands. After stuffing a few diapers to have at the ready, my hands can feel dry and stripped of their natural oils. I've found that rubbing a small amount of the lotion into my hands before stuffing the diapers has helped as a bit of a barrier. My hands are definitely thanking me for using MHB, not only are they protected, but after a few weeks they actually feel softer than they were before. I'm cursed with eczema when the temperature plummets or when I find my hands in water more (like when taking care of cloth diapers), but MHB has been a lifesaver  my hands are smooth and no longer itchy.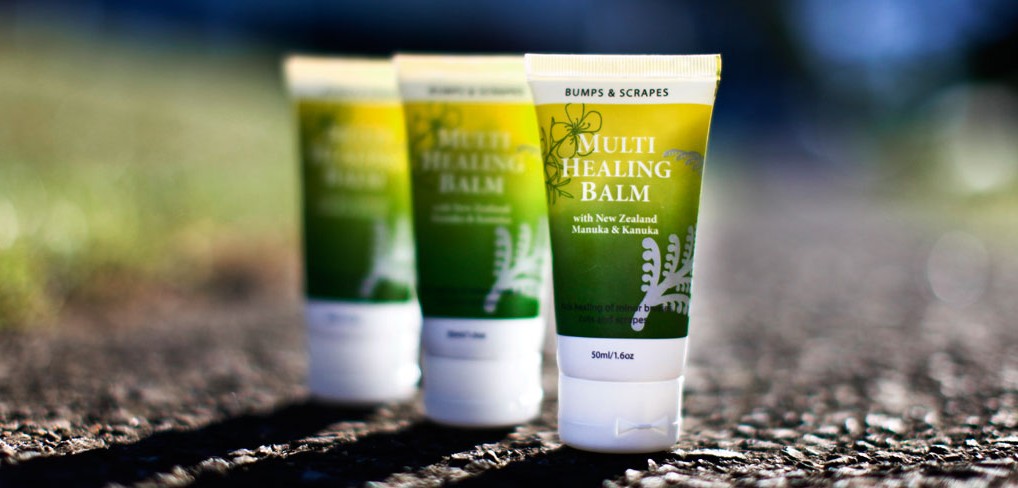 Cool tip for mamas
The convenient 50ml tube means you can carry this in your purse, diaper bag or even stash it in the glove box of your car. During these cold winter days our hands take a beating and MHB can help. I only need a small amount when I rub it into my hands, so the tube is going to go a long way.
Because Multi Healing Balm is anti-fungal, anti-bacterial, anti-inflammatory and antiseptic the whole family can use it for a variety of scrapes, bruises and bumps. My 4 year old has been falling over and scraping his knees A LOT lately (I blame it on a growth spurt!). I've rubbed it into his knee to sooth the burning and to help the skin heal. The fragrance not only reminds me of New Zealand, but it is soothing and relaxing. This is a product after my own heart, as it was developed by Jodee Reid in New Zealand, using oils that have been used by Maori (new Zealand indigenous people) for centuries to cure many illnesses.
Buy it!
Get free shipping worldwide and the more you buy, the better the savings.
Win it!
Enter as many ways as you like on the Rafflecopter below. With no mandatory entries, the more you enter, the more chances you have of winning. Look out for daily entry methods as well and make sure to come and enter every day where possible. Good luck!

Disclaimer: Please understand that And The Little Ones Too, Put A Little Umbrella In Your Drink, Seeds of Life, and Taking Time For Mommy, along with the other "Lots of Love Event" bloggers are not responsible for sponsors that do not fulfill their prizes. However, we are responsible for contacting our sponsors regarding the winner's prize at the close of the giveaway. We expect that our sponsors will fulfill their prize agreement and ship them to the winners in a timely manner. 
***Click on "read more" if the Rafflecopter does not load***


a Rafflecopter giveaway