Do you live in the here and now and create memories from doing? Or do you spend energy collecting so many 'things' that you don't live in the moment? Which one are you? I'm the former, I'm all about collecting memories. Call it Law of Attraction, living amongst the locals, sowing what you reap or whatever you like, but I have learnt through my travels that the more you live in the moment and the more you take the time to enjoy what is going on around you, the more lasting memories you create.
We visited Disney in Florida last year, it was my first time as well as the kids', Mr BAM had been to Disneyland in LA but agreed this was an altogether different situation being able to experience Disney through the eyes of our kids.
I remember seeing families in the various gift shops arguing over which pins to buy to build their collection. In a nutshell, Disney pin trading involves talking to other Disney guests as well as Disney crew to look at trading one of your pins for one of theres. Sounds like a great way to meet other people and "bring home the magic", but alas I saw many more people just buying up pins and alot less interaction. Other parents were buying heavily overpriced Disney autograph books and pens so they could collect signatures from their favorite Disney characters. I cannot tell anyone one way or another how they should enjoy their family memories and places they visit, people they meet and things they see. But, what I noticed was that the THINGS (autographs and pins) were making moms and dads rush around disney and dragging screaming kids behind them to collect more and more things. Instead of enjoying the most magical place on earth, talking to others and even just engaging with the characters, the collection of THINGS had become a struggle.
This is Mr P with one of his favorite Disney characters. Rather than rushing for an autograph and then rushing off to get another, Mr P conversed with Jake telling him how we were visiting Disney for his birthday. Because he took time to enjoy the moment and ENGAGE,  he was rewarded three-fold  when Jake returned with a cast of Disney characters and a birthday card signed by each character. Enjoyable moment, check. Memory created, check. Unintended autographs received, check.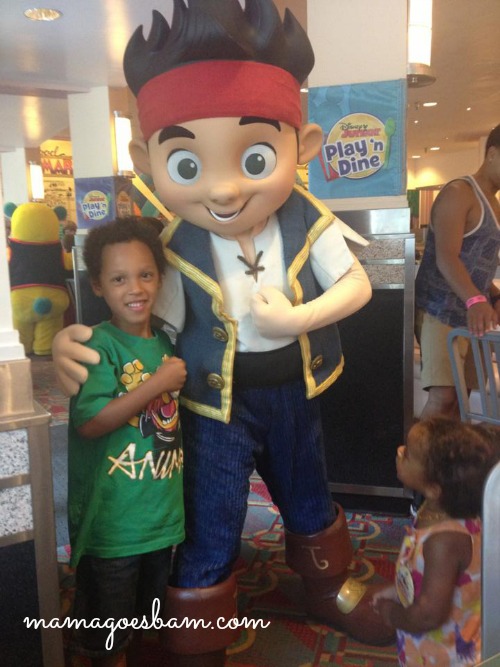 The rule of attracting good karma and creating memories does not only apply to vacationing but to everyday life. The other day at the beach I told a complete stranger who was paddling in on her stand up paddle board how relaxed she looked and how I'd always wanted to try. Without asking, she told me to hop on and have a ride. Something I've always wanted to do, but keep putting off was finally checked off my list and I loved it! All I needed to do was engage with this woman, tell her what I was feeling and let her react – not surprising her reaction mirrored my positivity.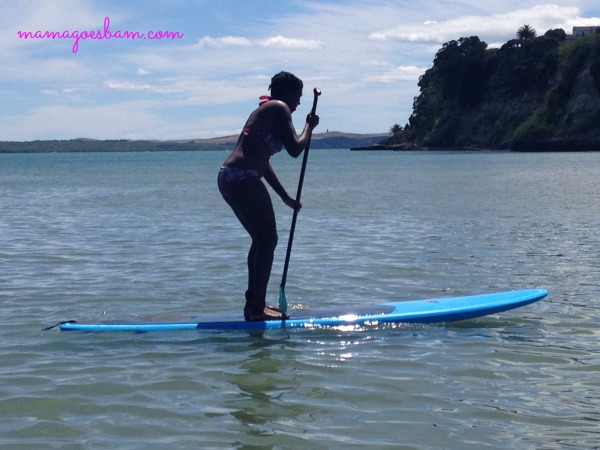 Still don't believe me that living in the moment attracts more memorable moments? Here are just 2 more examples of what I mean. Keep in mind, besides the Disney memory all of these memorable moments happened in the past 7 days alone.
We took the kids on a bike ride through Western Springs. Aucklanders know this is a prime duck feeding place, and for some reason I always forget the bread. A young woman saw Little Miss' amazement as the ducks approached her and offered us some of her bread so that Little Miss could have her first duck feeding experience. She did good, she felt good and Little Miss had the time of her life.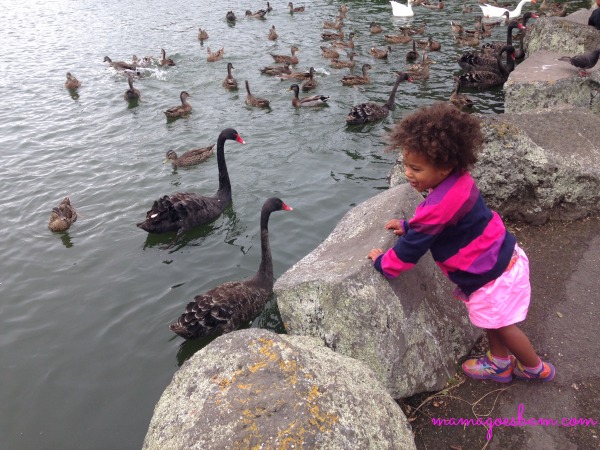 And lastly while enjoying a coffee with Mr BAM we were checking out an old school in mint condition jaguar that was parked right in from of where we sat. With Jags being a part of Mr BAM's history, I asked the cafe owner who the Jag belonged to. He pointed to the couple sitting right next to us and again, we just talked to him. Sensing our genuine interest in the car, he suggested Mr BAM get in for a closer look and to take some photos. What? Yes…I can't even fathom how much it would be worth. Mr BAM touched the wooden interior and noticed the one of a kind detail.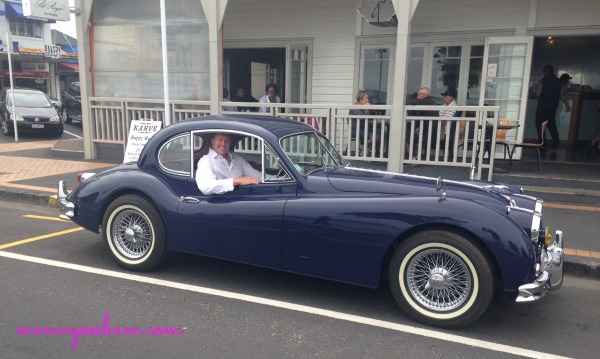 What do you think? Are you convinced to collect moments and not things? Three simple rules to remember to live more in the moments and enjoy even what initially seems like a mundane moment (like coffee at the local).
How to Collect Memories
1. Engage with your surrounding. Literally stop to smell the roses.
2. Talk to the people around you. Be kind, be inquisitive and speak your mind.
3. Photos do tell a thousand words, so if you are to collect one thing – make it photographic memories.
So, do you collect memories and moments?