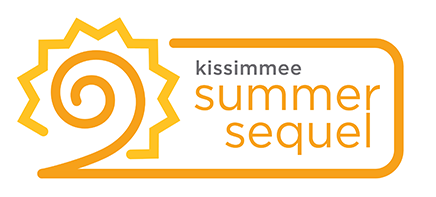 At the end of this month, my family is traveling to Florida and staying in Kissimee and meeting up with Mr BAM's parents from New Zealand! I am so excited as our entire family has never been to Disney World and we plan on going for at least 2 days out of the week long stay! It will be great to experience the magic of Disney through their eyes as well as to enjoy all that our nearby base in Kissimmee has to offer. I'm also excited to announce that I will be guest blogging our family's adventures over at I See Kissimmee, an online diary of bloggers' stories from the heart of Florida. So make sure to look out for my tips for eating healthy while at Disney as well as the sights and sounds of Kissimmee's great outdoors.
I had the pleasure of meeting with 2 of Kissimmee's media representatives today to find out about this AMAZING sweepstakes they are launching this Friday, August 9 and I wanted Mama Goes BAM readers to be the first to know about it! The Summer Sequel Series will award One lucky GRAND PRIZE winner a 5 day 4 night vacation for 4 people to Kissimmee, Florida. The Grand Prize vacation will include airline tickets, accommodations at Embassy Suites Lake Buena Vista South, four 2-day theme park passes, dinner at Capone's Dinner & Show, an air boat ride at Ultimate Airboat Ride, a coach tour with Florida EcoSafaris at Forever Florida and a rental car. The sweepstakes opens this Friday, so bookmark the page and remember to go back to enter.
In the meantime, you can check out all the fall deals for Kissimmee that are on offer starting now til the end of the year. I'm heading over to the Summer Sequel website to check out discounts on attractions such as LegoLand, Airboat Tours and Golf Resorts for my Father-in-law.
Baseball Fans, You Could Win $500
To spread the word on the great fall deals, Experience Kissimmee is embarking on a road trip to Major League Baseball stadiums throughout the month of August to distribute fun giveaways and destination information at six ballparks. Visitors at each stadium will also be entered for a chance to win a variety of giveaways at the game, including a $500 gift card.
Experience Kissimmee Summer Sequel baseball schedule:
August 11 – Houston Astros vs. Texas Rangers

August 14- Washington Nationals vs. San Francisco Giants

August 20- New York Yankees vs. Toronto Blue Jays

August 21- Chicago Cubs vs. Washington Nationals 

August 23- Chicago White Sox vs. Texas Rangers

August 31 – Atlanta Braves vs. Miami Marlins 
So head out to a baseball game on one of the days mentioned above and you might just become $500 richer! You can also catch up with Experience Kissimmee on Facebook or Twitter where they share many Kissimmee deals and highlights from nearby attractions.
What You Don't Know About Kissimmee
The Central Florida destination is home to unrivaled entertainment options – from outdoor adventures and wildlife spotting on ziplines and airboats to exceptional dining, shopping and championship-caliber golf courses. More than 46,000 accommodations also suit every traveler's needs.
"With cooler temperatures and fewer crowds, the fall is the perfect time to experience all we have to offer," said Tracy Ward, Executive Director of Experience Kissimmee, the sales and marketing arm of Osceola County, Florida.
There is something for everyone in Kissimmee with legendary golf getaways, natural attractions, history and culture as well as world famous attractions like Disney World Resort, SeaWOrld Orlando just minutes from Kissimmee.
Disclosure: I attended a Kissimmee informational luncheon, but I was not compensated for this post, nor was I under any obligation to post any of this information. As always all opinions are 100% my own and I only post information that I feel my readers will enjoy.