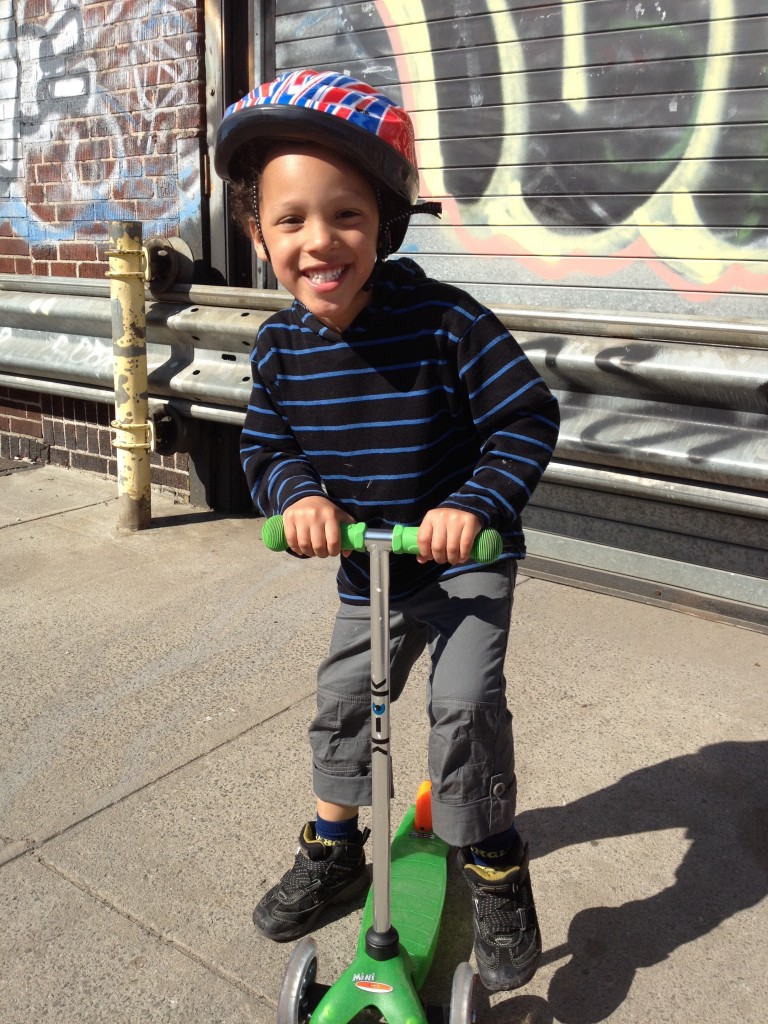 One of the biggest changes our entire family has noticed about moving to the big city is the amount of walking we now do. In New Zealand, we used to have a car and because public transport was not always so reliable we drove everywhere. Now, in Brooklyn we walk everywhere. If there is not a blizzard or crazy winds, I will always choose to walk – to the library, to get fruits, groceries, to preschool. I'm happy to say I have taught Mr 4.5 well, he loves to walk too. But everyone gets tired, sometimes at the end of a long hard day at preschool (yes, preschool is hard!) he still wants to walk, but I can tell that he is a bit tired, and the walk that usually takes his little legs 20 minutes can end up taking closer to 30-35 minutes. This is one way that his Mini Kickboard 3 wheel scooter has come in handy. I carry it down to school and he scoots back on it, conserving a little of his energy.
I was amazed at how quickly he got the hang of it. Once out the box, his eyes lit up. Sooo many kids in New York have scooters and I know Preston was beyond thrilled to now have one as well. Never having owned a scooter, he was a little unsure at first, but within one outing he'd figured it all out. It's low to the ground and wide enough that it is a stable ride, so I wasn't too concerned about his learning curve.
He's determined so he figured out quite quickly how to lean into it and steer from side to side.
Dad showed him out to use the break, and now it's his favorite feature. He calls out "break" as he rolls to the edge of the sidewalk, stops, then picks up his scooter, slings it over his shoulder and waits for my cue to cross the road. He 'read' the Kick Scooters – Ten Safety Rules that came in the box and now follows them to a tee. Picking up your scooter to cross the road is rule number 10 as part of the pictorial safety rules

What This Mama Likes
This is a great 'toy' that will not only teach your child balance, but will also get them out and about of the house. It is a great way for that second, third, fourth or whatever child to get around when you are pushing or wearing a baby and want the other child to walk. I can walk forever, and little Miss 6 months is lucky enough to be carried by me in a wrap just about everywhere. So, it is great for Mr 4.5 to be able to keep up with us on longer walks.
It is a great investment and far cheaper than having to get a double stroller.
I can always bring the scooter to him (like after a day at preschool) because it is very lightweight at 4.3 lbs. If he can sling it over his shoulder as he crosses the street, that tells you just how easy it is to carry.
Warning: My 4 and a half year old now thinks that he is a rockstar because he is so nimble on his Mini Kickboard and can weave through people on the sidewalk. Prepare for your child to think he is a rockstar too.
Buy It
Like what you see? Keep up with Kickboard USA on Facebook or say hello on Twitter and Pinterest. The Mini Kickboard pictured above for 2-5 year olds retails for $84.99 and comes in a variety of colors. There is also the Maxi Kick for kids aged 6-11 and kickboards and scooters for adults as well.
Head over to the Kickboard USA website to find out which one is best for you.
Win It
Come back here at 12.01 AM on May 22 for the Shake, Rattle & Roll giveaway event where I will be giving one away! This will be the perfect summer gift for your little dude or dudette and it will be so easy to enter.
UPDATE: Find the giveaway now listed here.