Warner Bros. Pictures is proud to announce the release of Friends: The Complete Series Blu-Ray Box Set November 13th 2012. Friends is one of those sitcoms that I can watch over and over and find it funny every time. I can't even remember when friends actually went off the air, because it seems to have played on repeat so many times over the years. I have to admit though, since I've moved to New York I don't think I've even seen it once. But, Friends is still synonymous with New York for me. I vow one day to scope out the location of the Central Perk.
In celebration of this Blu-Ray Box Set release, Warner Bros wants to give one Mama Goes BAM reader a Friends prize pack with two oversized cappuccino mugs and a picture frame just like the one on Monica's door.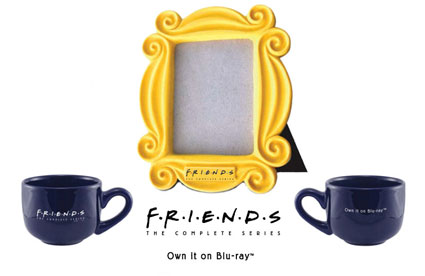 Come back everyday to earn a different Friends character badge, unlock hidden badges, and earn awesome Friends content along the way.
Relive all your favorite Friends moments in these fun clips.  Each week a new clip will be unlocked. Come back every Monday to see a new clip and a new chance to enter to win.
Good Luck! Contest is open to US residents only 18+ and ends November 20, 2012.