$100 Amazon Gift Card Special FLASH Giveaway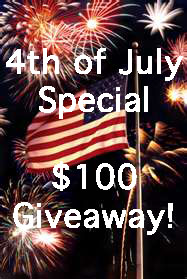 A few awesome Bloggers have   teamed  up to give you this wonderful   $100 Amazon Gift Card! We want to give you the chance at an easy win to celebrate the 4th of July. Our  giveaways  only have a few entries to fill out  and you will know if you win in  just a couple of  hours!
Good luck!  This giveaway ends Wednesday night at Midnight EST, so you have 27-hours to ENTER!
Here are our wonderful participating sites for this flash Giveaway. If you like this giveaway, make sure to check them all out when you have a chance.
*NOTE: You can choose PayPal CASH in substitution of the Amazon GC.