As the Holidays approach, I hear people complaining about returning home. You can't change your family so hopefully they are not the reason you are dreading going home. But if they are, hopefully you can take a deep breath, remember the good times and make the most of being with people that have in some way or another impacted your life. If you are still struggling with being around family, perhaps you can at least fall in love with your hometown again.
As you are reading this, I will be pulling off one of the biggest surprises I have kept in a long time. I am so good at keeping other people's secrets, but my own, not so much! I am in Montreal, surprising my sister for her 40th birthday. It is a super quick trip, but I can't wait to be back in Montreal if only for a short while. I never tire of visiting my family and my hometown – Montreal is so rich in culture. Below are the 2 tips I try to remember every time I go home.
See home through the eyes of your kids
Las year was my first Canadian winter in over 7 years. Mr BAM and I travelled with Mr 4 year old and Little Miss who was only a few months old at the time. I only left the house to visit family and friends, but most enjoyed curling up in the warmth of my parent's house. I thought to myself, how did I grow up in these minus 30 temps! Mr BAM on the other hand embraced all that makes winter fun for kids. He put on his snowboard pants, gloves, layered up and then bundled Mr 4 up as well. They went outside and made snow angels, he pulled him along the sidewalk on a sleigh and they made a teeny tiny snowman dubbed "snow penguin" because it was so small. It was such a small amount of snow compared to how much it can snow in Canada, but they made the most of it and had so much fun. It was my son's first snowman making experience and nearly a year later he still talks about it.
Live it up like a tourist
Check out your hometown's Tourism department and see what they recommend doing over the holidays. You might be surprised at what is on offer or at the very least reminded of a spectacular aspect of your hometown. I follow Tourism Montreal on Facebook and their posts always surprise me and reignite my love of the city where I was born and lived for the first 23 years of my life. Just recently they posted a picture of Avenue McGill that I found breathtaking – this is a street I walked day after day during my 4 years at McGill University, but I'd forgotten all about the dazzling Christmas lights and Fantastic Holiday window displays that dot this area of Downtown Montreal.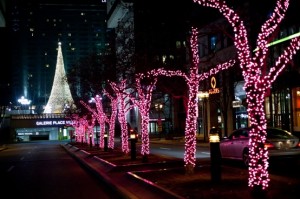 Image courtesy of Susan Moss, Montreal Tourism
Do you look forward to going home for the Holidays?