I participated in a campaign on behalf of Mom Central Consulting for Reebok. I received a Famous Footwear gift card to purchase a pair of Reebok shoes to facilitate my review and to thank me for participating.
If you head out the door in your running shoes and go running for a purpose, then you are a runner. If you have been a runner for any length of time, then unfortunately you will experience the dreaded running rut. Going on the same route wearing the same shoes can sometimes start to feel difficult on your body both physically and emotionally. Finding it hard to get out the door in the morning? Or to even get out of bed? Here are tips to help you kick that running rut to curb! 
Drop the Need for Speed and get back to why you love running. After my last race in June I was stoked that I was able to hold a speedier per mile pace for a 10K than I have ever previously. This pushed me to try to go faster and faster with each run. But with my increased need for speed, I started to lose the joy of running. I started to develop more aches and pains and started to run less. Then one day a couple of weeks ago, I had an epiphany – just run. I stopped obsessing about speed and I started running 3-5 times a week again instead of just once or twice. In the long run, the shorter but more often runs are better for my health and even for improving my run. Just let it go and the speed will come.
Funk up your fashion. If you follow me on Instagram, you will know that I NEVER wear black when I run. All hues of pinks, purples, greens, running skirts and compression socks with hearts, that's how I roll. I even recently purchased a pink top to really brighten up my morning runs.
Change up your shoes. To further add on to funking up your fashion, the other reason your runs might feel flat is because your shoes are actually…well…flat! It is widely agreed that a runner should retire running shoes after 400-500 miles to avoid injury. It was time for me to change up my shoes and I headed to Famous Footwear to purchase new lightweight Reebok running shoes, the Reebok Women's REALFLEX RUN. This is a gorgeously designed shoe – not too over the top in coloring, just a pop of color. The fit is true to size and Reebok's own Flexible RealFlex outsole with forefoot flex grooves makes for a springy run. This shoe definitely agrees with my running form, allowing me to feel perpetually moving forward. I've always been a fan of Reebok and have always had at least one pair in my overflowing closet of sneakers, either as a cross-training shoe or a runner. 
Purchasing these Reebok shoes from Famous Footwear also means that not only are they comfortable and stylish, but they are affordable too!
I purchased mine at 25% off for just $59.99, add that to their BOGO sale and you can purchase back-to-school shoes for the whole family from Famous Footwear for a great price. 
I had never shopped Famous Footwear before, but I was thoroughly impressed by the options in both Reebok shoes, other athletic shoes and dress shoes. Becoming a Rewards Member also has special benefits so make sure to sign up for free and earn rewards on purchases as well as access coupons and other special deals.
Change it up. I'm an early morning runner, but sometimes changing up the time, the route or who I run with and even the playlist I run to can make a difference. I have started adding stairs to my runs at least once a week and this has been energizing as well as muscle building!
Make a plan. For me, I tend to fall into a rut mostly when I have nothing to aim for, no particular race to run on the horizon. Once you are sure that your shoes are good, your looking pretty and your body is not ailing, try setting an enjoyable goal. For example, have a goal to run one more mile than you usually do, or to add speedwork to one run per week or look for a color run or fun run to sign up to. By throwing yourself into making running fun, creating goals and researching new ways of getting better, you are sure to get excited again by the run.
Last but not least, keep on moving on even after a bad day, week or month. We all go through it and the hardest part of a running rut is sometimes just getting out the door. So lace up those shoes and just get out there, even if it is just for a brisk walk around the block. Soon your body will be looking forward to the fresh air and you'll break through the rut and you'll be doing long runs again in no time.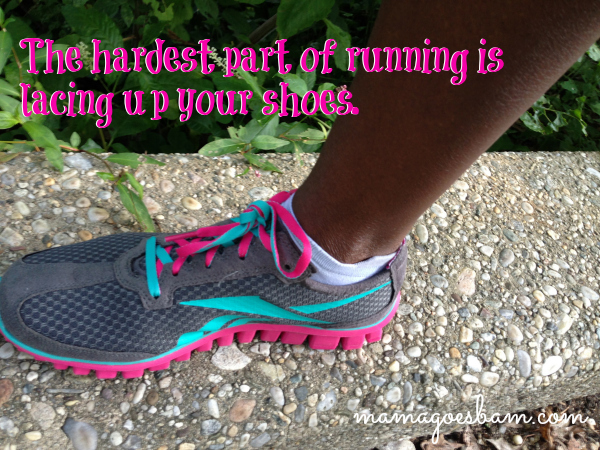 Do you have any tips for beating a running rut?